Travel You Need Now: Nature
We could all use a bit more nature in our lives. Fresh air, beautiful scenery, physical activity, and good company. We spend so much of our valuable time indoors, connected to devices, and driving to and from work. Escaping to nature helps us reconnect with ourselves and find some peace within our hectic lives.
While we can all relate to the rejuvenating feeling of spending time in the outdoors, if that feeling isn't always enough to motivate you to get out, we are here to offer a few darn good reasons why you need nature in your life now! And, we would be remiss if we did not also offer tips on the best ways to get outside, including through the opportunity to travel.
We at AGC are of course a bit partisan to the idea that travel should include adventure and the opportunity to get out into the wilderness. The best kind of travel includes getting to be active and being allowed the time to rejuvenate - via the wild places you explore. 


Why You Need Nature
Mental health benefits
Taking the time to unplug and go outside can do wonders for reducing stress as nature has a calming effect on our brains. As an added bonus, outdoor exercise, like going for a walk or hiking, gets the blood flowing and heart pumping, another proven way to lower stress levels.
This may not come as a surprise, but there is real evidence that spending time outside reduces stress hormones in our bodies. A study from the University of Michigan had a group of women ages 22-68 take a "nature pill" consistently for 8 weeks. Each of the women had their saliva measured for cortisol and alpha-amylase (two biological markers of stress) at the beginning and end of the study. When the results came in, the researchers found that both biomarkers dropped significantly in response to spending time in nature! The key to this research: spend 30 minutes or more outside to feel the effects. 
In addition to reducing stress, an article from Psychology Today talks about the significant mental health benefits to be gained from participating in outdoor activities. The most common positive benefits of being outside were reduced anxiety, as well as an elevated mood.
"I felt my lungs inflate with the onrush of scenery—air, mountains, trees, people. I thought, 'This is what it is to be happy.'" — Sylvia Plath
Physical health benefits
Physical activity in nature, in our opinion, is the best way to exercise! Hiking, rock climbing, paddle boarding, skiing, or kayaking naturally get your heart rate going, and allow you to enjoy the outdoors at the same time. Planning for bigger adventures such as a week of hiking in a new destination, backpacking, slackpacking, or a longer trek-style trip require the physical effort of getting in shape for your trip - a win-win!


Better brain function
Spending more time outdoors is also linked to higher levels of concentration, creativity, and improved mental clarity. The attention-improving effect of nature is so strong it has been studied as a method of treating kids with Attention-Deficit Hyperactivity Disorder. 


Improved sleep
Spending time in natural light helps our bodies better regulate sleep patterns. When the sun goes down, our brains will release the right levels of melatonin to help get a good night's sleep. Who doesn't like getting their best sleep while also on vacation! Return extra revived and refreshed!


You deserve a nature reward!
Another reason you need nature in your life: You deserve it! Life requires effort, whether it is in the office and front of a screen or managing family and the daily grind. You should reward yourself with some refreshing time outside. Just as people look forward to the planning and anticipation of a vacation, the added benefit of looking forward to the reward of time outdoors is an extra added bonus you will be glad you have waiting for you.


A chance to connect with others
Nature is a perfect place to develop authentic connections with people. This could be your partner, a new friend, an old friend, some family members, or a group of AGC women. Regardless of the 'who', quality time outside will bring you closer with your adventure buddies. Taking on new challenges and having adventurous experiences in the outdoors creates amazing new memories and authentic bonds.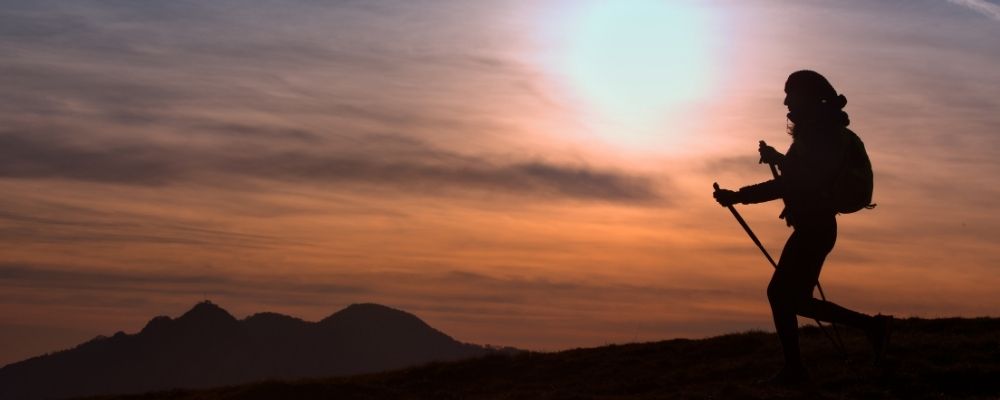 Travel Ideas to Ensure You Get a Nature Fix
Spending time in nature isn't limited to a backpacking trip; There are tons of fun ways to get outside and enjoy yourself. Anything from a walk around the block to a vacation in the mountains can benefit your health. What's important is that you build time into your schedule to get outside, no matter how big or small the activity is. 

Don't have a week? Make it a day!
Take a day to go on a hike or head to a lake. Find a new hike you have not tried before, grab your day pack, and get some trail time! An added bonus: You will get some exercise and fresh air, too! If there's a lake in your area, a day on the water is an amazing way to feel connected to nature and possibly get some exercise at the same time. Go for a swim, paddleboard, kayak, or play fetch with your dog. You could also hang a hammock between the trees and enjoy the views.


Go camping
Spending a few days camping in nature is a great way to ground yourself, and connect with your outdoor surroundings. It can also be an opportunity to connect with friends without the distractions that come with normal day-to-day life.


Wherever your getaway takes you, take a walk
Whether you're taking a trip to the beach, to the mountains, or to a new city, going for a walk is a great way to experience a new place. You never know what you might discover...a farmers market, a new restaurant, a beautiful viewpoint, or new friends. You'll surely find something exciting through the simplicity of going for a walk.


Plan a stargazing adventure
Can you remember the last time you sat under a beautiful night sky? Stargazing is a peaceful, grounding, and wondrous experience that will leave you feeling like you are truly connected with the outdoors. You could go for a night of stargazing just outside the city, or even better, go on a getaway in a location specifically chosen to see amazing stars.


Book a trip with AGC!
This is obviously our favorite way to get outside and enjoy nature! There are so many reasons why AGC trips are excellent for getting outdoor time:
You'll be sure to be active  

You'll make new friends

You'll get to enjoy the gorgeous scenery

You can disconnect

You'll have the time of your life

You'll return feeling refreshed




AGC Adventures That Deliver the 'Nature' You Need
Baja Bliss in Mexico: This trip will be the perfect combination of relaxing and rejuvenating time in a gorgeous place with the opportunity to get some physical activities such as hiking, swimming, and surfing. We will spend our nights glamping in a beautiful bioreserve with no shortage of birds, flora, and fauna to admire.
Big Bend Exploring and Hiking: The Big Bend region of Texas is untouched, under-touristed, and just a little bit funky. This trip brings you into the heart of the region with hiking in Big Bend State Park and Big Bend National Park, paddling the Rio Grande and a trek up into the Chisos Mountains. How's that for a healthy dose of nature?
Boundary Waters Canoe Adventure: Visiting the Boundary Waters in September is an experience like none other. On this canoe journey, we travel through a chain of scenic lakes, winding rivers, and deep woodlands of this protected area. The immense untouched beauty of the Boundary Waters will surely leave you in awe.
Appalachian Trail - Vermont: On this trip, we will hike a section of the Appalachian Trail in Vermont through the Green Mountains. The terrain in this area is a wonderful mix of rugged, rocky hiking and rolling forest trails. You'll love backpacking through beautiful and historic Vermont in beautiful autumn weather.
Alpine Backpacking in the Snowy Range: Wyoming is home to one of our favorite well-kept secrets. On this backpacking trip, you can walk among fields of brilliant wildflowers with everything you need on your back. At the end of the day, you can warm your feet by an open fire and enjoy an incredible cowboy sunset while sipping on a mug of hot chocolate. Backpacking done right!
Rafting and Hiking the Rogue River: The Rogue River is one of the most famous western rivers - and with good reason. Our trip takes place on the most scenic portion, flowing through the heart of the Rogue River Wilderness. This trip is perfect for those who love hiking AND rafting. For hiking-lovers, you'll enjoy the gentle, fairly flat riverside trail that takes you past fields of wildflowers and incredible views of the river below. For rafting-lovers, the class II-IV rapids offer just the right level of challenge for novice and intermediate rafters.
Alaska: The Kenai Peninsula: No trip to Alaska is complete without visiting the Kenai Peninsula. This stunning area is home of giant king salmon, active volcanoes, and unsurpassed coastal wonders. We will spend the trip glamping on a private island west of Seward, exploring the coastline by kayak, tide-pooling at the water's edge, and looking for resident animals like seals and eagles. On this trip, you'll have the opportunity to immerse yourself in the natural surroundings in countless ways.
Sedona and the Grand Canyon: Arizona's canyon country is justly famous. From the cliffside dwellings of ancient pueblo people, and the colorful chasm known as the Grand Canyon, to the red rocks of Sedona, it is a never-ending feast for the eyes. The best way to see it is on foot, and we'll combine lots of hiking with time to relax and absorb the beauty of the area as we explore these three very different areas.


"Nature has been for me, for as long as I remember, a source of solace, inspiration, adventure, and delight; a home, a teacher, a companion."― Lorraine Anderson

Being in nature simply makes you feel good. Travel makes you happier by getting you away from your daily grind. Together, both provide the ultimate opportunity to disconnect and recharge. We hope you've been inspired and motivated to get outdoors for your mind, for your body, and to create some new memories.