What to Expect on Your Next Adventure
---
AGC requires all participants and guides to be fully vaccinated for COVID-19 at least 14 days prior to their trip's start date. Please note that prior to booking, you will also need to review and agree to AGC's Covid Waiver. We do not, however, require boosters at this time. 
We recognize that people have a variety of perspectives on COVID-19 vaccinations. We made this decision to require vaccination in accordance with the recommendation of the Centers of Disease Control and Prevention, which states that being vaccinated for COVID-19 and other infectious diseases not only protects yourself and those close to you, it helps reduce spread of the disease in communities. 
If you are unable to be vaccinated for medical reasons, you may apply for an exemption from AGC's vaccine requirement. Exemptions will be assessed on a case-by-case basis. To apply, you must provide a medical certificate from a medical professional to AGC, along with your exemption request.
Given the constantly changing global health environment, our plans may evolve as we consider new guidance and recommendations from health agencies. We'll keep this space updated with any changes that might affect you.  
New Trip Procedures
---
We understand that deciding when to travel next is a personal decision that comes with both excitement and reluctance, especially now. Our goal is to help you feel comfortable and supported during your adventure and to help everyone travel with more ease. With that goal in mind, we have created the following policies and procedures in relation to COVID-19. We ask that you register for an upcoming trip only if you are comfortable with our policies and procedures outlined below. We also strongly recommend getting travel insurance for unforeseen events such as flight delays, baggage loss or even an unexpected sickness or injury that could impact your travel plans.
PRE-TRIP PROCEDURES
---
Consistent with CDC guidance, all guests and guides must be fully vaccinated against COVID-19 before traveling with us on any trip. Please note that proof of vaccination, including a booster, is now a requirement of some international destinations. 
---
Any participant or guide who tests positive for COVID-19 within 10 days of a scheduled departure, will not be allowed to go on the trip, and may work with us to reschedule. 
ON TRIP PROCEDURES
---
At the start of your trip, your guide(s) will ask to see your proof of vaccination. We recommend carrying a hard copy and digital copy of your COVID-19 vaccination record with you for the duration of your travels.
---
When you arrive, the guide(s) will also conduct a verbal health screening check for any symptoms of illness. Participants displaying symptoms, may require further evaluation at the nearest health clinic and a negative COVID-19 test before being permitted to continue.
---
All guests and guides are encouraged to bring a face mask and to wear as required by local regulations and/or establishments, or when it makes you feel more comfortable. 
---
If guests or guides experience any COVID-19 or flu-like symptoms during a trip, they will be physically distanced from the rest of the group and a determination will be made by AGC to seek definitive care. Symptomatic individuals will be required to wear a face mask at all times until reaching definitive care.
---
For international travel, the United States currently requires a COVID-19 viral test (regardless of vaccination status or citizenship) no more than 1 day before you travel by air into the United States. You must show your negative result to the airline before you board your flight. Prior to leaving for your trip, we highly recommend purchasing and packing at least one self-administered test that is read/confirmed by an online technician, such as Qured, Abbott BinaxNOW™AG Card (must be the AG version), or Ellume Covid -19 Home Test.
The cost of such tests is not included in the cost of the program and will need to be paid by participants.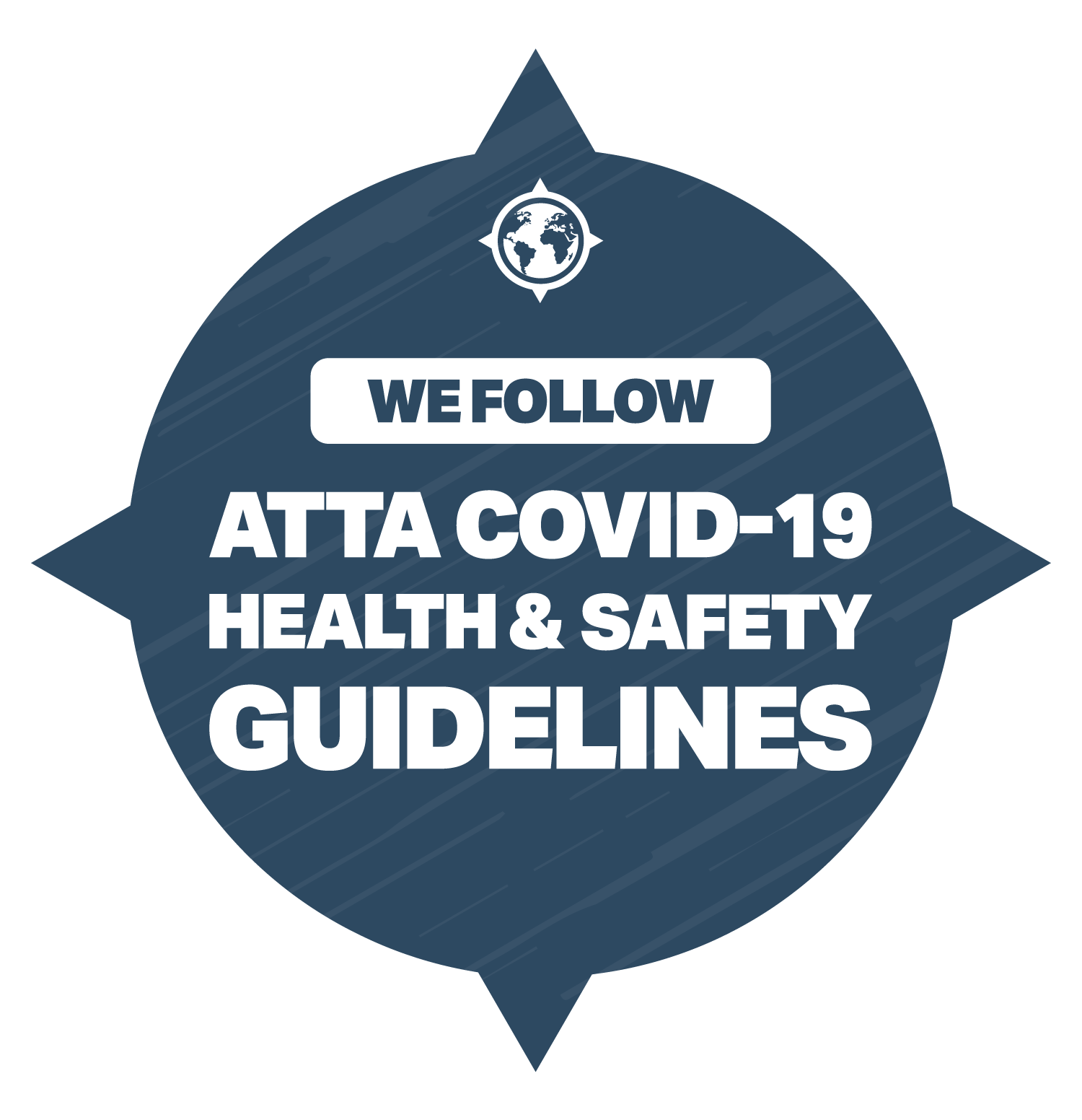 Additionally, our offices are staffed for emergencies, and along with the guides, we will work to provide support for you as needed and proactively communicate about any COVID-19 related issues or adjustments that may be needed during the trip.
As the travel landscape continues to change, please read on for more information to help you decide when to travel next.
What if I cancel my trip?
---
We understand how disappointing it can be in the event you need to cancel or change your long-anticipated adventure. Our cancellation policy is not meant to be punitive, however, we plan far in advance for each departure and continuously send non-refundable payment to hotels and other suppliers. We use your payments to prepare for your participation and handle other costs associated with our operations. Therefore, we must strictly adhere to our cancellation and transfer policy for all participants. We strongly suggest purchasing travel insurance in the event you must cancel or otherwise change plans. 
Do you recommend or require travel insurance?
---
While we do not require travel insurance on our trips, some of our domestic and international partners do, including now for COVID-19. You must have travel insurance when required by the partner or country, and in any event, we strongly recommend getting travel insurance. For your convenience, we offer travel protection through Travelex Insurance Services. You can find them online at travelexinsurance.com or talk with a real person at 800-228-9792 and reference location number 06-0331. To learn more about Travelex's Coronavirus coverage, please visit:  https://www.travelexinsurance.com/covid19.
To help you understand what Travelex protection plans will cover, please refer to these Frequently Asked Questions. The full coverage terms and details, including limitations and exclusions, are contained in the insurance policy. Travelex Insurance Services, Inc CA Agency License #0D10209. All products listed are underwritten by, Berkshire Hathaway Specialty Insurance Company, NAIC #22276.
What if AGC cancels my trip?
---
We are learning that COVID-19 is likely to be an enduring part of our lives moving forward and we are doing everything we can to safely make our experiences available for those who are ready to travel. If we need to cancel a trip after the final payment deadline for reasons outside of our control, we will do our best to offer priority booking for the rescheduled trip and do all we can to transfer payments or issue a travel credit towards the rescheduled trip or a different trip that fits your schedule. 
---
Please Note: All standard booking terms and conditions not explicitly addressed on this webpage remain in full force and effect.