Having lived most of my adult life overseas, I've done a lot of sightseeing. So now, when I head to a new city, my first activity is always to go on a food tour. I've found it the best way to meet locals, get a feel of the city, learn about the history, and taste all the best local food!
Food tours are easy to find, either through established tour companies like Culinary Backstreets or Airbnb experiences
. These are a great way to find alternatives to more traditional sightseeing outings. I also like to do a food tour when experiencing jet lag, as they are always walking tours. So you are outside and getting in some excellent Vitamin D.
Many tours feature a trip to local markets where you can view and sample new fruits and vegetables. And the trips also include a stop for sampling local coffee or tea with a variety of deserts. There are also more specialized food tours, such as a 'taco tour' in Mexico City or a 'beer and brewery tour' in Dublin.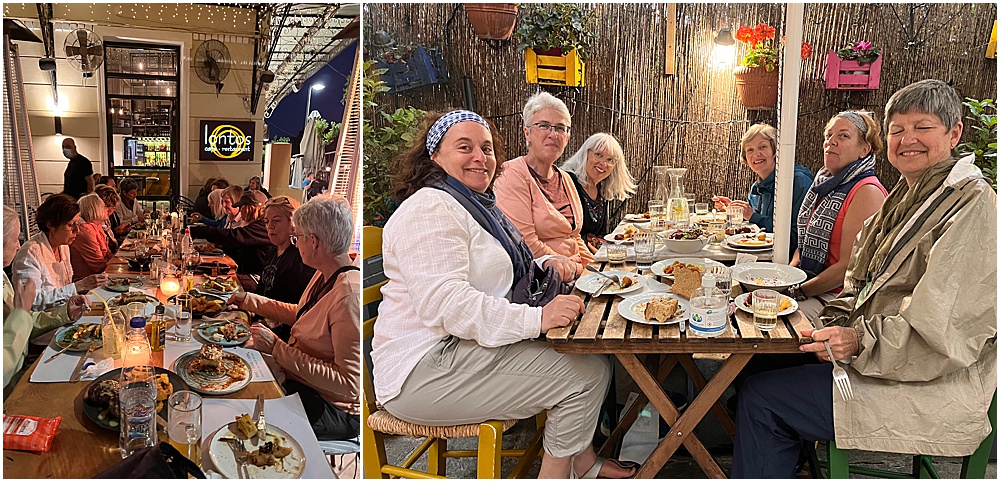 Another advantage of taking a food tour is that your tour guide recommends the best, not so touristy, restaurants
.
Most tours can cater to dietary needs (vegetarian, gluten-free, etc.), so don't worry if you have some restrictions
. If sampling food is not your thing, you can also do a small-group walking tour.
Again, the personalized attention of the leader, and the ability to
spontaneously
experience the city, is so much fun
. Plus, if you are traveling on your own, it is a great way to meet people.
Personally
, I like to combine walking with food!
When I arrived in Athens last month, a day before I was to start guiding the AGC Island Hopping in the Greek Islands trip, I set up my food tour a few days before arriving and loved it
! Little did I know that the entire 10-day trip would be a gastronomic extravaganza!
The Island Hopping Trip combines stunning and diverse hiking with delicious fresh food and culinary adventures
. There is no need to bring those granola bars, and we were not packing in PB&J or cheese sandwiches on this trip!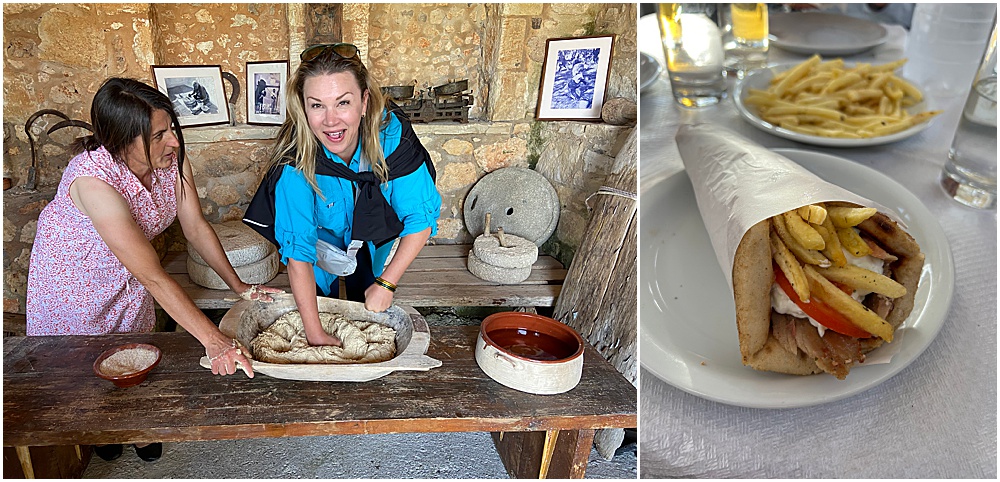 "Incredible food venues at all restaurants and the best cheeses, spices, salads, fish and specialty sauces I've ever experienced."
After the first day, our group decided the trip should be EAT-HIKE-DRINK (instead of Island Hopping in the Greek Islands). As is the case on every AGC trip, almost all the meals are included. In Greece, this means an endless array of fresh foods served family-style so that in any meal, there are 6-7 dishes to try.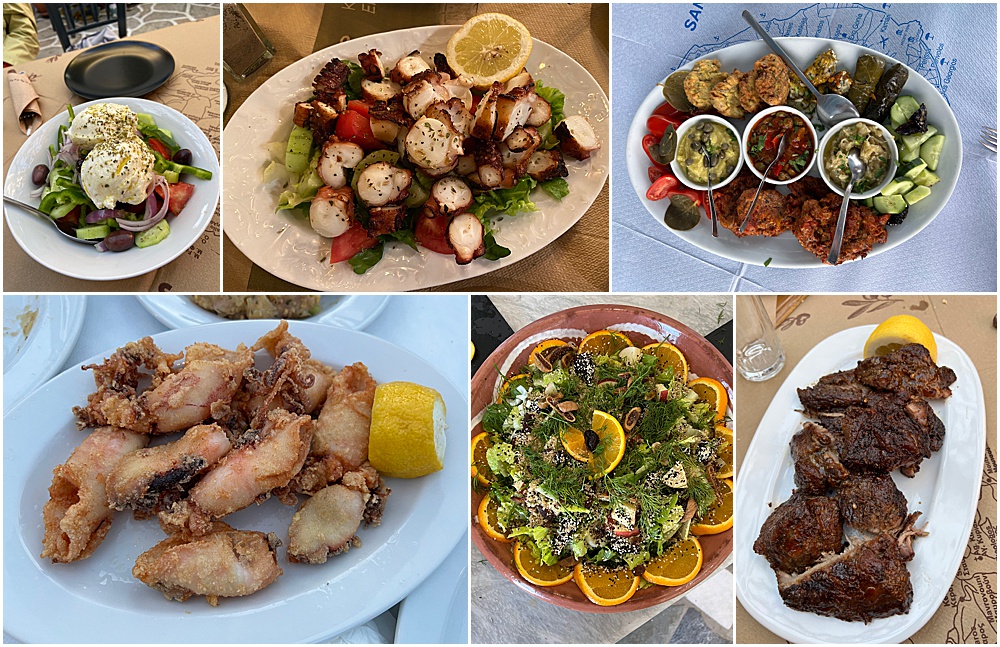 "The FOOD! I can't get over the delicious food. At every turn, there was a gorgeous spread of wonderful new foods to try. This would be one area that was not fully described in the details of the trip, in my opinion. It was over the top awesome and really helped build comradery with the group and help us learn about the local culture. I especially LOVED the cooking class and local farm tour!"
Some days we focused on seafood (calamari, prawn risotto, grilled octopus); other days, grilled meats (the best-grilled pork loin ever served with an heirloom potato farmed exclusively on the island!).
We always had a wide variety of vegetarian dishes that tasted better when
locally
sourced
!
The variety of veggie dishes seemed endless, but we almost always had a Greek salad (cucumbers, tomatoes, feta cheese, kalamata olives)
.
We sampled stuffed grape leaves (dolmas), zucchini croquettes, Spanakopita (spinach pie), fried feta cheese, Greek meatballs, moussaka (an eggplant lasagna), chickpea stew, tomato fritters, grilled eggplant, tzatziki (cucumber and yogurt dip), and so many more
!

"I have never had such amazing food. Our Greek guide was so good at picking out the best restaurants. She ordered numerous plates that we shared family style. The BEST way to experience a variety of Greek foods." 
And of course, we could not forget the desserts, orange cake, baklava, and chocolate balls. And if eating amazing food wasn't enough, the trip also included a cooking class where we made a 6-course dinner in an outdoor kitchen and then enjoyed it all with some local wines, toasting with ouzo, raki, or Souma ("yamas" is the Greek word for Cheers!). Oh, and did I mention that every place we went had a wide variety of gelato stores?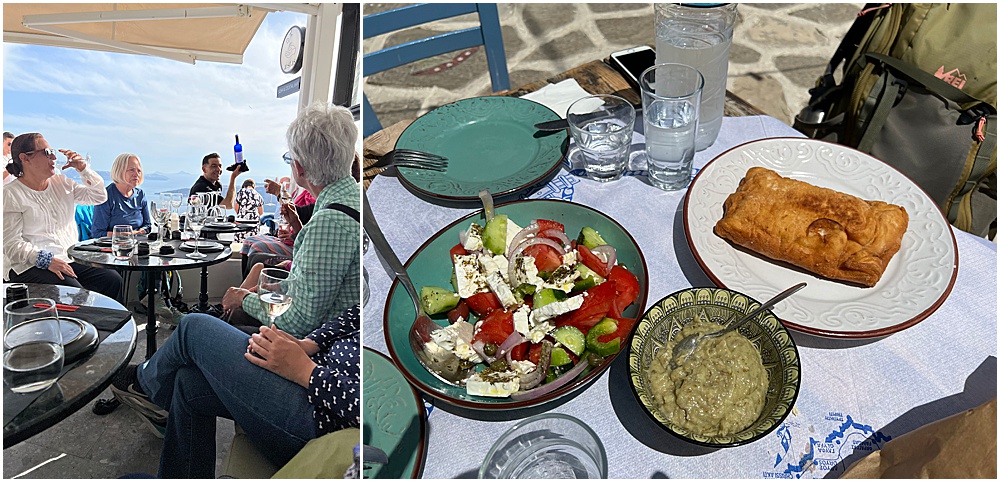 "Not having to think about, food, where to eat, what to eat, or what was included or not was just awesome!"
Luckily, we burnt off some of those calories on amazing hikes through the Greek countryside, traveling from village to village with picturesque scenery dotted with ancient ruins, and climbed the highest peak in the Cyclades, Mt Zeus
.