Allow me to take you along on a journey of some incredible island hopping through the mesmerizing Aegean with my fellow Greek Goddesses!
We started our trip in the shadow of the Acropolis with a group meeting and name game in our hotel, where we met our wonderful local guide, Susanna. She whisked us away for our first walking tour of the trip in the beautiful Anafiotika neighborhood of Athens. In Anafiotika, we got a taste of the island-style architecture that Greece is known for as we wandered through the narrow streets and whitewashed buildings left behind by Cycladic carpenters around 1840. 

On our second morning, we enjoyed gazing at the Acropolis from our breakfast on the rooftop! We then met our fabulous Acropolis guide Kiki and spent the next few hours hearing her incredible stories, taking in ancient monuments, and learning that, in fact, just about everything in life comes from ancient Greece! We ended our time with Kiki visiting the Acropolis Museum. Following lunch, it was time for a whirlwind departure as we made our way to the airport and our first island destination, Paros. With the Cycladic winds ruffling our hair, we dined on crab, squid, and fish and especially enjoyed a well-earned glass of wine after our busy day.

Day three dawned, and we set off for our first hike on the Byzantine Road. Together, we walked from Lefkes to Prodromos, enjoying natural history from our guides and stunning island views as the sea came into sight. Following our leisurely lunch, we headed back to our hotel to enjoy some downtime time in the pool. Later, we reconvened in the afternoon for another highlight of our trip, a fantastic cooking class at Anezina Village with the indomitable Maria.
Day four began with a classic Greek Islands experience – the ferry! We disembarked on island number two, the stunning and mountainous Naxos. We moved into our rooms at the Naxos Beach resort and ate lunch poolside with the Aegean sparkling in the distance. A few women chose to enjoy a relaxing afternoon enjoying the beach and pool, and the rest of us met up in the afternoon for a sunset hike from Melanes to Chalki.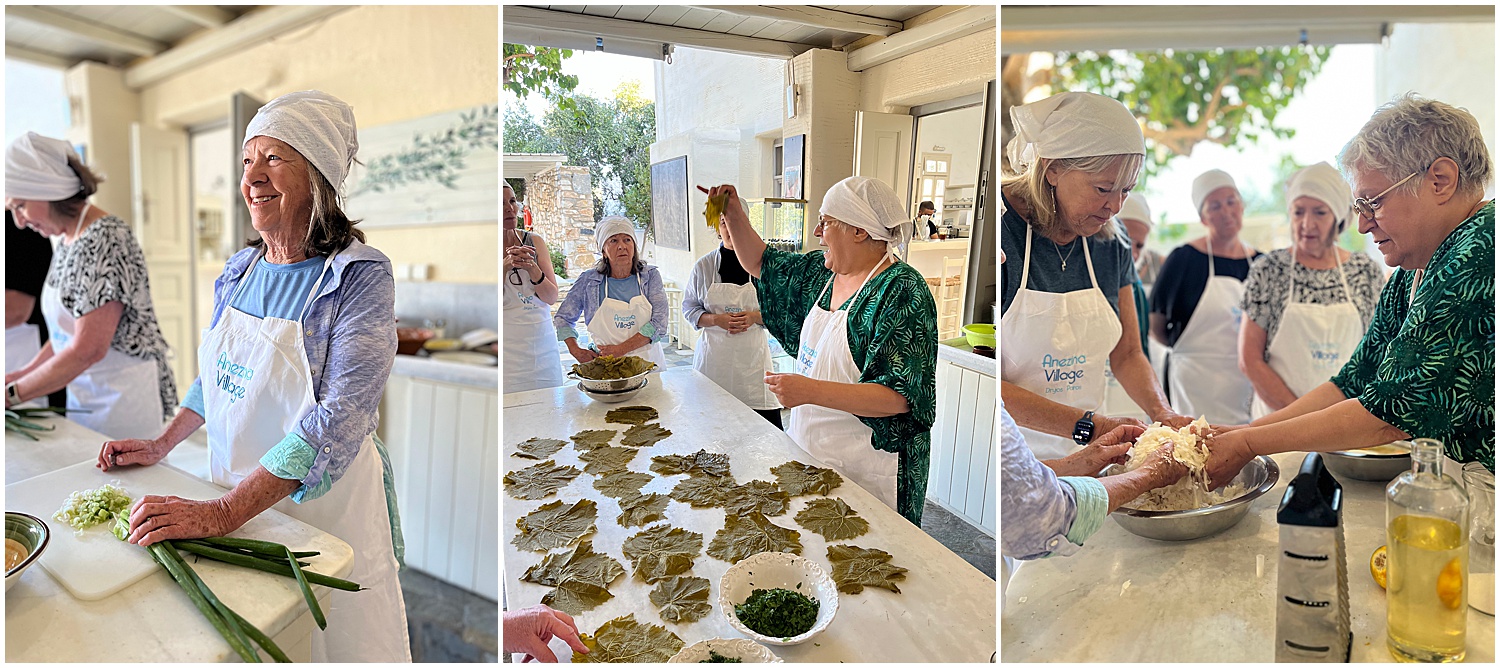 On day five, it was time to conquer our most challenging hike of the trip – Mount Zeus. Everyone who set out on the hike summited, and we enjoyed 360-degree views from the top. We all eventually returned to the charming center of Filoti for sparkling ginger lemonades, pizza, and a rest! When we returned to Naxos, we were able to enjoy a free evening in town, visiting the Portara (the temple of Apollo), shopping, and more eating.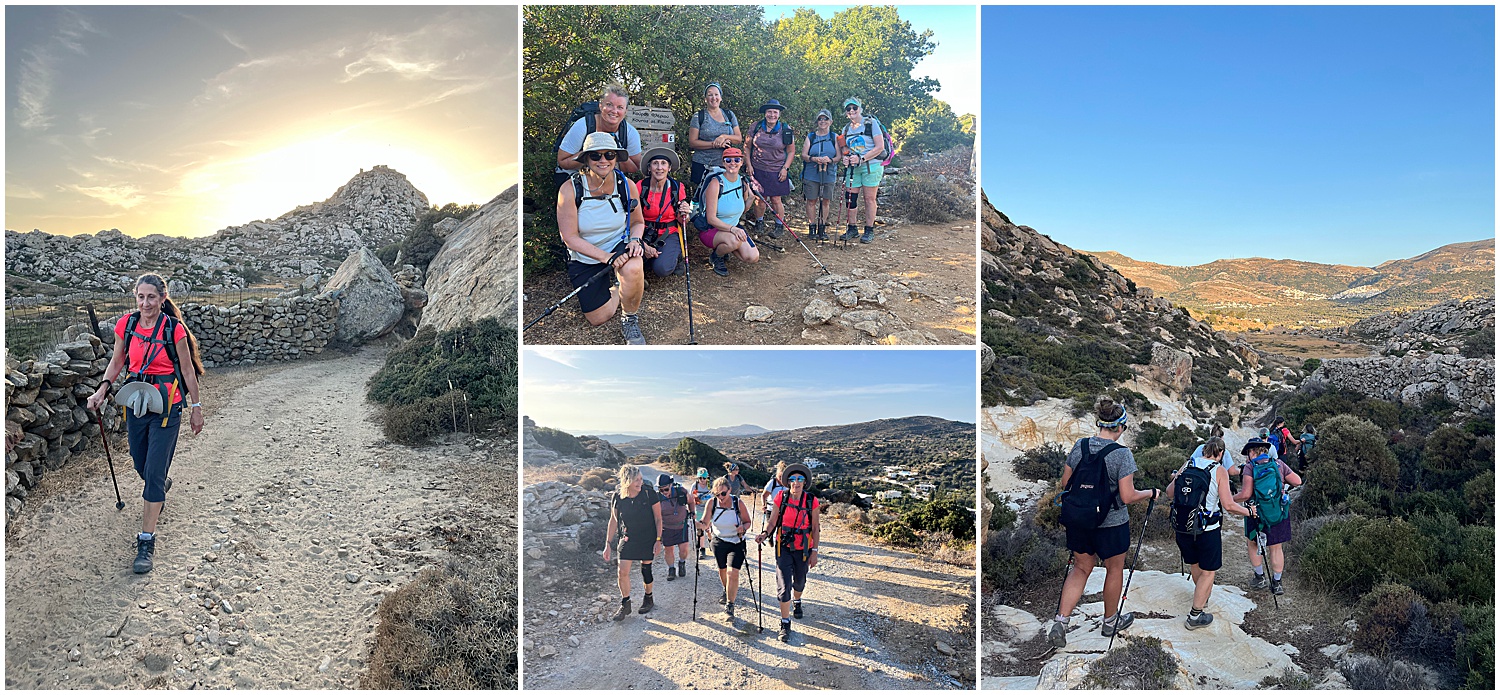 On day six, we had a free morning and then departed for Santorini, our final island. Another ferry ride, and then we checked into Nissos Thira and jumped right into the pool. We toured the town, had a little time for shopping, and caught our first views of the stunning caldera that Santorini is known for. We enjoyed dinner overlooking the caldera as sailboats returned to their moorings and the sun sank into the Aegean.
On our first full morning in Santorini, we set out in the fierce sunshine to visit Akrotiri, a fascinating archeological site of a Minoan city well-preserved by a volcanic eruption around 1650 BC. Nothing could stop us from marveling at the treasures this sophisticated ancient society left behind. Following a wonderful lunch, we had a little downtime before meeting back up as a whole group to begin our walk from Fira to Oia. We met back up and were fortified by some delicious gyro and chicken sandwiches – with the french fries inside the sandwich! We returned back to our hotel for a very well-earned sleep by all.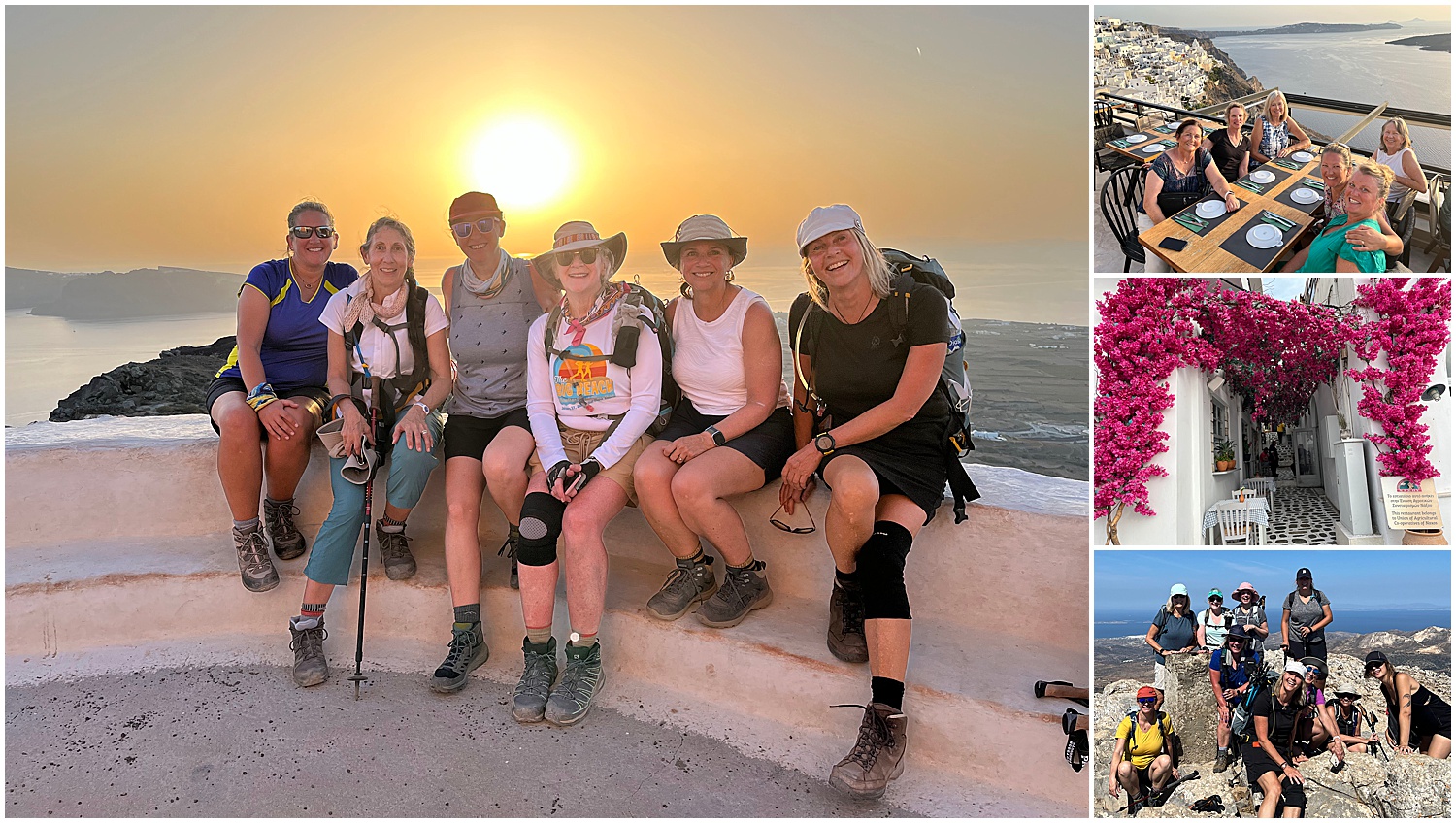 We woke up on our last day very excited to finally get to enjoy the islands by sea! The kayak guides helped our group get properly outfitted and promptly launched our kayaks into the calm waters of the Aegean. We loved our paddle past the cave of the dragon and onto views of white, green, and red cliffs and beaches and the clear blue sea. Surrounded by catamarans escaping the Santorini crowds, we went ashore for a relaxing swimming, snorkeling, and snack break. After an hour or so of enjoying our almost private beach, we reluctantly got back into our kayaks and paddled back to our starting point. During a quick farm-to-table lunch at a nearby restaurant, we said our goodbyes. 
Efcharisto! 
Melanie