7 European Destinations We Love
Europe has no shortage of incredible destinations to visit, full of historic sights, incredible food, lovely people, and exciting cultures. With years of experience leading trips through a variety of beautiful regions in Europe, we would like to share why some of our all-time favorite spots are so special. Curious what kind of fun AGC has in these destinations? We'll share that insider scoop with you as well! 
1. The Croatian Coast
Why should you visit the Croatian Coast?
Full of history: Each ancient city along the Croatian coast has charming churches, medieval forts, and narrow cobblestone streets full of character perfect for exploring. Dubrovnik, one of the larger coastal cities, is surrounded by an ancient wall that visitors love to walk around to view the old city from above.
Amazing food: Throughout this coastal area, you'll find excellent Croatian specialties such as deliciously prepared shellfish, tuna steaks, grilled meats, risottos, and homemade pastas.
Unbeatable scenery: The old white buildings with their tile rooftops, tightly nestled on the coast in front of sandy beaches and crystal clear blue waters, makes for a distinctly Mediterranean site like no other!!
Traveling to Croatia with Adventures in Good Company:
Although you could spend months exploring the little towns along the Croatian coast, we've picked out the best of the best to explore. Some of the Mediterranean-themed highlights to be found via Pearls of the Croatian Coast:
Sea kayak through beautiful blue waters to the island complex of Pakleni, with a local Croatian tour guide leading and sharing along the way.

Relish a home cooked lunch from Mrs. Ljubica after a beautiful hike through old villages that date to the Middle Ages.

The chance to visit a small-town oyster farm, learn how to grow oysters, and sample them!

Explore Dubrovnik on an educating and inspiring walking tour led by a local expert.


2. Camino Pilgrimage in Spain
What makes the Camino de Santiago Pilgrimage trip notable?
Rich history: The Camino de Santiago Pilgrimage is an ancient trail that takes pilgrims through the gorgeous northern region of Galicia in Spain. As you travel by foot headed to the final resting place of St. James, you'll wind through forests, hilly countryside, and old villages that have been welcoming pilgrims for over one thousand years.
Physical activity: The Camino de Santiago Pilgrimage is an excellent way to experience a spiritual journey, and see a glorious part of Spain while spending your days being very active and covering a long distance. Over the course of the trip, you'll walk in the range of 60-70 miles!
Cultural Experience: There are tons of opportunities to immerse yourself in Spanish culture along the Camino de Santiago Pilgrimage; learning the traditions of the 'route', sampling local foods, and meeting other pilgrims along the way.
Completing the Camino de Santiago with Adventures in Good Company:
Embarking on the Camino de Santiago is a truly special experience that pairs the traditional pilgrimage journey with the opportunity to learn about history, enjoy authentic food, and surround yourself with beautiful scenery. Plus, pilgrimage lore says that while a pilgrimage of any sort is by nature an intensely personal experience, the best way to complete this journey is in a small group of like-minded people.
There are two ways we like to suggest travelers experience the Camino de Santiago—each filled with remarkable opportunities. Two distinct itineraries can be completed separately or combined to be accomplished consecutively. 
Wander through tiny stone hamlets, along scenic farm lanes, and through age-old oak and chestnut forests.

Enjoy the unique experience of sampling authentic Arzua's cheese at a local shop just off the route.

Delight in the splendor of the Cathedral in Santiago de Compostela, and receive the official pilgrim certificate acknowledging you completed the journey.
Venture through medieval villages, wooded pine forests, and along the seaside bluffs.

Explore the stunning coast of Galicia, hiking along paths less traveled, and notice how the feeling of the trail changes with fewer pilgrims, and smaller villages

View the rocky peninsula that hosts Cape Finisterre Lighthouse, which serves as the beacon that pilgrims are reaching the completion of their journey at the 'end of the world' at Finisterre, one of the most westerly points in Europe.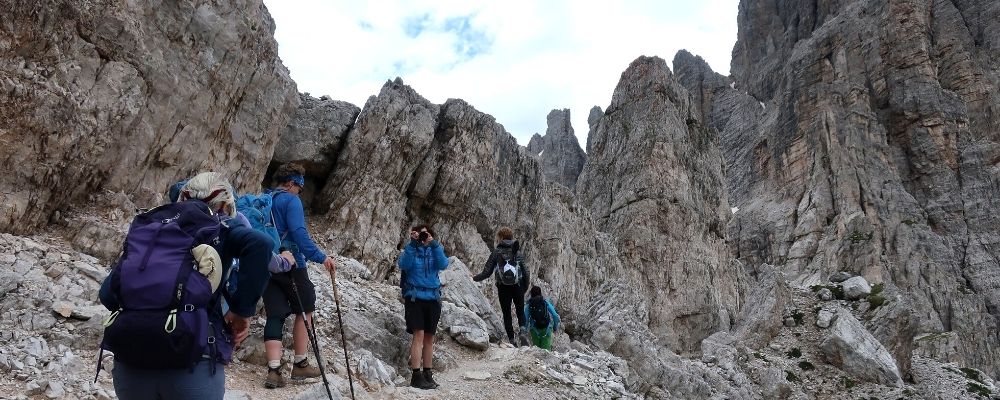 3. Italy's Northern Alps
What makes Italy's Northers Alps such an outstanding destination?
Unique scenery: Otherwise known as the Dolomites, this area's highlight are the extraordinary mountains providing a diverse landscape of dramatic spires, rugged massifs, and towering walls - that contrast with the smooth lines of the valleys below, dotted with lush pastures and emerald green lakes. 
Fascinating History & Culture: A surprisingly multicultural area that was part of Austria's South Tirol prior to World War I, with the history and mix of Italian and Austrian culture manifesting in the cuisine, architecture, and language - including Ladino - a Romansh language that is still spoken in the area.
Outstanding Hiking: Soaring mountain terrain and rolling green meadows offer the opportunity to wander, but never be far from the next picturesque village. Jagged limestone spires, alpine meadows, rocky paths, and outstanding views abound. But, you will also be surprised by the modern opportunities to enjoy the cable cars and chair lifts for an easier up or down in elevation to/from the trailheads. The mountain inn 'rifugios' nestled in the rugged landscape also offer a delightful welcome treat to walk-in travelers.
Traveling to Italy's Northern Alps with Adventures in Good Company:
This itinerary offers a classic European experience, and the challenge of level 5 hiking in the Alps. Some of the highlights of Italy's Northern Alps include:
Hiking, history, and culture woven together in a magical fairytale-like journey

Traveling through a diverse landscape of dramatic spires, rugged massifs, and towering walls

Welcome breaks at the 'Rifugios', some that have been serving up good food and lively conversation for over 100 years

Hiking from one valley to another exploring the culture and cuisine of the Italian Cortina Dolomites and Alta Badia and 

An in-depth opportunity to learn about World War I history

 


4. Portugal
Why should you travel to Portugal?
Breathtaking scenery: Portugal is known for its mix of beautiful sights: whitewashed cities with tiled roofs, colorful streets, dramatic seaside cliffs, deep blue waters, remote beaches, and the hilly wine region. There is something for everyone in Portugal.
Lovely & relaxing beaches: Portugal's beaches are arguably some of the most unique landscapes in Europe with their bright blue waters, sandy beaches, rocky arches, and towering cliffs. There are countless beaches to explore, with plenty of options for relaxing or swimming.
Amazing cuisine: If you look forward to the opportunity to try new and unique food while you travel, you will love the food in Portugal. The Portugese are famous for delectable seafoods, tasty pastries, flavorful meats, and unique spices. Your tastebuds will surely be entertained.
Traveling to Portugal with Adventures in Good Company:
With varied terrain comes more adventure opportunities to consider! These trips are headed to two must-see regions of Portugal; the coast for hiking and the Douro Valley for rafting.
Stay among the natural beauty of Sintra where you can enjoy castles, beaches, cliff-side walks, lighthouses, and delicious food.

Hike along the Fisherman's trail exploring wild beaches, towering cliffs, and spotting spectacular wildflowers.

Admire the small fishing harbors, crisscross reddish sand dunes, and linger amongst the scent of pine tree forests.
Kayaking and Hiking the Douro Valley, Portugal
Paddle and kayak through lush valleys and dramatic cliffs. The colors are breathtaking and an inspiration to many local artists.

Stay at the guest house of a local sculptor and take time to admire their works of art.

Visit the stunning wine country where you can enjoy the local wine and visit an olive grove.
Experiencing the unique maritime cuisine of Portugal

Hiking through a variety of cinematic landscapes, from white sand beaches and thick forests, to limestone cliffs and rocky outcrops

Visiting historic castles, monasteries, and two sets of dinosaur tracks

Kayaking in Maritime Reserve Luiz de Saldanha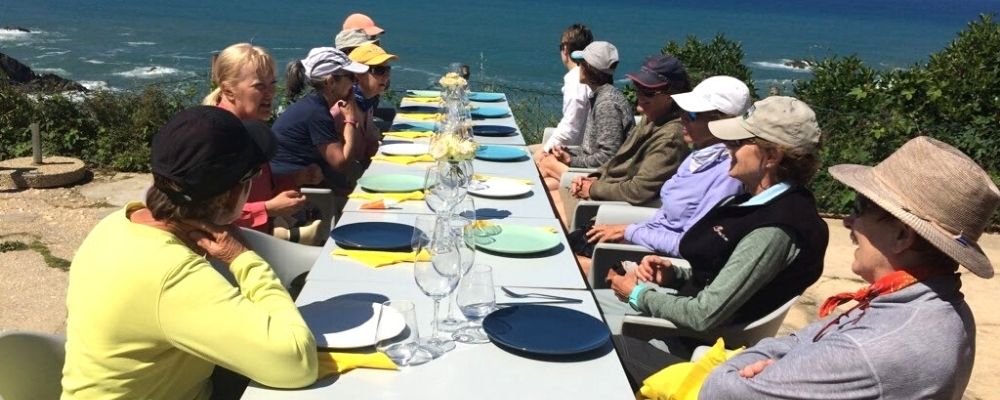 5. Via Dinarica (Croatia, Bosnia, Montenegro)
Why is the Via Dinarcia such a remarkable destination?
Unique scenery: As you hike along the Via Dinarica, the scenery will change drastically, and each region is uniquely incredible! Croatia feels like paradise with old villages along pristine coastlines. Bosnia is full of beautifully green forests and mountains. Montenegro is known for its gorgeous steep mountain ranges right along the sea. 
Delicious food: Food along the Via Dinarica is as delicious and unique as the many different influences in the area; Eastern Europe, Western Europe, and the Middle East. You'll enjoy spiced meat dishes, local cheeses, fresh bread, stuffed vegetables, and amazing coffee. 
Kind & welcoming locals: The Balkans are known for having lovely locals that welcome travelers with open arms. You'll feel like a local, yourself, as you're greeted entering a local shop, or sitting down for a meal.
Why visit the Via Dinarica with Adventures in Good Company?
The Via Dinarica winds through so many incredible locations, it's hard to choose where to spend your time or which destinations to stop at. After traveling this area extensively, the Highlights of the Via Dinarica adventure is a great compilation of the most incredible and noteworthy spots in this area:
Hike in Croatia through mountain pastures, karst valleys, and towering peaks. And, take time to also scope out the stunning views of the sea and islands in the distance.

Explore Mostar in Bosnia Herzegovina where you can sample local Herzegovinian wine and foodstuffs at a farmer's cooperative.

In Montenegro, relish an incredibly beautiful hike through the mountains with views of peaks, valleys, and the Adriatic Sea. 

Paddle through the deepest river canyon in Europe with 3,000 feet canyon walls rising above the stunning river wilderness area around you. 
 


6. Italy's Cinque Terre & Italian Riviera
What makes the Cinque Terre and the Italian Riviera such a fascinating location?
Beautiful scenery: The Cinque Terre and Italian Riviera are filled with iconic views of colorful towns on the hillsides, rolling hills covered in grapevines, villas perched on cliffs high above the sea, and the bluest ocean water you would expect to see in the Mediterranean.
Relaxing atmosphere: There's not much to rush about while you're enjoying yourself in Italy. Sipping on a cappuccino and enjoying a croissant for breakfast from your balcony? Take your time. Taking a leisurely stroll through the old cobblestone streets of a tiny town? Take your time. Italy feels like a place where everyone is intentionally relaxed and present.
Delicious food & wine: This surely is not news to anyone, but we can't write this list without mentioning that Italy is a food and wine-lovers paradise. One of the best parts of exploring villages in the Cinque Terre and Italian Riviera is stepping into cafes to enjoy the best local nibbles and Italian wines.
Traveling to the Cinque Terre & Italian Riviera with Adventures in Good Company:
Imagine a trip to the Cinque Terre and the Italian Riviera full of breathtaking views, authentic and fresh from the field cuisine, gentle hiking adventures through winding streets of old villages, and getting to celebrate it all with a fantastic group of ladies:
Begin by exploring the wonders of Florence via a delicious culinary tour with a local expert.

Hike across the Portofino Peninsula with spectacular views of the gorgeous blue sea and colorful buildings, and enjoy an authentic lunch along the way at a local farmhouse restaurant.

Take part in a cooking class and learn the magic of making pesto. 
7. Provence, France
What makes Provence, France an exceptional destination?
Quaint villages: In the many picturesque villages of Provence, you'll love the narrow roads between old stone buildings, the smell of lavender, the roadside markets, and adorable local shops.
World-class cuisine: Amazing food can be found everywhere in Provence. Start your day with a fresh coffee and a flakey croissant followed by a mid-morning snack of local meats and cheeses. Later, enjoy a glass of wine alongside French seafood for dinner, and treat yourself to creme brulee for dessert.
Unique hiking: There are many gentle hiking trails in this area that weave through forests, up and down the green hills, past vineyards and olive groves, and through old villages.
Traveling to Provence, France with Adventures in Good Company:
Choosing which villages and towns to visit in Provence can be challenging, but we've carefully curated a Colors of Provence itinerary that ensures travelers get to experience the area to the fullest:
Shop at a local market for picnic ingredients that will be enjoyed during your day out in the stunning scenery of Alpilles Mountains.

Visit tiny villages perched on rocky cliffs and walking through a landscape dotted with cypress trees

Enjoy distinctly Mediterranean and deliciously rustic, Provençal cuisine that focuses on fresh ingredients, seafood, and plenty of fruits and nuts.

Hike into the heart of the village of Gigondas, the second-largest wine-growing area in the world, and end the day's adventure by celebrating with a wine tasting.
We consistently work to provide women's adventure travel that is sure to provide fulfilling and engaging getaway opportunities. Whether you travel to check destinations off your bucket list or simply to seek out interesting food experiences; to marvel at the distinct architecture or learn more about the fascinating history; to wander villages and markets or revel in the unique culture of the seaside towns. From striking mountain topography to lush stretches of the countryside, to turquoise coastlines, Europe has endless natural beauty and rich culture to explore. Dive into a European adventure and you'll discover why a journey to this beautiful continent still promises to be an authentic and exciting endeavor. 
For more travel inspiration, check out: