It's 6:30 pm on a Tuesday in Ushuaia, Argentina, and the rain is coming down hard. You're crammed into the backseat of a cab with two of your newest friends as the driver navigates the busy road that runs along the ocean. To your right spreads the wide blue Beagle Channel, where earlier today, you watched penguins from the bow of a boat and hiked across a windblown island. Before this trip, you'd never dreamed of ending up here, in this place with trees that slant sideways like bad hair days. You'd barely even heard of Ushuaia—the End of the World, the closest city to Antarctica. 

You and your group are on a mission to find the best king crab in town. Yesterday, you discovered this unassuming little family-owned place a few minutes too late, after a line had already formed down the street. Tonight, you are wiser. You get there early and wait in the rain. It's taken two weeks, but you've finally figured out the rules for dinner in Argentina. The first rule is that it does not start before 7 pm. If you dine before 9:30, you're definitely a tourist. Reservations are hard to come by, and most top restaurants don't take them.
Rule number two is you have to enjoy your dinner. Someone will come to take your order, and then they'll bring the Malbec, and then there's a long, slow stretch of time when you make conversation and pay attention to the layers of flavor, to the people around the table. The waiter checks on you once and then never comes back. Isn't it rude, after all, to interrupt good conversation? Rule number three is that dinner takes at least an hour, more likely two. When it's your turn to be seated, you settle into a corner of the steamy restaurant and the waiter brings you a glass of wine and a king crab that is bigger than your head. This small moment of "wow" is one of many on what has turned out to be an unusual trip.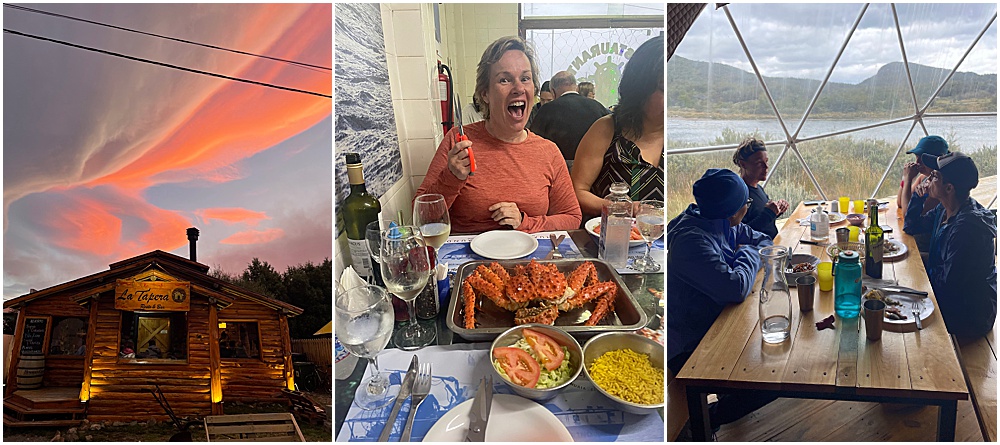 In February 2022, four intrepid travelers—Tracy, Carole, Cindy, and Ysela—embarked on AGC's Adventures in Patagonia with their guide, Jenny. The original itinerary, which included Chile, shifted when the border between the two countries failed to open due to Covid. Undeterred, these women said "yes" to a new adventure, landing themselves at the End of the World—but not before hiking a petrified forest, watching a glacier calve into a turquoise lake at Glacier National Park, climbing high into the mountains above El Chalten, and paddling through Tierra del Fuego. 

International travel—especially in these days of Covid—is often beyond control. Weather can upend a whole day of hiking. Buses can break down. Anything from holidays and political demonstrations to monsoon season can block the road forward. The only constant is change. But on this Patagonia trip, each of these women traveled with a "why" at the forefront of her mind, which made it easier to lean into itinerary changes and connect to the experience, no matter the circumstances.

Finding Your Why: 4 things to ask yourself when you're getting ready to travel (and two questions to consider when you're coming home)
1. What's your "why"?
We travel to find something—in ourselves, in the world—that can be harder to find at home. Maybe you've been yearning for a challenge, or you're wanting to stretch your comfort zone. Perhaps you're curious about another culture, or looking for illumination in your own life by understanding how things are done somewhere else. Why do you travel? The more specific and personal your reason, the better!
2. What feeds your curiosity about this particular place?
People who have the best travel experiences are the ones who take time to learn about the culture, customs, and country they're visiting before they get there. Pick up a phrasebook and practice the local language. Read books by local authors. Research the flora and fauna. Explore your ancestral connection to where you're going, if you have one. The sense of wonder and curiosity you cultivate before you even get on the plane will pay off big time when you're off exploring. 
3. Who do you want to share your travel experience with?
It's right there in the name—one big reason people travel with Adventures in Good Company is the opportunity to go on a dream trip with other fun and adventurous women. Many participants show up trusting that they'll connect with someone in the group (which they always do!), but it can also be meaningful to make travel plans with someone special. Who in your life would make a good travel partner? Is there a friend, a cousin, a daughter, or a loved one you'd want along for the ride?
Once you're on your trip, commit to staying curious about the people you meet! Ask questions, buy local food and handicrafts, and seek out different perspectives. AGC always partners with local guides for the best experience. Maite, our guide in El Chalten, shared her personal connection to place, and complex details on local history and the people who have shaped Patagonia through the centuries. If you're traveling on your own, investing in Black and Indigenous guides and local tourist organizations will give you the deepest insight while supporting the people who live there. 
4. How can you be a conscious traveler?
Before you leave home, consider the ways you hold power in the place you're visiting. How can you share as much as you take? Where do your values differ from those of the culture you're visiting, and how might you challenge yourself to stay open to other ways of life? Take the time to understand who was here before you, and consider mitigating the environmental impacts of your trip by buying carbon offsets or donating to local sustainable initiatives.

"So what?" and "Now what?"
Travel experiences only impact us to the degree we choose to let them in. Asking yourself these two questions at the end of your trip will help you reflect on what you found on your travels and take some of the magic home with you. 
So what? On the last day of our Patagonia 2022 trip, we took a moment to reflect on what the experience meant to us. Carole spoke about how touched she was by the support of the group. How, in making it to the end of the most challenging hike, she remembered how to believe in herself. Tracy practiced letting go and embracing uncertainty for two weeks straight, constantly re-framing challenges in her mind as the itinerary changed with the weather. She talked about the power of the AGC community—how important it has been for her to see other women out in front, choosing the hard thing. Exploring Argentina satisfied Cindy's active mind and endless curiosity, and reminded her to keep pursuing what makes her happy. Saying "yes" to Patagonia was her way of saying "yes" to herself. Ysela found herself asking deep questions about what she wanted, and what brought her alive. "It's good to shake up your world," she said. "To remember what you love and who you are." 

Now what? When the conversation turned to what people hoped to take home from their travels—in other words, how they planned to put what they learned into action—the group all agreed on one thing: Not one of us knows how much time we have on this planet. This world needs people who have come alive. For two weeks, that's what we were after, and that mindset was what we aimed to bring home. To live with no guarantees; to seize every moment. To eat the crab. To spend time cupped in the hands of mountains. To push ourselves beyond what we think we can do. To touch the literal end of the world and arrive back home a little different, a little more opened by wonder.

Did you enjoy Jenny's writing in this blog post? Jenny O'Connell is a published outdoor author and AGC Guide well-known for her adventurous artist residencies. As an outdoor guide for over a decade, Jenny's writing creates a space for women in the outdoors, explores risk-taking and transformation themes, and reimagines how we connect with ourselves and the planet.
Are you interested in learning how to craft your stories into pieces of writing you're proud of? Join Jenny on Writing and Renewal in Maine's North Woods from August 5 - 10, 2023! Escape to this lakeside writing retreat in the iconic landscape of Maine's north woods, defined by their solitude, sparkling lakes, and incredible wildlife. Spark creativity as you engage your body in the outdoors. Discover the stories you want to tell as you learn new skills, expand your comfort zone, and cultivate an awareness of the natural world. You'll also explore this beautiful corner of the country by foot, kayak, and raft, and return each night to comfortable green-built lodges nestled amongst the pines on Millinocket Lake.
Ready to start your next creative journey? Learn more about Writing and Renewal in Maine's North Woods here.