Wild. Austere. Pioneering. The Via Dinarica is unlike any other trail you've ever trekked. Here, a spine of 8,000-feet high peaks tower over fairytale meadows. Alpine lakes glimmer through dense beech forests, and secluded stone houses stitch together a region previously known for splintered cultures, conflict and borders.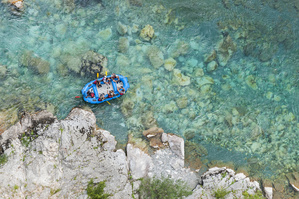 The Via Dinarica is braced to become one of the world's top hiking destinations, hiking this nascent trail is about more than scaling peaks. It's
about connection. The Via Dinarica is a cultural corridor, one that reconnects populations across the Balkan Peninsula naturally as it also provides a vehicle for connecting to nature. The Via Dinarica may be new, but it's incredibly well-loved: it was named Outside magazine's Best New Trail in 2014, Paste magazine's best trekking path in 2015, a 2016 must-see by both Wanderlustmagazine and The Guardian, and National Geographic Traveler's "Best of the World" destination for 2017.
Traveling through the western Balkans, the Via Dinarica weaves together diverse populations that speak three languages and observe four religions. Populations whose tempestuous histories were carved by the empires of the Ottomans, Habsburgs and Venetians as well as religious rifts. These days, the miles of trail tie together the region's historically contentious neighbors while igniting camaraderie with all those that endeavor to follow them. 
Read more about the Via Dinarica Alliance
Called a "mega hiking trail across the Western Balkans," our journey along the Via Dinarica takes you through three different countries, Croatia, Bosnia and Herzegovina, and Montenegro. Old trails lead to new connections with hiking companions, cultures and the rugged environment of one of the world's last wild places. Join us now while it's still an undiscovered frontier!