When our early morning flight along the Himalayan peaks ended quickly on the short runway in Lucla, Nepal, we walked off the 16-seater Summit Airlines plane to meet our female guide team for our 14-day trek to Everest Base Camp. We didn't know yet that the summit of Mount Everest, not just the base camp, was the dream for two of our guides.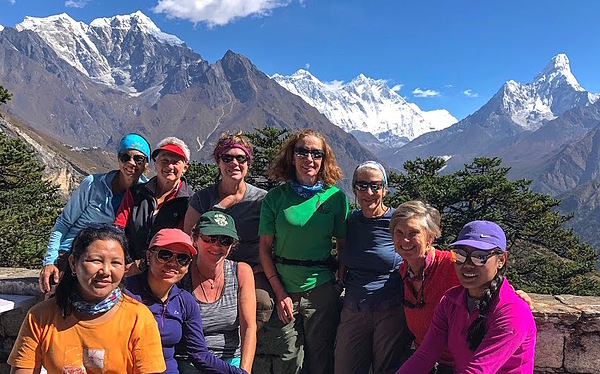 Our group of trekkers to Everest Base Camp, October, 2018.
The eight of us Western women were simply ecstatic to be done with all of the decisions about what gear to bring. We were done with the immunization shots, physical training, and all of the other preparations for three weeks in Nepal. Now, we could just start walking. Step by step, we would come to know each other, since we had each traveled alone to Nepal from across North America.
I have often traveled across the globe with small groups of women, organized by Adventures in Good Company. Laughter, a supportive environment, and freedom to be ourselves and appreciate each other's strengths as women are trademarks of our trips. Yet, this journey seemed extra special because of our Nepalese all-female guide team, a great rarity in this part of the world. Nim Doma was our head guide, with clear English and a warm smile. Assistant guides, Fura Diki and Nima Doma, were enthusiastic, fun-loving, and quick to help us in any way they could.
The three of them took care of all of the logistics on our trip, made reservations at the tea house lodges where we stayed, hiked with us—showing us the way—and helped to carry gear and load our four jopkyos. A jopkyo, hybrid between a cow and a yak, is bred to carry loads of gear at a wider range of elevations than the traditional yak. Our jopkyo driver, Pura Chamii, was also a woman from the area, completing our all-women team.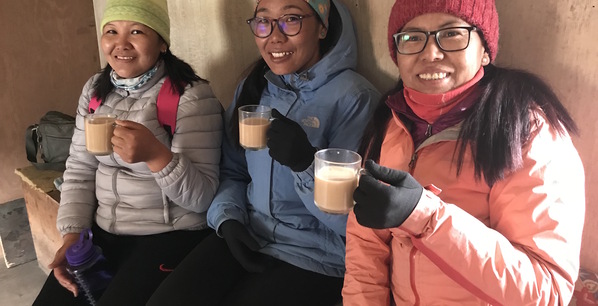 Our guide team: Nim Doma, Nima Doma and Fura Diki drinking nak butter tea in Fura's family teahouse in Dingboche.
Our hearts quickly wrapped around Fura Diki and Nima's stories. They are both widows of Nepali climbers who had lost their lives doing the dangerous work of setting routes and carrying loads for international climbers striving to climb Everest. Fura Diki and Nima have dreams to climb Mt. Everest together next year.  They want to honor their late husbands and become the first Nepali widows to stand on top of the world. 
Though they had never met, our two guides' late husbands, Mingma Sherpa (Fura Diki's) and Chiring Wanchup Sherpa, (Nima's) had also wanted to summit the peak they helped others to climb. Mingma died in 2013, when he fell into a crevasse while working as an "ice fall doctor" setting anchors, rigging ladders and ropes for climbers to use while crossing the treacherous Khumbu Icefall, above Everest Base Camp.  Chiring died a year later, in 2014, also in the Khumbu Icefall, along with 15 other Sherpas who were struck by a massive avalanche.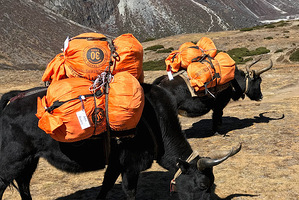 The two men's deaths on the highest mountain in the world had devastating effects on their friends and families, especially on their wives, who lived in small villages in the Khumbu region of Nepal where Mt. Everest is located. 
Centuries-old customs of discrimination against widows are slow to change, specifically in rural areas.  Superstition still promotes the belief that widows are bad luck—as if the husbands died because of their wives. Traditionally, Nepalese men own land, but widows do not inherit their late husband's land or other any other assets.  Therefore, economic security, hard to come by in rural Nepal, is virtually impossible for widows.
Discrimination also persists against women working in the most lucrative job in the region—as climbing guides.  Nepalese society is slow to recognize women as strong and capable in the mountains. Our trekking group felt lucky that Last Frontiers Trekking, our Nepalese outfitter, discovered Fura Diki and Nima when they reached out to other companies, looking for recommendations for female guides for our all-women's group.  Recruiting capable women was difficult because so few women work in the male dominated guiding field. During our trek, we hiked with a number of other groups, yet I didn't see any other Sherpani guides.
Fura Diki (now 40 years old) was just 19 when she and Chiring Wanchup wed.  They had a "love marriage" instead of a traditional marriage arranged by parents, as is still common today. She continued to live in her village, Dingboche, a village our trekking group visited, instead of moving into her in-laws house, also contrary to tradition.  Fura Diki cooked and cleaned, running a small tea house restaurant that served drinks and snacks to locals, supplementing her husband's guiding income and taking care of their three daughters. After her husband died, she continued to run the tea house, but couldn't make enough money to support her family.  So she moved to Kathmandu and started to work as a trekking porter, carrying loads for tourists.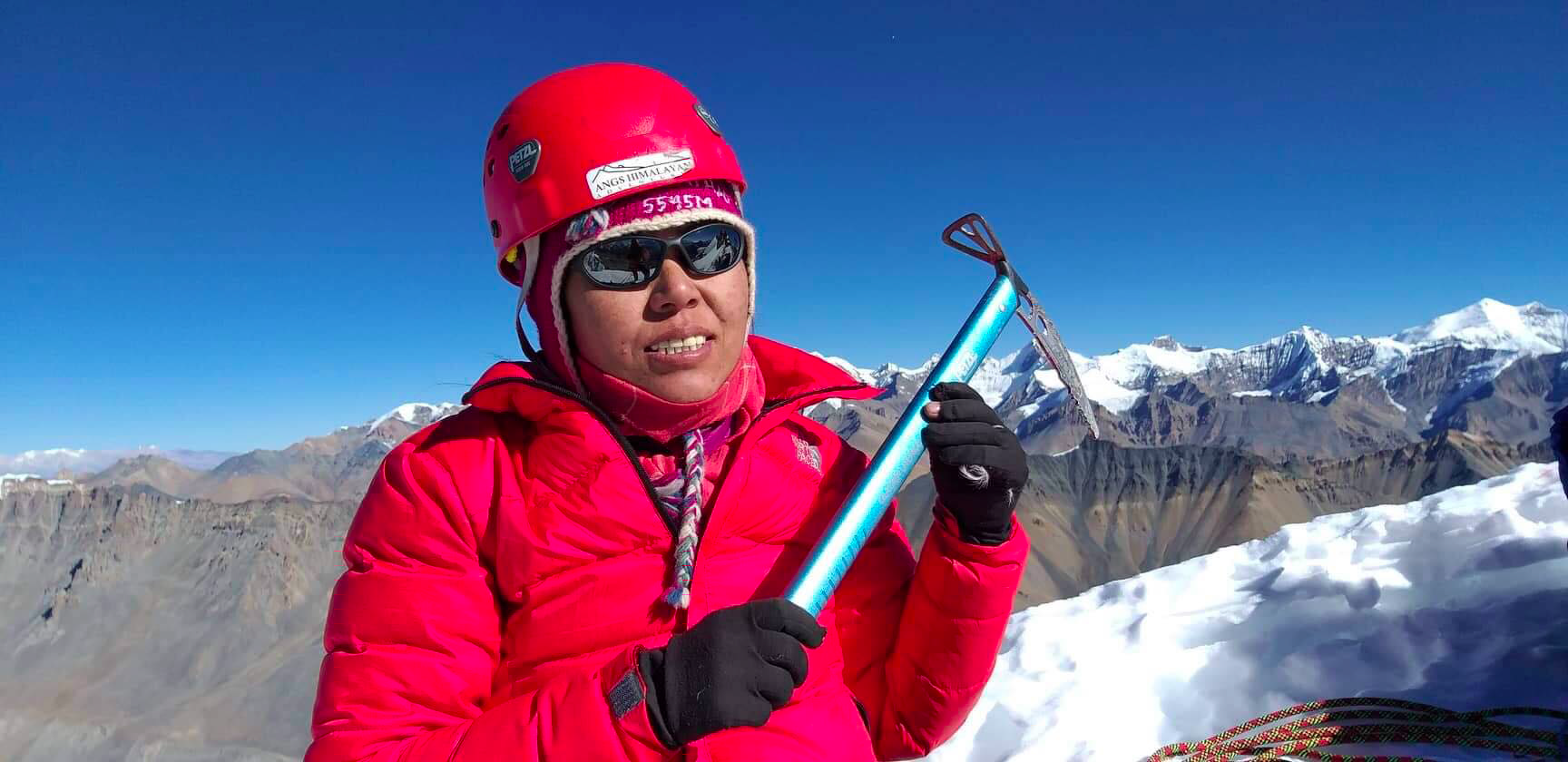 Fura Diki on Chulu East Peak November, 2018
The mountains have always called to Fura Diki. She says, "Whenever I see the mountains, I have the desire to go there. My father used to tell me the story of mountaineering life.  It was at that time that the idea of becoming a mountain guide was planted in me.  However, at that time our society and family did not allow women to climb mountains."
Fura Diki is now following her dream and has started taking mountaineering courses, and as well as English lessons from the Kathmandu Environmental Education Project.  She is currently a certified trekking guide and plans to take up climbing as her profession, working on her high Mountain Rescues and Advanced Mountaineering training.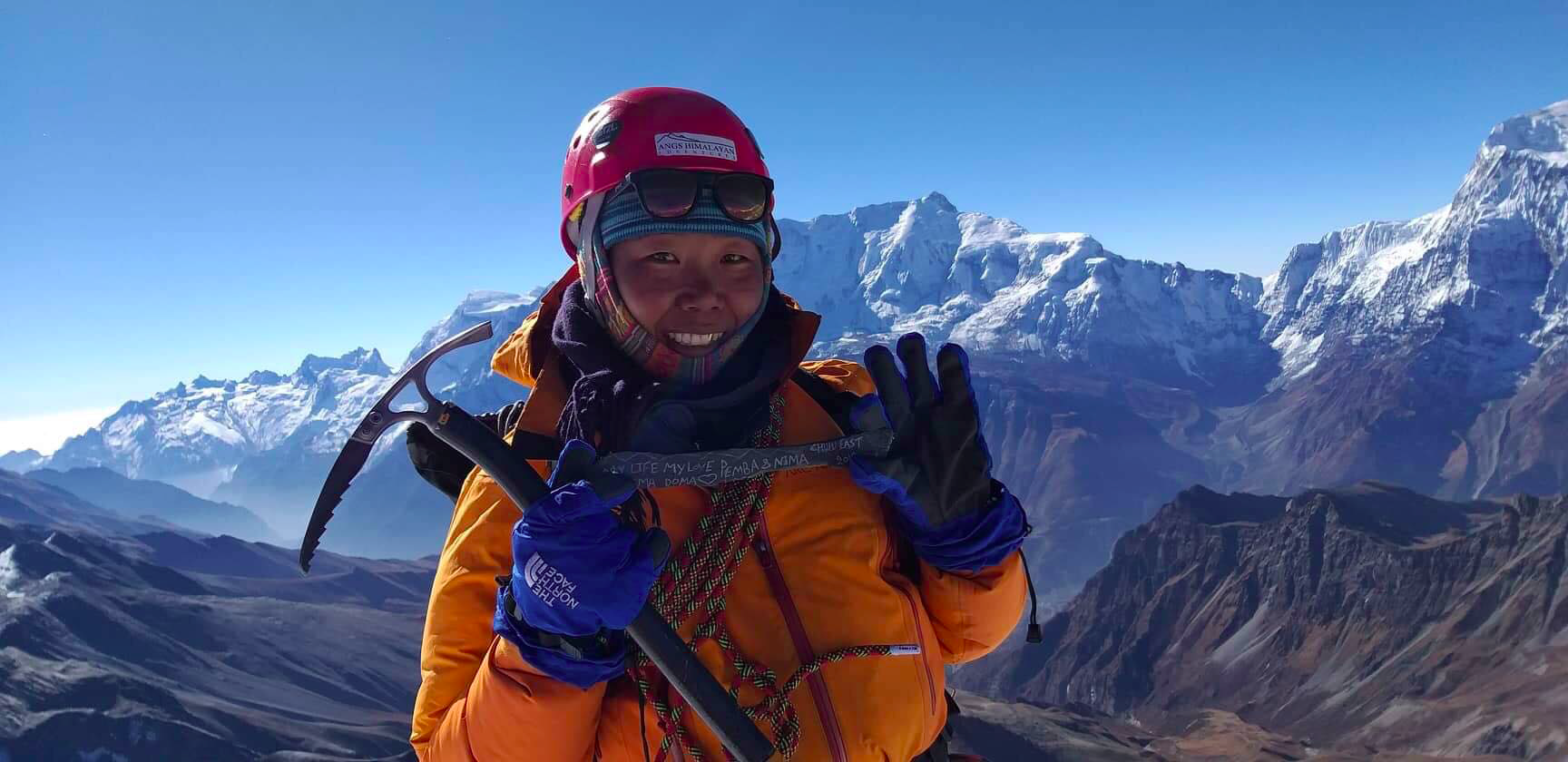 Nima Doma on Chulu East Peak November, 2018
Our other guide, Nima Doma (36 years old), grew up in Khumjung, another village on the way to Mt. Everest.  She also worked in her family tea house, where our group enjoyed lunch during our trek.  Nima has two children, a boy and a girl, and is determined to be a role model for them, showing that single women can be independent and strong, in the mountains, as well as at home.
After her husband died in the second largest disaster on Everest, she also moved to Kathmandu to have a better chance at earning money. She started working as a porter, carrying loads for trekkers, and worked up to being a guide. Nima completed basic mountaineering and climbing courses, as she, too, wants to be a professional trekking and mountaineering guide.
Both Fura Diki and Nima want to inspire widows and single parents to be independent and take on leadership roles.  They are working with a film-maker to make a documentary film of their journey to Mt. Everest, showing that single women and widows are strong and skilled enough to summit big mountains.
One question that the women face (which male guides are seldom, if ever asked) is who takes care of their children when they are climbing?  Fura Diki wanted her three girls to have more educational and other opportunities than she was able to provide and found an adoptive family in the USA that does charitable work in Nepal. She is able to stay in close contact with her children though video calls and hopes to be able to visit them soon in person.  Nima Doma lives with her mother in Kathmandu, who takes care of her two kids when Nima is working.  As mothers, they are both concerned about embarking on mountaineering expeditions in dangerous terrain. However, they feel that developing their own strengths, taking on leadership roles, and providing a good income for their families is better for their kids than working in less lucrative and less meaningful work in Kathmandu. 
Trekking to Everest Base Camp fulfilled my dream of hiking for weeks through spectacular mountains in every direction.  I am still reveling in the plethora of sensations I experienced:  the smells of incense and cooking food; the tastes of momos, lemon ginger tea, and dal bhat; the feel of the rocks beneath my feet; the turning of so many prayer wheels; the vistas and more vistas of the amazing Himal mountains; rivers rushing below the many bridges we crossed; and the sounds of the jopkyo bells and languages from across the world, brought together by a simple "Namaste."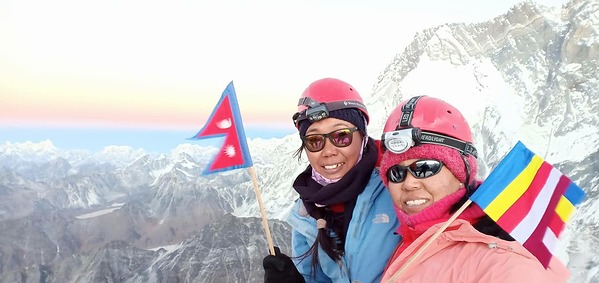 The two women recently successfully climbed Island Peak on Mt. Everest.
Above all, I was inspired by two young widows and their determination to stand on top of Mount Everest.
Fura Diki and Nima Doma are working hard to secure equipment and sponsors, taking rescue and advanced mountaineering courses, climbing training peaks, and perhaps hardest of all, raising money. They need more than $47,000 to fund their expedition next year.  Our trekking group has started a crowd-funding site to help them climb Everest and break through barriers for widows.
Please click here if you can help too and please share the link with others, or copy and paste into your web browser.
https://www.gofundme.com/q56d4p-two-climbing-widows?teamInvite=nl1QIa9iEdVz341uiw0Gr2KAkte3Ij6o65yJc8QnjhI8daf42A47cVAHAzqbXmmW