We are huge fans of using trekking poles on almost any hiking, trekking or backpacking trip. They make hiking so much more enjoyable by providing stability, increasing endurance, and taking the impact off of your knees. In this blog, we are going to tell you why you need trekking poles, how to pick the right pair for you, and everything you need to know about traveling with your trekking poles.


Why You Need Trekking Poles:
Trekking poles contribute to your safety by improving your balance and stability.

Using trekking poles also takes a huge amount of impact off your knees and ankles.

They help conserve your energy by transferring some of the work to your arms and chest. 

Using poles takes 20% of the weight off each side as you step. 

As an additional bonus, you also get an upper body workout with great triceps training.

All of the above combined will provide more endurance and allow you to be active longer.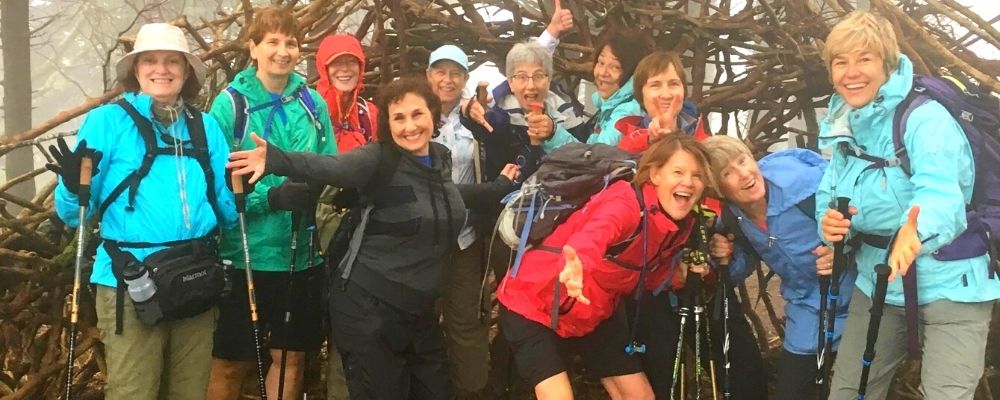 How to Choose the Right Pair of Trekking Poles:
If you're just starting out, you could consider buying an inexpensive pair or borrowing a pair of poles from a hiking friend. Go on a few hikes with them to learn how to use them and see how you like them. Or even better, come on an AGC hiking trip to test them out and learn tips and tricks from a community of trekking pole experts! This would also allow you to see what other hikers have chosen for their poles and help you make a more informed decision regarding the "perfect" pair of poles for you.
If you're ready to commit to buying a pair of trekking poles, below are a few specs and details to pay attention to. The list is in order of the most important characteristics to consider.


Weight
As lightweight backpackers, the weight of trekking poles has to be at the top of the list of considerations. The lighter the better! Remember, you will be picking these poles up and down hundreds (or thousands) of times during your hike/backpack and weight will be important. Each of these will be discussed more thoroughly below.
There are several factors that influence the weight of your poles including the following: 
What material are they made of?

What type of locking mechanism do they have? 

Do they have "shocks"?

Do they have baskets?

What are the handles made of? 
Pole Adjustment Mechanism
There are several types of locking mechanisms for pole adjustment. Our favorite for many years has been the 'twist' type of mechanism because it was less 'weighty' and was quite reliable. Most companies have now switched to newer technology with a lever locking mechanism. In addition to these two styles, the most commonly available are:
DuoLock

Super Lock System

Stop Lock 
All of these locking systems weigh about the same so make sure you understand your particular locking system and can operate it well under the conditions you will be using the poles.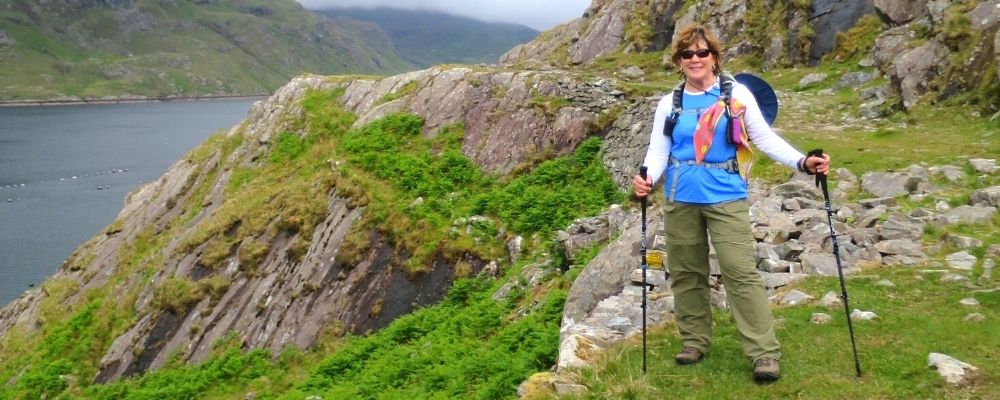 Sections
You can buy poles that separate into either 2 or 3 sections, which is great for breaking them down to fit into your pack or travel bag.  Our preference (and many other hiking/backpackers' preference) is the poles that break down into compact pieces. The 3-section pole is how almost all hiking/trekking/backpacking poles are made. A 2-section pole provides a bit more strength which is a good option if you'll be using them for mountaineering or skiing.
Material
The most common types of material used for hiking poles are aluminum or carbon fiber. Carbon fiber is the lighter-weight material of the two, but that will be reflected in the cost of the poles as well. 
Grips
Grips are definitely a personal preference, keeping weight in mind as the top priority. Test out a few different grips feels to see what type you prefer. Some of the options are:
Rubber is a good option for winter sports because it does not absorb water and it insulates your hands from the cold. Rubber isn't the ideal material for warm weather hiking because it can be more abrasive to bare skin. 

Cork is a material often used for handles, and an upside of cork is that it is comfortable and molds to the shape of your hands. Cork tends to not absorb moisture, which can result in slippery handles if you have particularly sweaty hands.   

Foam is a soft material and many hikers and backpackers feel it keeps their hands cooler. Foam does absorb moisture but does not become 'sodden' or misshapen with just hand moisture. 
Pole Height
Make sure that the poles you purchase are suitable for your height. Some trekking poles come in regular and tall heights, and some have weight recommendations for their specifications.

There are some types of poles that do not extend for downhill hiking, such as the newer Z-type poles. We prefer poles that do extend for downhill hiking to help take more impact off of your knees. 

Consider women's poles if they are available in the brand you're looking at. These poles are often shorter, which decreases the weight and they have smaller handgrips, which makes them more comfortable.
Wrist Straps 
Look for poles with wrist straps that are adjustable and that you understand how to make the adjustments. It's very important to use your trekking poles correctly, and having wrist straps that are adjustable is fundamental in learning to and using your poles correctly.  
Baskets
Our suggestion is to avoid poles with baskets unless you are planning on doing your trip in the snow.  If your poles come with baskets, they can be easily removed and saved for a trip you may need them for.
Shock Absorbers
There are pros and cons to shock absorbers in trekking poles. Shocks definitely add weight to the poles, and many hikers and backpackers feel that they do not make a difference in comfort. In fact, poles with shock absorbers can actually create a feeling of instability, especially in situations where you need to have good balance (rock hopping, narrow ledges, crossing streams, etc.)  Although we aren't big fans of shocks in hiking poles, there are some hikers that like them so test out both and see what you prefer.
Use
What will you be using your poles for? Will they be multi-use poles for both hiking and snowshoeing for instance or are they just for hiking/trekking/backpacking? There are different poles for different uses but often you can get away with using the same poles for multiple activities.
When picking a pair, try to choose a pair that's geared toward what you will be using them for most.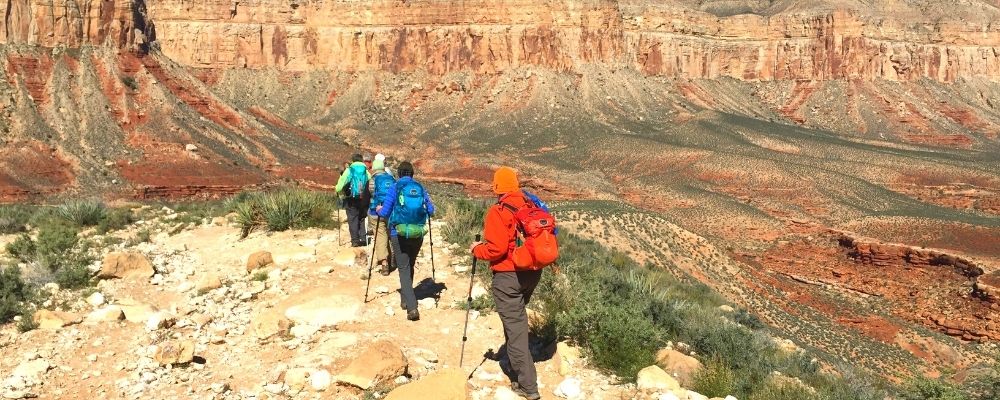 Tips on Traveling With Your Trekking Poles
Carry-on or check your poles?
We get asked a lot, "What is the best way to travel with my trekking poles?" Carry-on baggage, checked suitcase, or ship them to your destination? Here are our top four tips for traveling with your poles.
If you have time and don't mind the added expense, send them ahead to your destination, either by US Postal Service, FedEx, or UPS. 

Put them in your checked baggage. If they don't fit into your suitcase when they are collapsed, pull them completely apart. Also, make sure to cover the tips with duct tape or something to keep the points from ripping your clothes or suitcases to shreds. The likelihood they will get there is quite high and it takes no advance planning. If you would otherwise not be checking your bags, then the additional cost is the baggage fee you'll have to pay (unless you're traveling on Southwest).



Pull your poles completely apart and put them in your carry-on luggage. We get asked a lot, "Will TSA let me carry on my trekking poles?" If you ask TSA, you will most likely be told that carrying on your poles is not legal. However, our experience is that when traveling in the United States, it is very uncommon to be stopped. What we recommend is to pull your poles completely apart and put them in your carry-on luggage; if your luggage is designed to fit the requirements of carry-on baggage, the poles will just fit. Leave enough time at the airport to check your bag if TSA does decide to stop you.

The advantage of carrying them on is that you know your hiking poles will definitely get there and it won't cost anything extra. The downside is that you could get stopped and have to deal with the time and expense to check your bag.
Wrap them in socks, stick them in your daypack, and sashay on through . . . This shouldn't work we but are always happy to hear when someone on a hiking trip did this exact thing. We can't say we recommend it but everyone has their own tolerance for risk!
Trekking poles will be a great addition to your hiking and backpacking gear. With trekking poles, your future hiking trips will be much more enjoyable. More stability, happy knees, and increased endurance. If you do some research when choosing poles and consider the important features we mentioned when picking a pair, you'll likely end up with a great set! 
If you have a favorite set of trekking poles, let us know what they are in the comments!
Disclaimer: This blog post features some affiliate links. This means AGC gets a small commission if you make a purchase (at no extra cost to you). Thank you for the support!