When you see South Dakota on our menu of trips, it might not immediately catch your eye. But when you take a closer look, this state may surprise you: With its panoramic views, sparkling lakes, and plentiful wildlife, this is a gorgeous, hidden part of the country that should be added to your list of must-see destinations this summer! 
South Dakota Is Stunning.
The Black Hills are truly one of the most beautiful destinations in our country. The name, Black Hills, comes from the Lakota words "Paha Sapa," which means "hills that are black." The pine forests covering the hills make them appear black from a distance. Those verdant forests contain lush meadows, clear bubbling streams, and an incredible array of wildlife, including herds of bison dotting the landscape.
The black hills are also known for their granite spires and domes that pierce the skyline. On our trip, you'll see beautiful vistas from the top of Black Elk Peak, as well as take a dip in Sylvan Lake, one of the most picturesque lakes in the country, with its smooth granite domes rising right out of the water.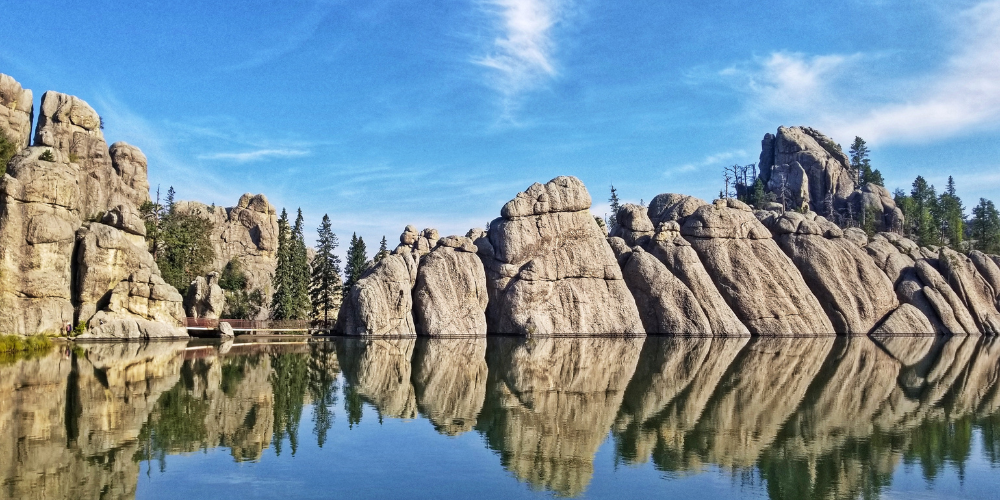 South Dakota Is Sporty.
There are almost too many choices of activities in the Black Hills - you may want to stay an extra day or two to explore! Our trip is a sampler of some of our favorites, including two gorgeous hikes, a cycling day on a repurposed railroad track (mostly downhill!), swimming, wildlife viewing, and ziplining. It's a balanced combination of exercise, excitement, and laughter packed into one long weekend.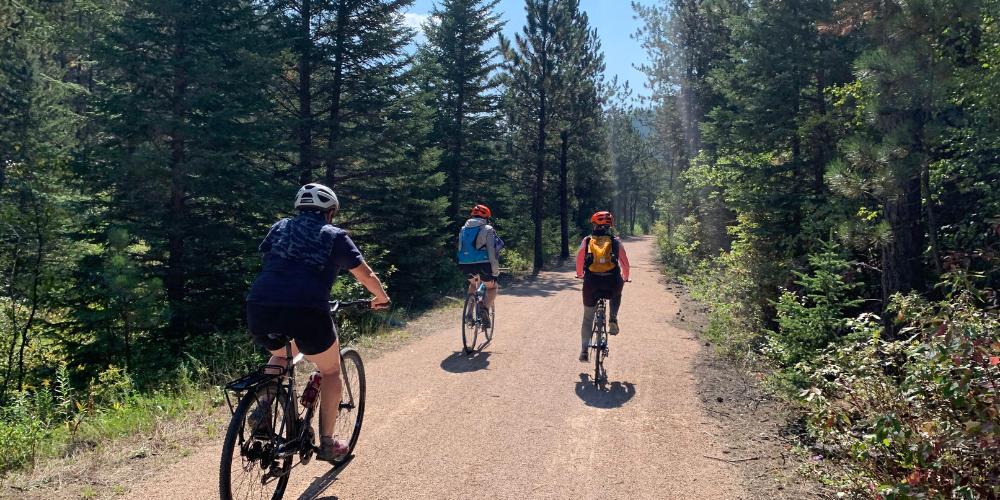 South Dakota Is Sacred.
The cultural history of the Black Hills is rich and varied. We pack as much as possible into our short stay, beginning with a lighting ceremony at Mount Rushmore on the first evening of the trip. This poignant ranger-led experience will introduce you to the storied history of the area and the monument itself.
On our first full day, we'll hike Black Elk Peak, the highest point in South Dakota. On clear days you can see four states from the top (SD, MT, NE, and WY). Formerly known as Harney Peak, the mountain's name was officially changed in 2016 to honor Black Elk, a noted Lakota Sioux medicine man. As you near the summit, you'll begin to see colorful flags adorning the trees – these are Native American prayer ties meant as offerings to the great spirit. 

South Dakota Is Serene.
The Black Hills can be busy, but our itinerary ensures you'll get off the beaten path. In addition to our busy days of hiking and biking, we'll also savor a wine tasting at a local winery, and each afternoon we'll return to our lovely cabins in the woods (with lots of private bedrooms) to gather on our deck for reflection and a peaceful meal to end the day.
Our lodging on this trip, Hinterwood Inn and Cabins, is a peaceful haven nestled in a quiet valley in the heart of the hills. Last year our group returned each night to a herd of deer bedding down in the meadow outside our cabins. 
South Dakota is stunning, sporty, sacred, serene: and off the beaten path. Just how we like it!
Ready to discover what you've been missing in this corner of the U.S.?