Adventures in Good Company has been very fortunate to have Brenda Porter guiding for twenty-five years, supporting trips in magical ways, and enjoying many wonderful people and incredible places visited. This spring she signed on to guide a group of eleven women who have been best friends for five decades and planned their own private trip together.
The friends who call themselves the 'Ya Ya's' met up in Panama to celebrate their seventies (as in years), and their special life-long friendships. In Panama, they enjoyed snorkeling, stand-up paddleboarding, doing yoga, and Qigong. They kayaked, and explored the beaches and nearby villages. They shared meals, sang, danced, read, supported each other, and never stopped sharing stories and delving deeper into their relationships.
As their guide, Brenda was honored and moved to witness their supportive friendships and each individual's zest for life. She was grateful to have had the opportunity to guide their special trip — it was special for her, too.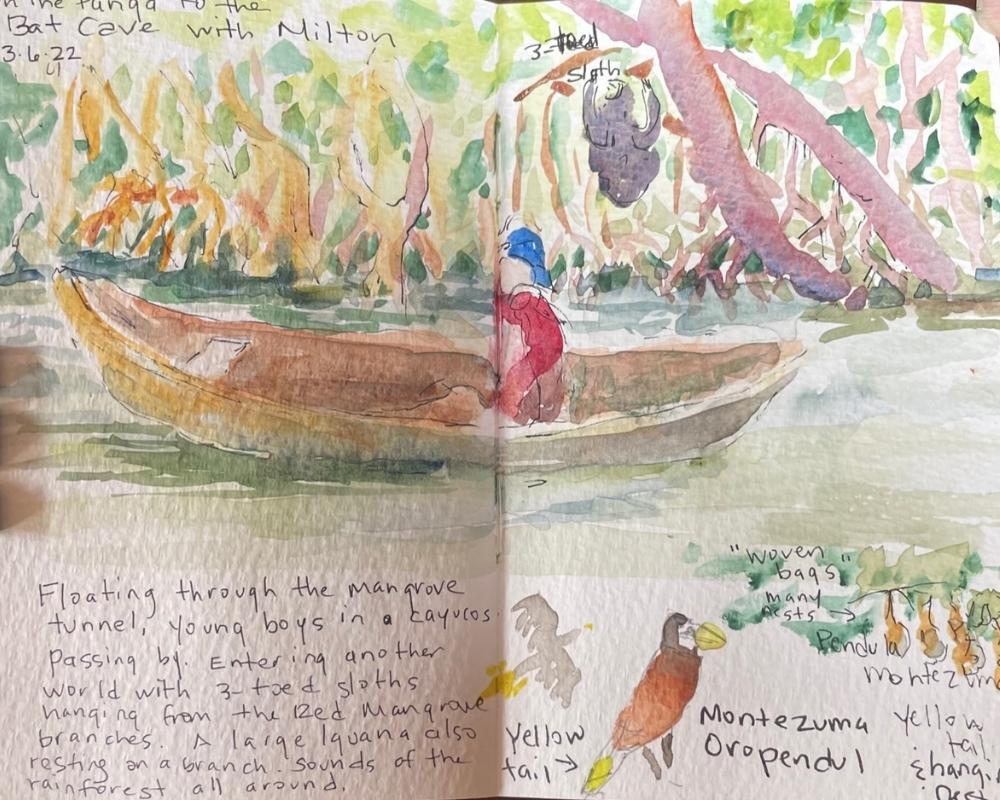 Brenda is also an artist, and as is usual for her when traveling, she carried a small sketchbook, water brush, and a watercolor set. She swiftly sketched and tried to take notes during boat rides, on tours with local guides, or in other moments that she had time to capture.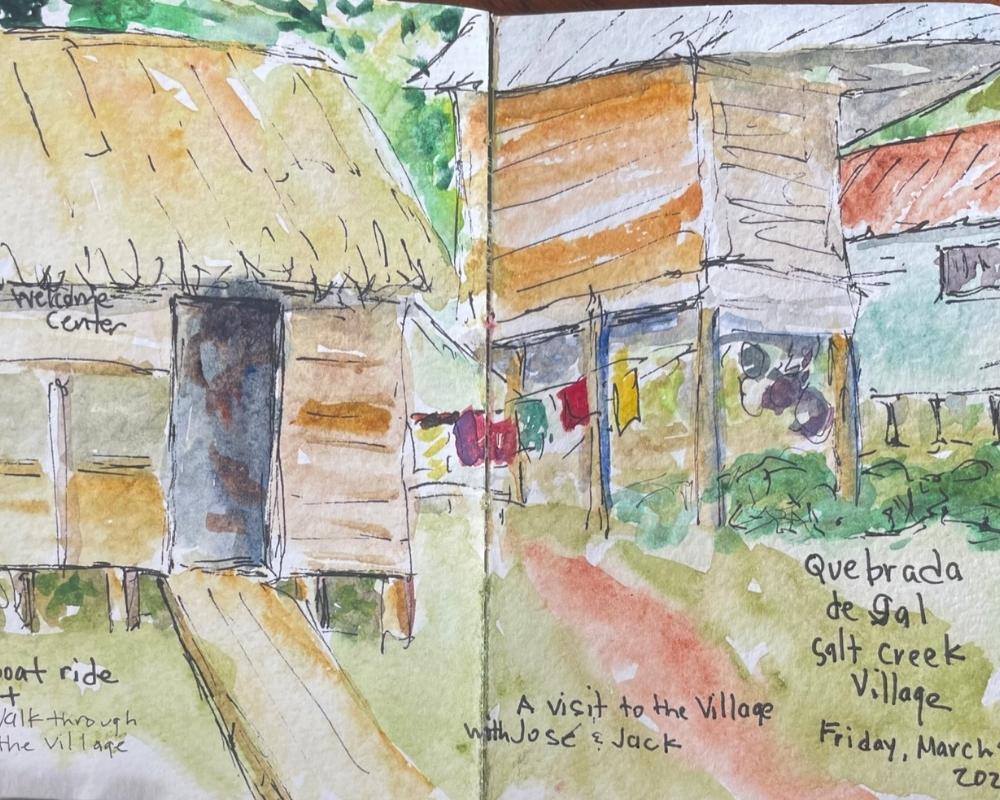 A highlight of the trip was the visit to Quebrada de Sal (Salt Creek Village), the home to the local guide José, as well as the other staff from Casa Cayuco, the eco-lodge where the group stayed. José is a fisherman and night watchman turned guide. He shared his home and natural environment with the group, drove the boats, and led the women snorkeling. Casa Cayuco is working to outfit a remote medical outpost at Quebrada de Sal, which will be staffed by Floating Doctors.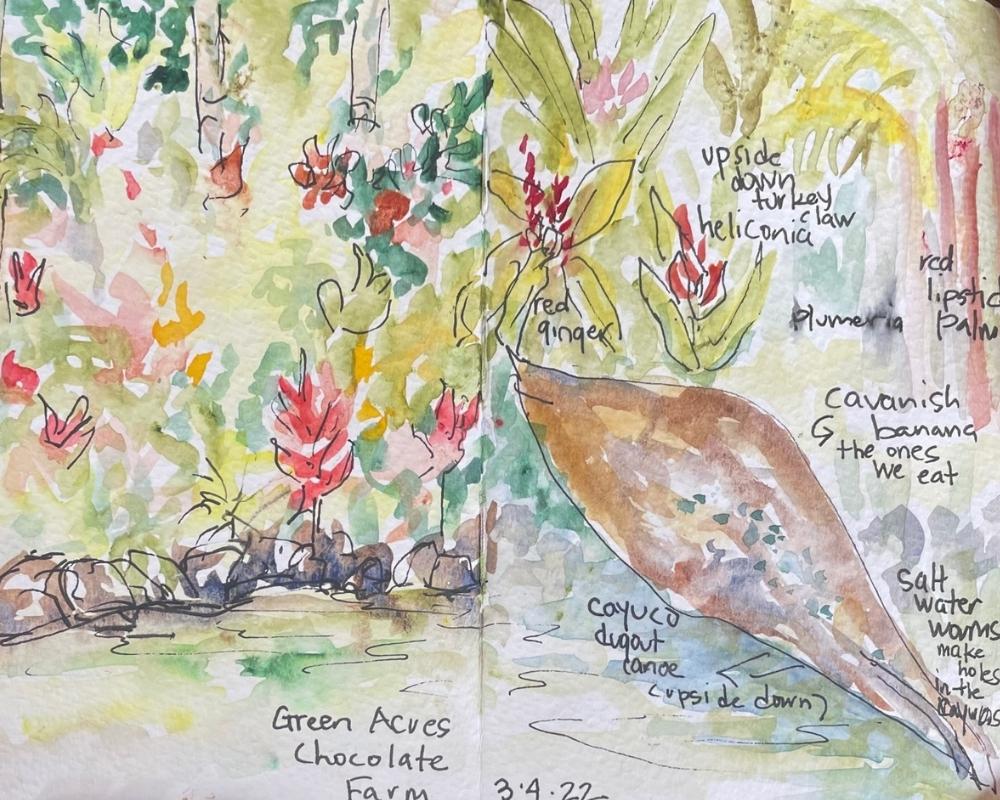 The friends also toured the gardens at Green Acres Chocolate Farm and tasted a sampling of chocolate nibs, chocolate drinks, and candies. Brenda was inspired to learn about the Almendro Tree and efforts to save the species. The Almendro tree is an important food source and shelter for many rainforest animals. The locals are planting nursery trees to save this endangered tree.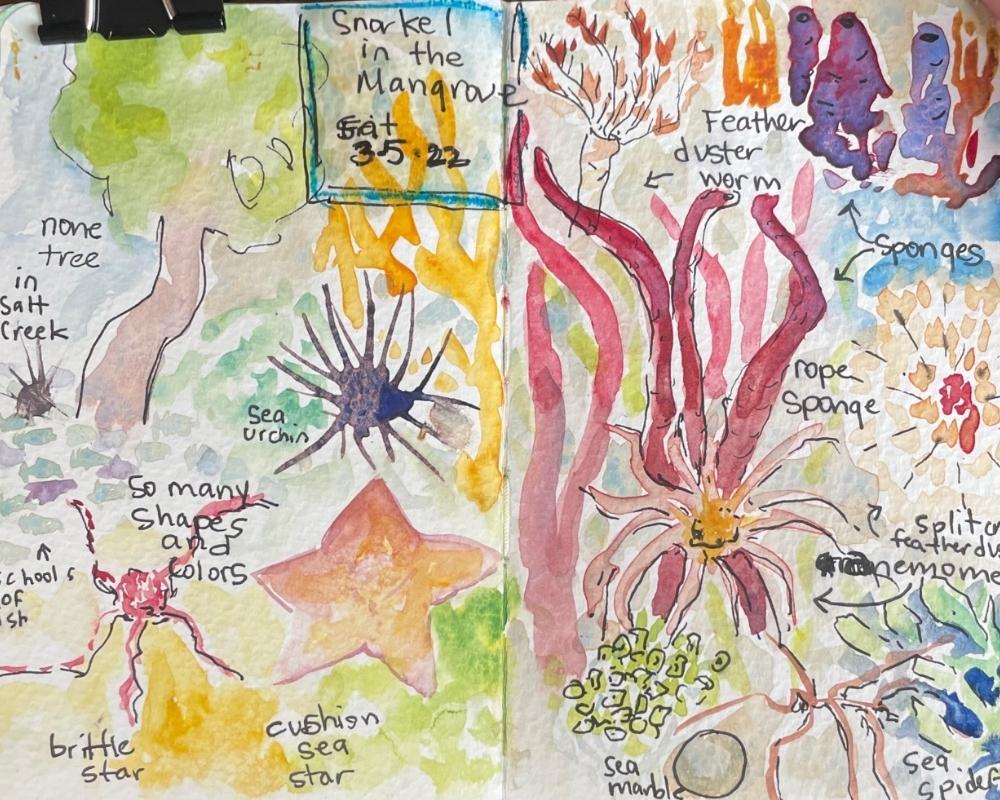 Another day, the group snorkeled around a tiny island of mangroves among the most amazing sea creatures, with bright colors, crazy shapes, and changing forms. During a rainy afternoon, while others were reading and relaxing, Brenda was inspired to look up the creatures and attempt a sketch of what she had seen.
Casa Cayuco eco-lodge definitely provided Paradise in Panama and it was an extraordinary experience for Brenda to get to enjoy it with the Ya Ya's!
Does a little bit of Paradise in Panama sound intriguing? It is a hidden gem featuring an incredible variety of ecosystems where it is easy to feel that you have gotten off the beaten track. It is a women's adventure travel dream!

Interested in your own private or custom trip? You choose the Itinerary, the season, the people! We'll take it from there! Our private and custom trips feature the same expert guides, flexible itineraries, extraordinary destinations, and great food as our scheduled trips.