After each AGC trip, our guides send a post-trip letter to travelers highlighting the most memorable moments of their journey together. These letters serve as a heartfelt expression of appreciation for our travelers' patronage and as an opportunity to reflect on the experiences shared during the trip. We've found these letters to be an excellent way to stay connected and to keep the memories of our travels alive long after we return home.
In the post-trip letter below, written by AGC guide Kaitlyn Shinney, travelers relive cherished memories of their Emerald Isle visit in May 2022. Through Kaitlyn's recap, we gain a deeper appreciation for the rich history, culture, and natural beauty of Ireland.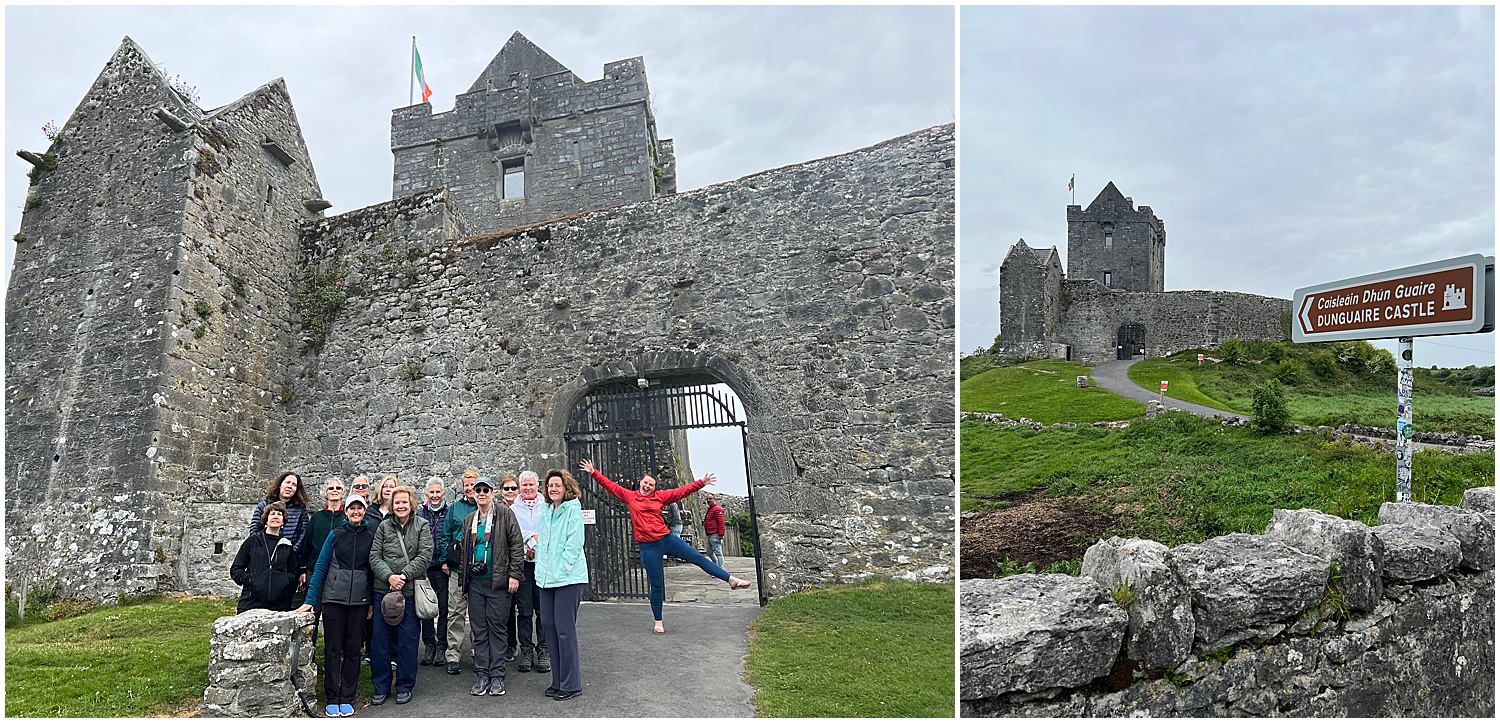 What a time we had in Ireland! It started when you were picked up at Shannon airport. Our trip is named Ireland: Culture, Castles and Hiking, and wow, did we hit the mark. We enjoyed a picnic lunch in Kinvarra Harbor, looking for Galway Hookers and facing Dunguaire Castle built in 1520. We now know why Dunguaire Castle is believed to be the most photographed castle in Ireland. The afternoon was enjoyed at Caherconnell sheepdog demonstrations thanks to border collies Lee, Lynn, Rose, and Jess. We checked into the Doolin Inn and walked to McGann's Pub for dinner, snapping selfies with the cows along the way. We stayed for traditional music as the rain pounded the restaurant, and we enjoyed the music of the uilleann pipes.

Our first hike of the trip was in the Burren. Burren comes from the Irish word Boireann meaning a rocky place. Ireland is known for its limestone, the karst limestone landscape of the Burren, one of the largest in Europe. The Burren is truly an amazing place: in these 100 square miles of jagged limestone, Arctic, Mediterranean, and Alpine plants all live side by side. In fact, 70% of all of Ireland's flora can be found here. One of the most famous plants of the Burren, the Spring Gentian, is notable for its beautiful, trumpet-shaped, bright-blue flowers. Each flower has five petals and an inner fringe of fine lobes between the petals, surrounding a white center. White or mauve-colored varieties may sometimes be seen and we were fortunate to spot them.
Back to the hotel for lunch and fresh clothes and off to dinner at Bunratty Castle for an authentic medieval banquet. Touring the grounds brought us back in time. The cocktail party in the Grand Hall with a harpist and choir, spotting the Sheela na gigs (Shelia), the figurative carvings of naked women, then downstairs we went for a themed dinner eating with our hands was great Craic. The night ended with a bagpiper and rainbow.

Thursday was a glorious morning to hike the Cliffs of Moher. We enjoyed the solitude of the trail and had lunch in the cafe of the Visitor's Center. Our afternoon was spent smelling our way through the Burren Perfumery, learning how the landscape inspired their products, then tea and treats in the Tea Room. Today is our day to board a ferry to the Aran Islands. When we first arrived in Doolin, we went straight to the beach to see the massive waves, and thank our lucky stars, the seas were rocky but not as rough as the previous days.
We arrived in Inishmore to enjoy a full day of exploration. Some biked, took a horse and buggy ride, hiked, shopped, or looked for seals. One highlight was Dun Aonghasa Fort, 300+ft above the cliffs. We regrouped by the pier and then boarded the high-speed ferry to Rossaveel, where Edel was waiting to take us to Clifden. We checked into the adorable Buttermilk Lodge and headed off to dinner at EJ Kings.

Saturday morning, we took a group picture at the Wild Atlantic Way viewpoint sign and a white horse came right up to the group. Make a Wish! Edel took us into the bog, a distinct type of vegetation that is supported by compact, partially decayed organic matter known as turf or peat, 96% water, and 4% organic matter. The organic material consists of remnants of leaves, roots, stems, twigs, flowers, seeds, fruits, pollen grains, and spores. Ireland contains 50% of all the blanket bogs in Europe.
Edel taught us about turf cutting and how it is still a community activity. A spade is used to open the bank and the turf is cut with a slane. Underfooting is the vertically downward cut. It is then laid out to dry and the top cut is placed to cover what you removed to assist the process of regrowth. We learned about the 'turf wars' of hand-cut peat or machine removal of the area. Turf cutting in Ireland dates back to the 8th century. The smell is something we will not forget. We had a windy hike at Diamond Hill in Connemara National Park, then a picture-perfect afternoon strolling Kylemore Abbey and Victorian Walled Garden.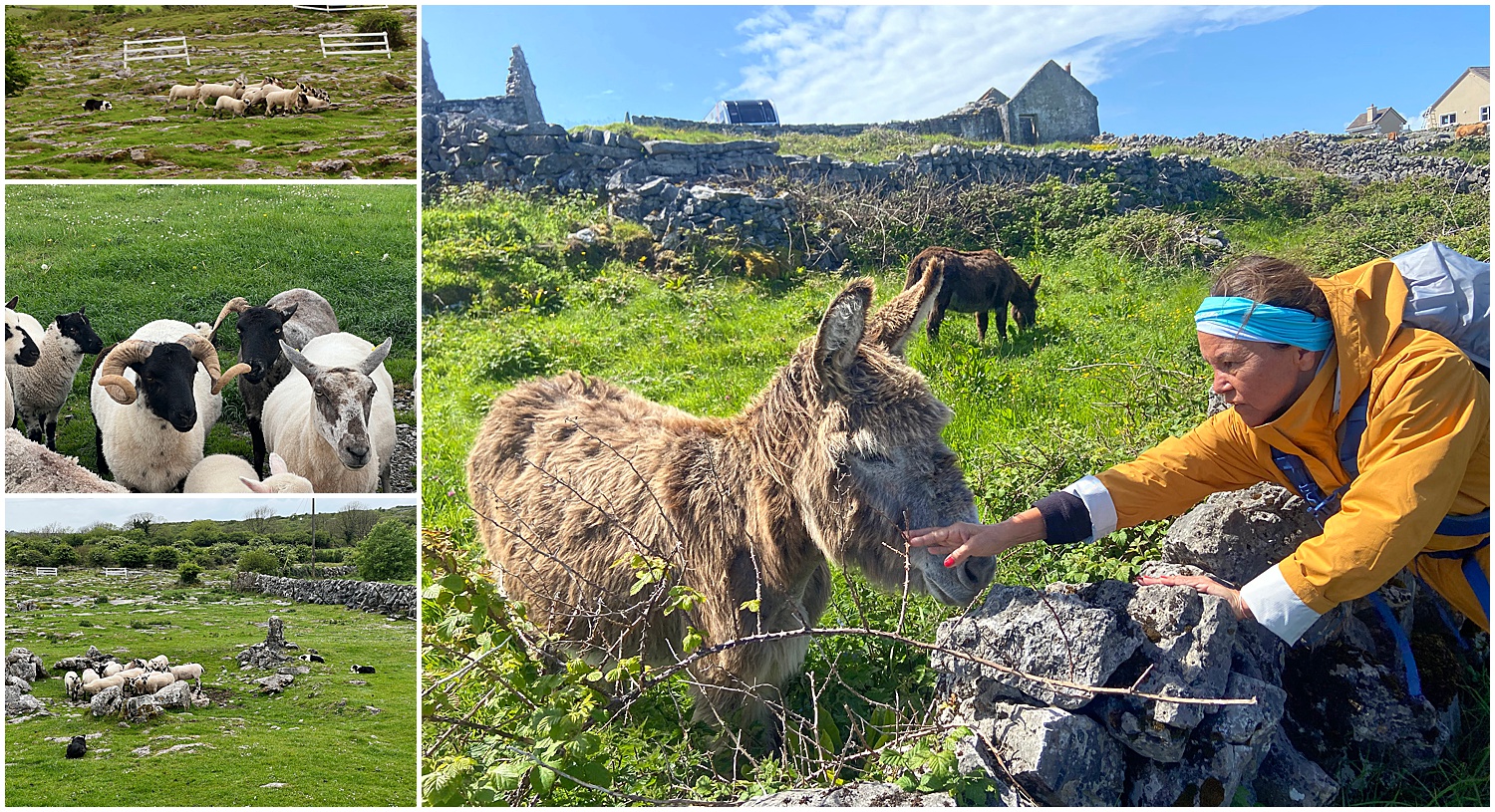 There was a group request for a picture of sheep on the road earlier in the week and it was delivered today in Leenane. We hiked the Famine Walk, named after the potato blight and famine during 1845-52. We experienced multiple weather forces, sun, sprinkle, drizzle, rain, wind, and overcast skies. After lunch, we enjoyed a narrated boat tour along the Killary Fjord and a close-up look at the shellfish mussel farm. Dinner tonight was enjoyed by all at the vegan-friendly Darcy Twelve.

Monday, we headed off to Athlone but selected a quick stop in Cong County Mayo to stretch our legs and snap some pictures. Cong is known for the Ashford Castle, dating back to the 12th century, and the 1952 classic The Quiet Man starring John Wayne. We arrived at Clonmacnoise Castle on the Shannon River, with stunning views and perfect weather.
We dined at Hodson Bay Resort in Roscommon and, after dinner, showed the map of all our miles and accomplishments of the journey. We spent the morning looking for fairies before arriving in Dublin for a tour of the Whiskey Museum and strolling the streets. The trip ended with an overnight at the K Club chateau. Certainly a once in a lifetime lodging for me. Sadly that brought us to Wednesday, when everyone continued their travels onward or home.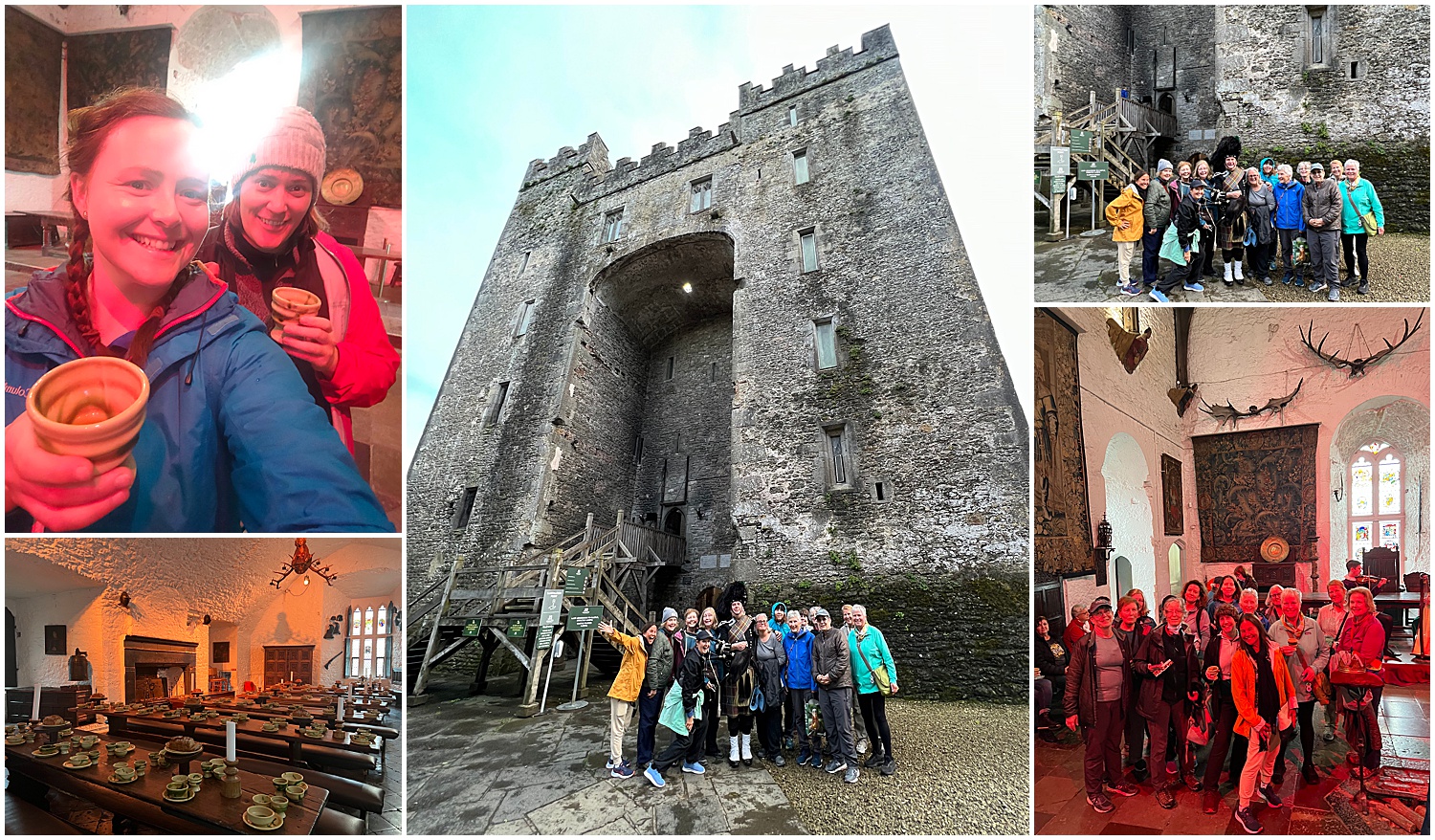 "This trip was absolutely wonderful in almost every way, and a huge part of the credit goes to our two outstanding guides, Kaitlyn and Edel. Their ease with each other and with all the participants created such a friendly, close feeling amongst the group that began early and lasted throughout the trip. They were upbeat, completely competant to deal with any situation that arose, and just a joy to be around. I've been on many AGC trips in which guides obviously worked well together and enjoyed each other's company, but this team were on the same page and so compatible, a skyrocket team!--they pulled us all together in every way. We felt we were in great hands without being coddled or micro-managed."
- Mary H. | Ireland: Castles, Culture, and Hiking, 2022
Ready to add Ireland to your list of adventures this year? "Ireland: Castles, Culture, and Hiking" is a hiking and sightseeing tour designed to explore Ireland from Shannon to Dublin. You'll hike high cliffs, national parks, and secluded islands, while also enjoying castle visits, city visits, and some of Ireland's most unique natural wonders. Join us on our upcoming departure!