Adventure is the best souvenir.
When people sign up for adventure travel, they may arrive just looking for a new experience in a new place, but they leave with so much more…
From finding the people who support us to discovering the spaces where we feel like we belong, adventure travel has a funny way of leading us to a community that's just right for us. And at AGC, our goal is that every trip provides this sense of belonging for participants.

This gravitational pull of shared interests around the globe is not only what brings us together but keeps our friendships alive and thriving. And the stories that bloom from AGC adventures are a testament to precisely that.
Linda, Frances, and Pat met through an AGC adventure, 'On the Camino de Santiago,' in September 2022. But thanks to the handy AGC companion list, their connection began before even stepping foot in Spain.
"Frances, Pat, and I met via email. I emailed all registered participants on April 30, 4 1/2 months before the scheduled trip. I mentioned that I would go a few days early to acclimate and explore and asked if anyone else had plans or wanted to make plans.
Both Pat and Frances responded with their interest in furthering the conversation. We developed our plan and even arranged to be on the same flight from Atlanta to Madrid, coming and going.
On the pre-trip days, we explored by visiting art museums, did a bus tour of Madrid, spent an afternoon at a park, and ate great food. Saturday, September 17, we hired Paola, the driver, for the day to drive us to the coast with an itinerary suggested by Anna. We visited the longest horreo, drove through Cee, and up the coastline to Finisterre and the lighthouse marking the end of the Camino at the Atlantic Ocean.
We then drove to Playa do Rosto, a gorgeous beach on the Atlantic. We walked and frolicked on the beach for a while, collected shells, and even spotted European-style sunbathers. We then headed to Muxia, where we visited a chapel on the coast and enjoyed seafood tapas and cerveza.
On the return to Madrid, we visited Ponte Maceria Bridge over the Tambre River, first built in the 14th century and rebuilt in the Middle Ages."
🌺 Linda Kirby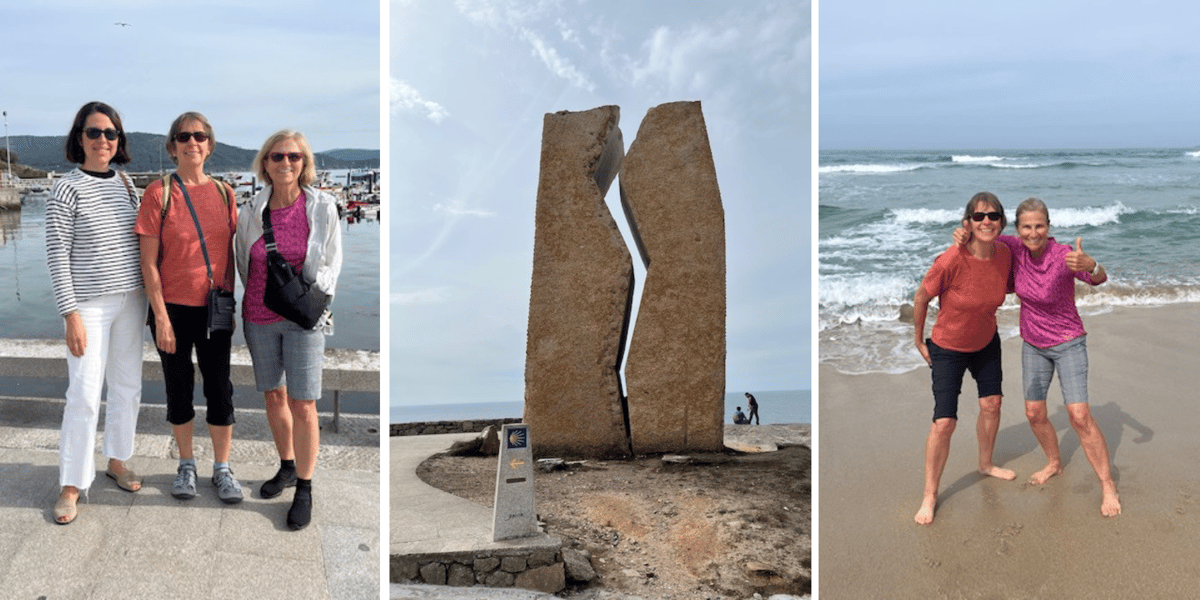 "The AGC trip for me was a life changer. It started with Linda and Frances! Wonderful women. Fun, adventuresome, and just good people. We shared a lot of laughter and, every once in a while, would break into song. I hope we get the chance to travel together in the near future."
🌺 Pat Marston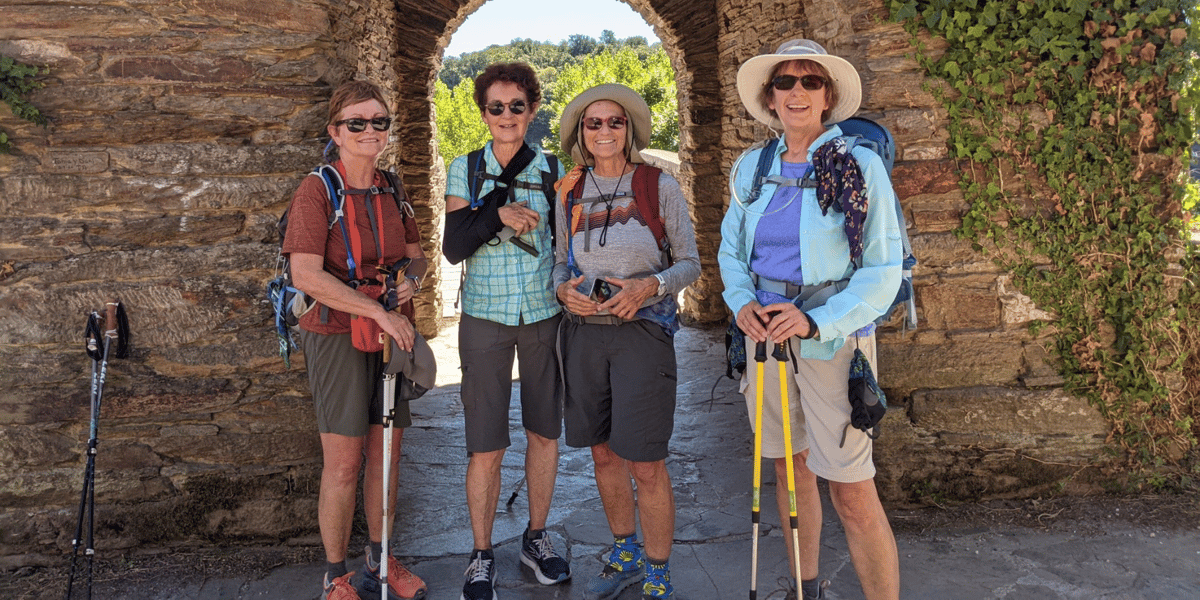 "It should be very clear by now why I agreed to travel with Linda - super organized, smart, knows how to download Google maps and Google translate, and, just plain midwest nice. Someone had to take the lead and I think Pat and I were happy to have Linda assume that role but she does so in a pleasant way—she's not bossy and you know what I mean! I'm definitely "in" to travel with Linda and Pat in the future if things work out for us to do so."
🌺 Frances Finegan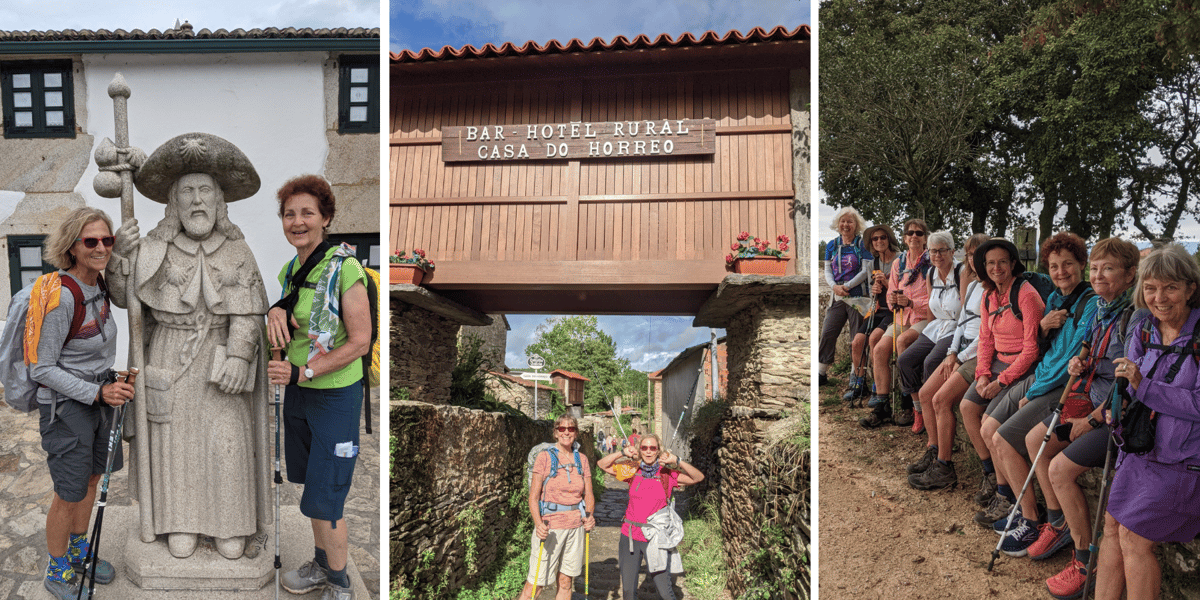 "We laughed and had so much fun together during the entire trip!! We all have kept in touch via text and email, and my husband and I even stayed with Frances in her lovely home for four nights in early December when we visited our daughter, who was in Atlanta at the time.
We had so much fun and traveled well together that I would gladly travel with them again in the future!"
🌺 Linda Kirby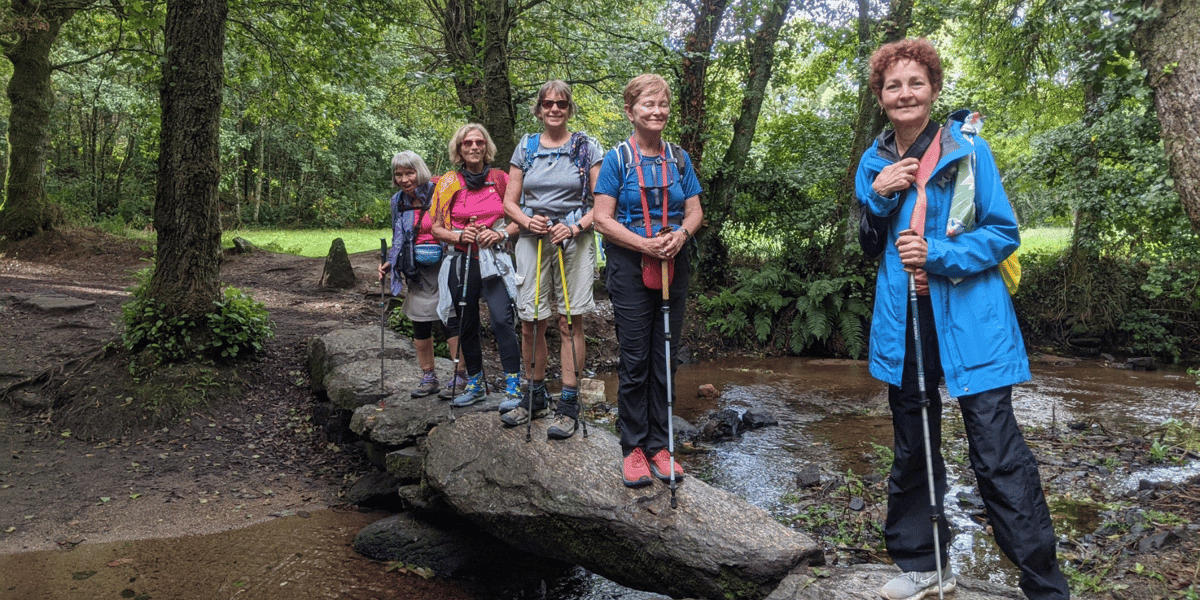 How to Find a Hiking Gal Pal
A common trend among women signing up for AGC trips is their desire to connect with travelers with similar interests. On an AGC trip, you'll always be among women who enjoy outdoor activities, but our trips only last a week or two. The other 50 weeks of the year, you may find yourself without a hiking partner to share in your pastimes or to support you as you train for your next adventure. But there's a way around that! Below are six easy ways to find adventure partners near you year-round.👇🏼 
Your Local Gym

Accountability and a regular fitness routine go hand in hand. That is why many gyms have resources to find training partners. It is a space where individuals can find others with similar schedules, interests, and fitness levels to exercise and train together. Often your local recreation center, YMCA, or even church will have a similar system; if they don't, suggest they create one, or if you have time, offer to get it started. It's a win-win for everyone!

Facebook Groups

The world of Facebook groups is a never-ending cycle of building connections. No matter how broad or niche your interests are, there's a group for that! Facebook groups are an easy and free way of scoping out local communities, connecting with others, learning about outdoor gear, and even browsing an array of shared information to get a better idea of trails you'd like to explore. To get started, simply type in the search function on Facebook the keywords you're interested in (i.e., hiking, backpacking, outdoor gear, etc.) and narrow your search results to display groups. Need somewhere to start? Join our private Facebook group, Friends of Adventures in Good Company, where you'll find like-minded women worldwide.

Join a Guided Hiking Trip

Take your mind off the logistics so you can meet new people and gain new experiences through a guided trip. This is a safe and fulfilling way of meeting like-minded people while hiking in incredible destinations! Through AGC, you can choose from several adventures that will take you hiking from the low of Badwater Basin in Death Valley to the summit of Mt. Katahdin, all the way to temples of Japan and the Amazon rainforest. No matter which trip you find yourself on, you're sure to walk away with a friend or two. A bonus of guided trips is that your experienced guides will know the trails, lead the navigation, offer advice, and handle emergency and safety decisions. Guided trips take the pressure off of you and place you amongst people with shared interests in the outdoors.

Connect With Meetup Hikers

Meetup is an excellent tool for getting to know your community. If you're not keen on amplifying your presence on social media, then Meetup is an excellent alternative to finding local hiking groups. Meetups are grassroots groups started by members of communities, each one to improve themselves or their communities, to learn something, do something, and share something. It is a way to connect virtually with others in your local community and physically meet face-to-face to do an activity, discuss a specific topic, learn something new, or socialize. There are thousands of Meetup groups worldwide, including outdoor adventures, movies, vegetarian lifestyles, entrepreneurs, spirituality, and more!

Visit Nature Centers or Local Parks

With thousands of nature centers and parks across the United States, there's ample opportunity to cultivate meaningful relationships with like-minded community members. Nature centers and parks are often top-visited spots by local community members, so you've got a strong chance of finding long-term companions for your outdoor interests. An easy way to find these popular spots is a quick Google search, the AllTrails app, your local parks and recreation department, Recreation.gov, or Reserve America.

Join a Wilderness Medicine Course
Enrolling in a wilderness certification course can sound intimidating at first, but it's an excellent option for hikers that want to cover their bases in one setting. Not only will you receive incomparable training that could save your life and the lives of others, but you'll also get to network with hikers, backpackers, and other outdoor enthusiasts who are just as serious about their interests as you are. Some of the most reputable wilderness medicine training organizations are National Outdoor Leadership School, Wilderness Medical Associates International, Stonehearth Open Learning Opportunities, and Advanced Wilderness Life Support.
⚡ Find your next hiking partner! ⚡