Or maybe you have experience hiking Amalfi Coast so you do know these things, but I sure didn't the first time I did our "Amazing Amalfi" trip. Let me specify that I am defining "Amalfi Coast" broadly so it includes the whole coastline down to Paestum and also the Isle of Capri.
Despite the fact that Amalfi is one of the more densely populated part of Italy and has been a tourist magnet for centuries, it is not difficult to get away from tourists. On two of our hikes, you are unlikely to see any other people. One of them, "Sentiero Dei Degli" or The Gods' Walk, lives up to its name: following a path that traverses the side of high hills, there are nonstop views of the Mediterranean's rugged coast. It was definitely our group's favorite hike.


There are three well-preserved Greek Temples in Paestum, dating from the time the Greeks founded a colony in the area in the 7th century BC. In fact these are the best preserved Greek temples anywhere except for the Acropolis. Well-preserved ruins from the Roman occupation that followed the Greek one are also on the same site.


Limoncello, a lemon-flavored liqueur, was first created and is still made here. When you walk past terraces of lemon trees on the steps between Amalfi and Ravello, you really understand just how well lemons grow in this area.


The Isle of Capri isn't just for rich people who love shopping. Which is not to say that there isn't plenty of opportunity for shopping and it helps if you're wealthy. But Capri is a beautiful place and the walk out to the ruins of Tiberius' villa or following the path that goes down to the ocean and follows the shoreline are both uncrowded and delightful. There is also the well known Blue Grotto where your boatsman sings as you paddle in the cave- hard to describe, quite touristy, and well worth it.


While we often think of Pompeii as being interesting because of its history of being buried by ash from the eruption of Vesuvius, what makes it really interesting is the degree to which the ash preserved it - and thus what remains is the most well-preserved Roman town in Italy, which has provided scholars tone of insight into how the Romans actually lived.
And one pleasure that is true almost anywhere you go in Italy? Gelato!!! Hmmm, its just as good as you always heard.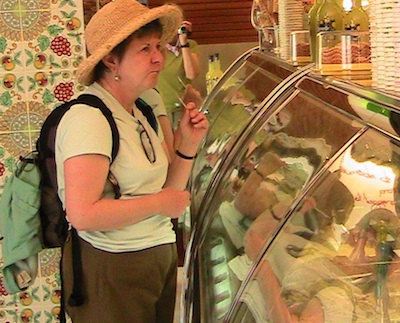 Amalfi? What's not to love!