You are invited to join us on a dazzling journey through some of the most dreamy dark sky locations on Earth. With the development and sprawl of urban areas, finding ideal places to stargaze is difficult, but not impossible. By clicking here, you can find a database of protected dark sky sanctuaries–but we've done all the work for you, and put together a list of our best stargazing destinations.
From remote corners of national parks to secluded landscapes far from urban lights, these remarkable destinations offer a rare opportunity to witness the wonders of the universe in all their splendor. 
Come along with us as we venture into the darkness, immersing ourselves in the beauty of the night sky and discovering the profound connection between nature, the cosmos, and our own sense of wonder. Here are a few of our favorite places to bring starlight to your adventures: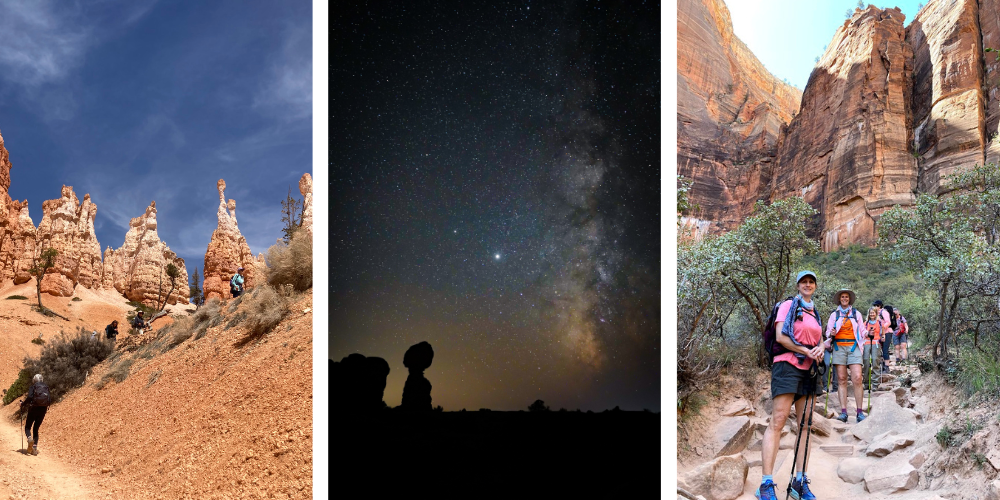 Bryce Canyon National Park is known for having one of the most glorious nighttime skies of anyplace in the U.S. and if stargazing appeals to you, this is the perfect place to do it. Our accommodation is on the rim of Bryce Canyon, allowing us to walk out there after dark to see and experience the Milky Way in all of her glory!
All of our trips to Utah feature dark skies and the opportunity for a stunning stargazing experience. Click here to view the itineraries for Hiking the Grand Staircase National Parks, and Hiking Bryce and Zion National Parks.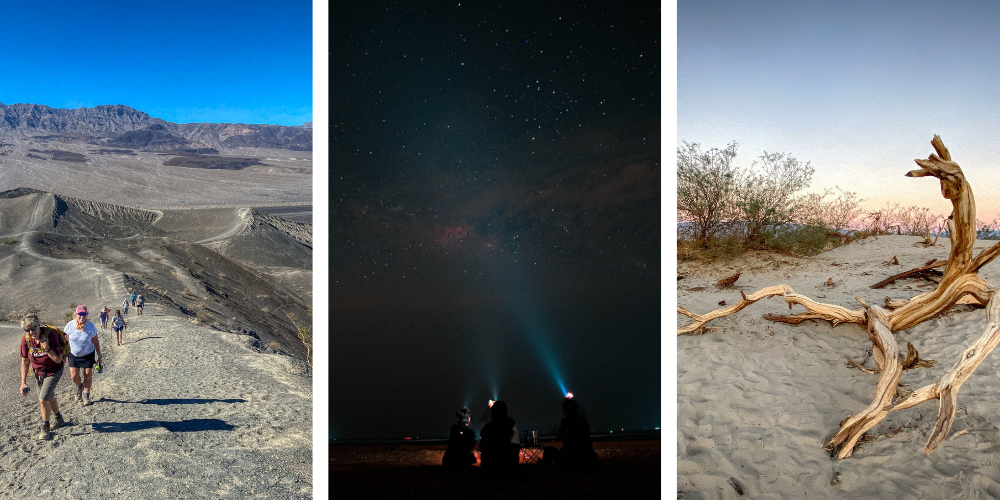 Death Valley is an extraordinary destination for stargazing and a renowned dark sky hotspot. Nestled in the heart of California's Mojave Desert, its vast expanse of arid landscapes and minimal light pollution make it a perfect haven for astronomy enthusiasts. The valley's remote location, combined with its low humidity and high elevation, creates ideal conditions for clear, unobstructed views of the night sky. Death Valley's status as a dark sky destination offers a magical and awe-inspiring experience, allowing visitors to connect with the vastness of the universe and marvel at the wonders of our galaxy.
Travel with us to Death Valley on these two departures: Death Valley and Joshua Tree, and Death Valley Delights!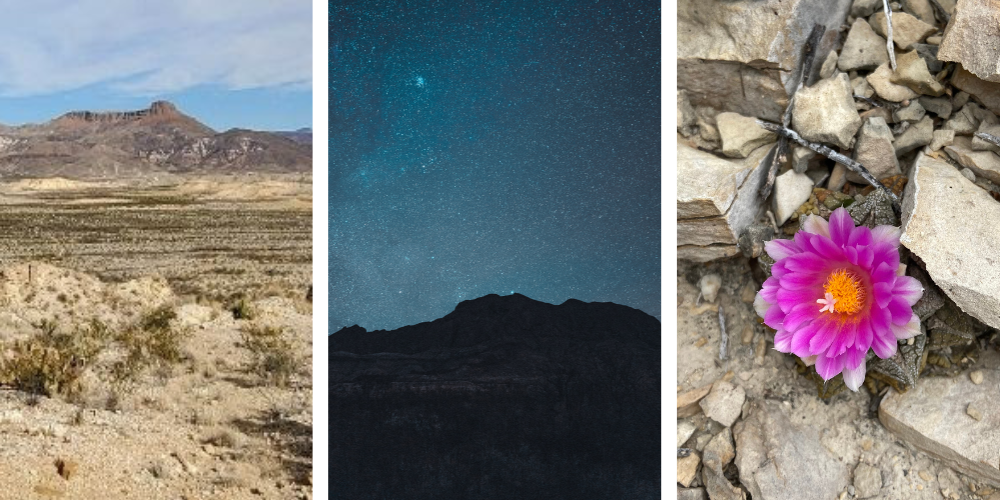 Big Bend National Park is an exceptional location for stargazing and holds the distinction of being a designated dark sky destination. Situated in the remote corner of Texas along the border with Mexico, the park's expansive and untouched wilderness offers an unparalleled experience for astronomy enthusiasts. Its isolated location shields it from the encroachment of artificial light, allowing for pristine and uninterrupted views of the night sky. The park's vast open spaces and minimal light pollution create an optimal environment for observing celestial wonders. 
With its breathtaking vistas and tranquil atmosphere, Big Bend National Park beckons stargazers to immerse themselves in the captivating beauty of the universe, offering a profound connection to the mysteries of the cosmos. Travel with us to this Dark Sky Destination on Big Bend Exploring and Hiking.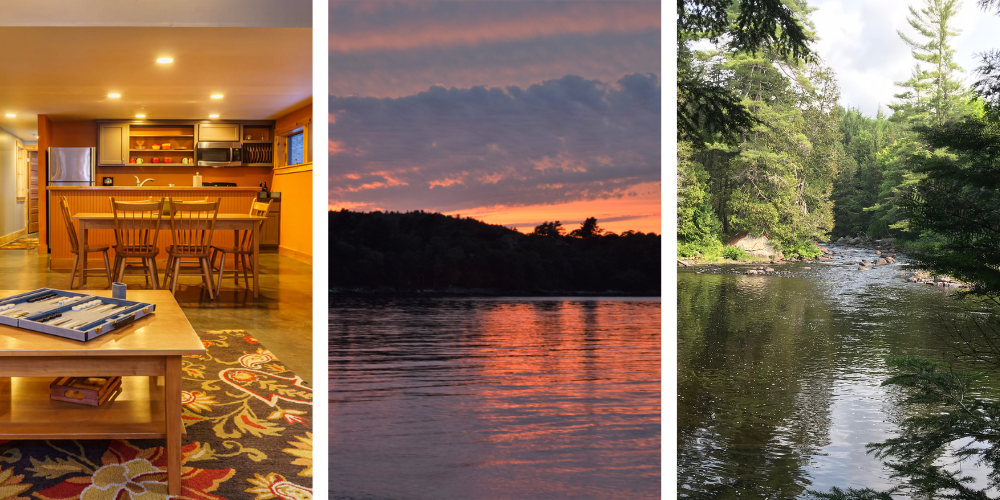 The town of Millinocket, Maine is located close to a certified dark-sky sanctuary, and is a wonderful setting in which to stargaze and at times see the Northern Lights. On both Slackpacking Maine, where we'll hike the 100 mile wilderness to the northern terminus of the Appalachian Trail, Mt. Katahdin, and Writing & Renewal in Maine's North Woods, we'll be staying in Millinocket each night.
Writing & Renewal in Maine's North Woods: on this trip, we'll have an evening dedicated to stargazing. After dinner on day 3, we will head out on an optional night walk to look at the stars and bask in the milky way.  Jenny O'Connell, the guide for Writing & Renewal, is a prolific writer and author. Click here to read her guide to stargazing in Maine! 
Ready to Join Us?
Experience the transformative power of the night in these mesmerizing dark sky destinations. Click here to view our trip calendar, and find your next remote retreat.