Empowering Women in the Outdoors for 40+ Years
As we approach the 45th anniversary of the launch of the pioneering work of Woodswomen, the ideals of empowering women in the outdoors by offering fun, supportive and challenging trips where women of all shapes, sizes, and expertise are celebrated, still remain the core tenant of ​​why AGC exists today. Woodswomen was the first organization to offer outdoor leadership training focused on women's experiences and needs, which attracted women from across the country to work as guides, learning and practicing their unique philosophy, and sharing their enthusiasm and wisdom with the adventurous women who have traveled since then.
Woodswomen launched 40+ years ago with a trip - exclusively for women - to the Boundary Waters area of Minnesota, and would eventually evolve into what is now Adventures in Good Company. AGC has grown by leaps and bounds over the decades and has continued to attract participants and guides who share a vision of what adventure travel for women should be. Likewise, to this day the Boundary Waters continues to serve as a place of inspiration and refuge as women seek to find their own way in the outdoors.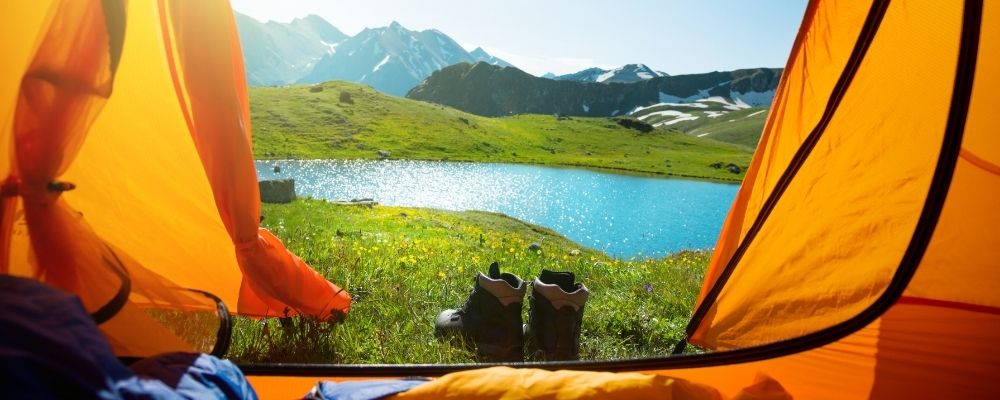 The Launch of Woodswomen
Woodswomen was an outdoor adventure and education organization that operated from 1977-1999. It started as a nonprofit organization by women for women and served over 8,000 women over the years. Woodswomen is often referred to as the 'grandmother' of outdoor women's adventure travel groups, as it was one of the first organizations built on serving women in this capacity. Many women did not have strong outdoor skills because they had not been given the opportunity to learn them. Woodswomen was poised to change that.
The creation of the name 'Woodswomen' came in 1977 when a group of women organized a trip to the Boundary Waters Canoe Area - exclusively for women. This trip was a major milestone in the world of women's adventure travel and Woodswomen continued to make an impact in the industry moving forward. 
1980's
In 1980, Woodswomen started a women-in-leadership course that trained several women who became guides in the outdoor travel industry - something still very out of the ordinary at that time. In 1987, Denise Mitten secured a grant that allowed Woodswomen to begin the Women and Children Bonding in the Outdoors Program, and in 1989, Denise secured funding for the Wilderness Experience for Women Offenders Program. Both of these new programs became life-changing opportunities for the participants who were able to take part.
1990's
By the next decade, the organization continued to find ways to positively influence the lives of marginalized folks, through the experience of the outdoors and travel. In 1990, Woodswomen celebrated the 100th anniversary of Fay Fuller's ascent of Mount Rainier with a commemorative climb of the same mountain. The climb included over 30 women, including some who wore dresses while climbing, and one woman completing the journey with an artificial leg. In 1992, Woodswomen launched an outdoors program for lesbian, gay, and bisexual youth in Minnesota, with the goal of creating inclusivity and a feeling of accomplishment for the participants. By 1993, Woodswomen had expanded to offer 59 domestic trips and 11 international trips, from cross-country adventures to a climb up Kilimanjaro!
The Woodswomen Philosophy & Trip Styles
Woodswomen was built with feminist and environmental ideals in mind and with the goal of finding a way to make all women feel included. The company's stated purpose was to focus on educating women and children about outdoor travel and living skills through outdoor programs and trips. The values and guiding principles of Woodswomen included:
Valuing emotional and spiritual safety as well as physical safety

Valuing personal choice and individual goals

Valuing healthy relationships with people and the environment

Valuing women and women's ways of knowing, and modeling that women's strengths are an asset to outdoor living and traveling
Woodswomen offered a wide range of activities on their adventures including biking, rock climbing, backpacking, cross-country skiing, kayaking, canoeing, whitewater canoeing and rafting, winter camping, sea kayaking, snorkeling, SCUBA diving, mountaineering, horse packing, llama packing, and dogsledding. The trips were designed to accommodate and serve both women who had little to no outdoor experience and the women who already had extensive outdoor experience. This welcoming atmosphere created a very inclusive environment that attracted women from a great breadth of backgrounds and life experiences. Woodswomen also made strives to foster inclusivity by creating a scholarship that was available for low-income women who might not otherwise be able to participate.
It Started With a Trip to the Boundary Waters
The Boundary Waters of Minnesota was a very special place for Woodswomen. This is where the organization began and where it continued to provide programs and trips for women for many years. A Woodswomen participant, Christy, tells the story of her first canoe trip to the area with Woodswomen, which demonstrates the magic of traveling with this organization. Christy recalls being a bit nervous as the trip began, but she elaborated that, "Somehow, right from the get-go, everyone was so accepting, encouraging, and friendly, we were all equals in this adventure regardless of where we came from or our previous experience." Christy shared everything the group learned while on the trip; how to get in and out of the canoe, "C" and "J" strokes, how to navigate where we wanted to go, steering from the front and back of the canoe, and how to avoid underwater obstacles. Christy shared, "I could feel myself gaining confidence, relaxing and enjoying the wilderness, and actually enjoying the company of others." 
Christy's story is one of many from women who were transformed in some way specifically the Woodswomen's trips in the Boundary Waters. When Woodswomen made the decision to close its doors, creating the possibility for Adventures in Good Company to be founded, the Boundary Waters continued to be a very special and inspiring place for the organization to get women out on outdoor canoe trips. This month - September of 2021 - 44 years after the first Boundary Waters trip with Wooedswomen, a group of AGC women embarked on a journey very similar to that first ever trip. The women enjoyed beautiful weather, scenic campsites, wildlife, laughter, and delicious food. Like that first trip, they also had the opportunity to advance their canoe skills, and learn more about wilderness camping and portaging. 
So similar to the early days, one of the women on the September trip shared about her experience: "This was my first trip with AGC but it won't be my last. It was a treat to travel with such a congenial group of women and two of the best guides one could hope for. Canoeing and camping in the Boundary Waters is a perfect way to "get away from it all" to a place of peace, serenity and natural beauty. The trip was well organized and ran smoothly; even the weather cooperated. As a vegetarian, I didn't have great expectations for the food, especially on a camping trip. Boy was I pleasantly surprised! Kudos to the chefs." This trip was an incredible experience when Woodswomen began, and continues to be a beloved trip by nature-loving women who travel with Adventures in Good Company today.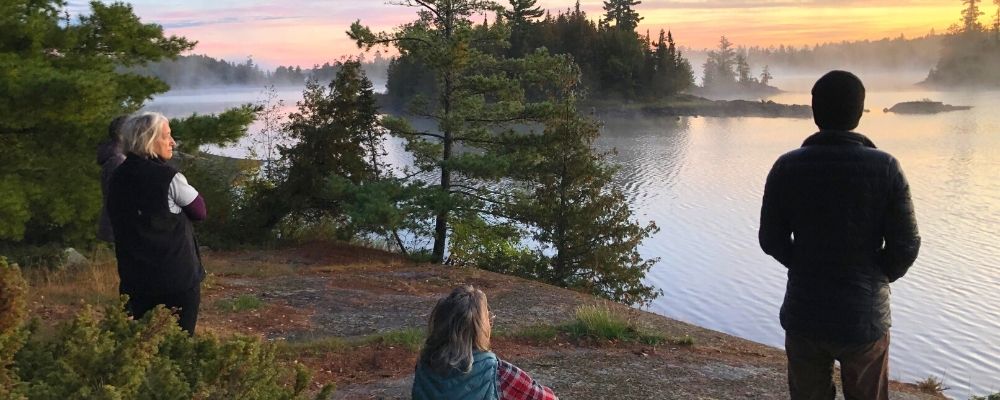 Woodswomen / AGC Guides
At Adventures in Good Company, we are very proud of our guides for so many reasons, but particularly because of their comprehensive and captivating backgrounds and their extensive outdoor experience. We are so fortunate to still have on our roster, four incredible head guides who all started their guiding careers many years ago with Woodswomen! 
Marian Marbury, who was responsible for evolving Woodswomen into Adventures in Good Company, had been interested in wilderness guiding for much of her life. She learned about Woodswomen's leadership training from a flyer she found in a bookstore in 1988. She participated in that week-long course, which of course took place in the Boundary Waters, and the experience affirmed that guiding was her calling (and the following decades with AGC is "history').
Anne Flueckiger interned with Woodswomen in 1995 and learned about their leadership philosophy while on a backpacking trip with Marian in the Grand Canyon. Just a few weeks into her internship, she was an apprentice guide on a trip in the Grand Canyon and shared, "The Woodswomen guides had top-notch outdoor skills and were excellent teachers. The participants learned a lot (and so did I). They set a high standard for being organized and hard-working and at the same time being attuned to each person on the trip. I could see that guiding required quite a variety of skills and personal characteristics (patience, compassion, sense of humor, humility)." Anne became a phenomenal guide and continues to be an immeasurable asset in sharing her expertise and skills with other, less experienced AGC guides who have joined the team.
Deb Malmon began working with Woodswomen in 1997 leading canoe trips in Minnesota and Wisconsin. Deb remembers learning so much about guiding from Denise, one of the original founders of Woodswomen. "While on a whitewater canoe program, Denise taught us you can move faster than the river OR slower than the river to steer your boat in rapids. We so often only paddle harder in those moments, we head into strainers or obstacles. That notion that you could slow yourself down was pivotal and apropos to life!" AGC is so grateful to have Deb, and her wisdom, wit, and her expertise as an integral part of the AGC guide team.
Brenda Porter's first experience with Woodswomen was in 1993 at a weekend 'Integrated Leadership Workshop' as professional development for her full-time job with the Girl Scouts. She decided to volunteer as a guide on weekends on rock climbing and canoe trips that were for women and youth. A few years later, she participated in the week-long leadership course and combined her years of experience and her abundance of enthusiasm to develop into an incredible guide. Today she continues to guide a wide variety of trips around the world is admired for her experience and skill set, and her watercolor artistry that enlivens any itinerary.
The Transformation to Adventures in Good Company
When Woodswomen was nearing its viable end in 1999, Marian Marbury was ready to make the leap toward starting her own company and evolved the non-profit organization into Adventures in Good Company. She was fortunate to be able to build on the knowledge and experience she had gained, to be able to employ Woodswomen guides she already knew (Anne, Deb, and Brenda), and to be able to adopt many of the already established trip itineraries which was a solid foundation. Marian was determined to continue offering trips for women based on the same philosophy of Woodswomen, which included valuing emotional as well as physical safety, personal choice and individual goals, and healthy relationships with each other and the environment. Marian had the vision to continue empowering women in the outdoors by offering fun, supportive and challenging trips where women of all shapes, sizes, and expertise were celebrated. This is the why and how of the next 20 years, as Adventures in Good Company grew and attracted participants and guides who had a shared vision of what adventure travel should be.
New Name, Same Philosophy
Much like Woodswomen, Adventures in Good Company has always had a focus on active travel for women with adventurous spirits. When developing the philosophy for Adventures in Good Company, the values from Woodswomen were absolutely carried over, and some new ideals were added that reflect the vision that AGC was able to move forward representing:
Adventures in Good Company's Philosophy:
We strive to create an atmosphere where women feel comfortable being who they are, and where everyone enjoys sharing their similarities and celebrating their differences.

We want to create a space where you feel supported in following your own agenda, whether that's to challenge yourself or to take some much-needed R&R. It's your trip.

We believe that feeling truly connected to the natural world is both a human need and deeply rejuvenating. In this context, we also understand the joys of challenging your limits.

We think that groups form the strongest bonds when individual needs and wants are being met. We design our itineraries to maximize flexibility and we will do everything we can to help you have the trip that you want.

We find that experiencing other cultures in ways that are respectful and not exploitative enriches our understanding of our common humanity.

We are committed to being a leader in sustainable travel among travel companies. 

We love having fun, eating good food and laughing a lot!
Our trips have an emphasis on women challenging themselves and supporting one another, creating community and friendship, and of course, relishing in the culture and food of any destination. We offer more than just incredible trips - we create experiences of a lifetime for women seeking a new adventure.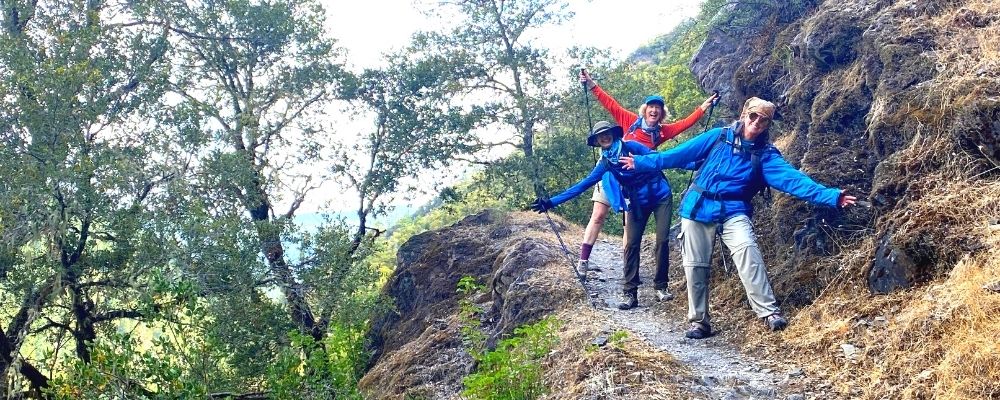 Adventure in Good Company's Growth Over the Years
2022 will be the 45th anniversary of the Woodswomen/Adventures in Good Company connection. We feel humbled and grateful to be able to look back and reminisce on the memories made, skills learned, friendships that have been created, destinations visited, and the community that's been built.
What have the last 45 years meant for Woodswomen and Adventures in Good Company?
We have led a combined total of thousands of trips and outdoor adventures.
We have visited over 100 destinations around the world.
We have had the opportunity to travel with more than 1000 brave, interesting, enthusiastic, and adventurous women each year. 
We have had a part in empowering countless women through the challenge and experience of travel and time outdoors.
What will the next handful of years look like? We have plenty of dreams and plans. We welcome you to stay tuned and keep adventuring to continue to be a part of the magic that is women's adventure travel.