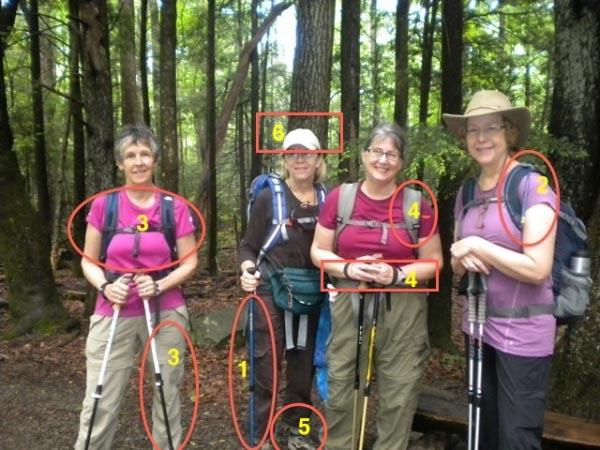 This picture of some women who were on our recent Wildflowers and Waterfalls hike perfectly demonstrates the equipment and clothing you need for a hiking vacation. The great thing about hiking is that after an initial investment, it's an inexpensive sport. But making the initial investment in these items will make your hiking safer and more fun - plus you'll look as great as they do!!
1. Trekking or hiking poles. Notice how every single woman has hiking poles? Why is that? Because they save your knees, give you a whole body workout, make your underarms look like Michelle Obama's, and help your balance. Yes, you can hike without them- but why would you?
2. A hydration system. I guarantee you will stay better hydrated with a hydration system, which allows you to take small sips constantly, than with a water bottle. And if you're better hydrated, you have more energy and endurance, and a better disposition. Yes, I used a water bottle for years. I would never go back to it by choice.
3. Synthetic shirts and pants. Their big advantage is that unlike cotton, they dry quickly. This always makes you more comfortable and in cool weather will keep you much warmer. And if you're practicing traveling light, you just take 2 - wear one, wash one out.
4. Padded hipbelt and shoulder straps. A comfortable daypack that fits you well and has padding will keep you comfortable for many more miles than the bookbag you borrow from your teenager.
5. Hiking boots. They can be low cut or over the heels (sometimes one is preferable depending on the terrain). But please don't wear athletic shoes- your feet will tire out much more quickly without proper support and you'll be much more likely to slide. Today's boots are lightweight and comfortable. And unless you have really easy to fit feet, don't buy them over the internet.
6. A hat. Ok, this is the only item that I'm not sold on. I like hats because they do a better job of keeping sun out of my face and protecting my eyes from excess radiation. But sometimes they make me sweat more, so I don't always wear them. Sunglasses and good sunscreen help do the same job.
So there you have it. We've written before about all these items. So if you're not sure what to buy or where to buy, please give us a call - we're always happy to help.