In January of 2023 I headed South to Baja with my family in tow, to visit the island of Espiritu Santo (a UNESCO world heritage site off the coast of La Paz) and see for myself what our Camping on the Sea of Cortez itinerary is all about. After a year of managing this trip in the office for AGC, I knew it sounded like an adventure that would be a great fit for us, and we had a truly unique and unforgettable trip. If you are an adventuress who loves camping and the ocean, here are my top 5 reasons why Camping on the Sea of Cortez might be the dream trip for you:
5. The Wildlife
When I tell people about our experience on this trip, I find myself describing it as an ocean safari. The wildlife we saw in a few short days was almost unimaginable. We slowly followed a pod of dolphins swimming 2x2 further than our eyes could see, and later watched them doing flips in front of the setting sun from camp. We paddle boarded and snorkeled over turtles and rays, played in the water with juvenile sea lions, and saw a wide variety of fish and birds, including blue-footed boobies and a frigate bird colony. Every morning I awoke to the sound of pelicans dive bombing the water in front of my tent.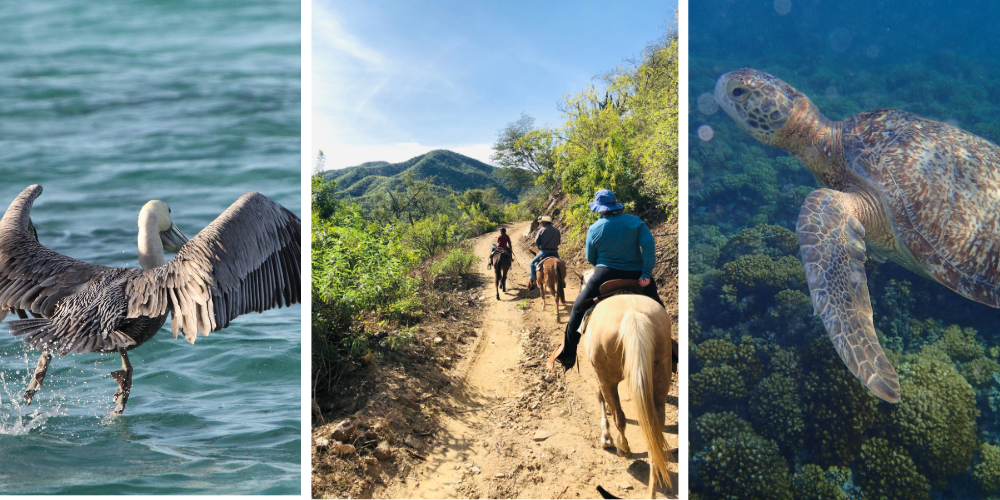 4. The Adventure
This is a trip for adventurous souls! Espiritu Santo is remote and wild. There is no electricity on the island except a few solar generators, and no cell service. At the same time, you will be in safe hands with highly trained guides, and you're just a short boat ride away from the mainland. A trip to Espiritu Santo harkens back to the days when we weren't constantly connected by email and cell phones, which allows our groups on this trip to be present to enjoy the incredible natural environment and each other's company. We spent hours at camp beach combing, star gazing, reading, playing cards with fellow travelers, and connecting with each other in a way we are often too distracted to do at home.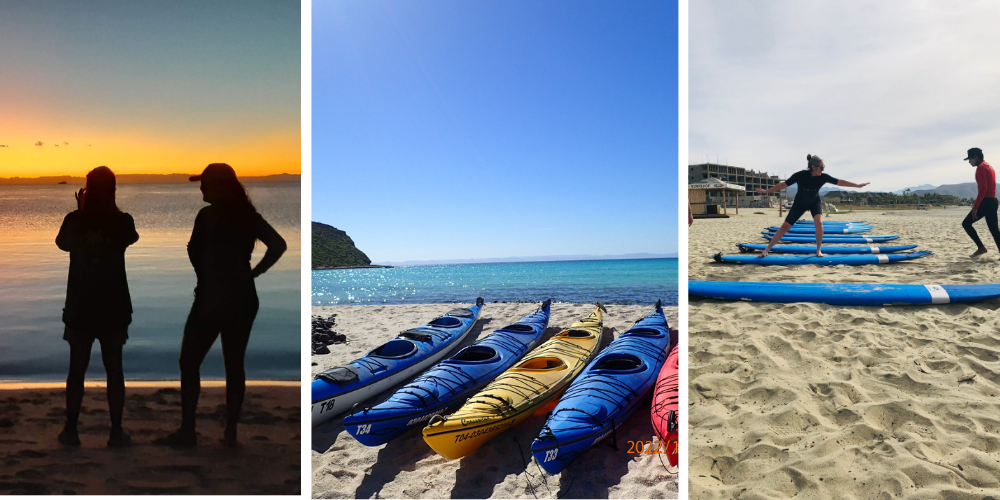 3. The Guides
As always, this trip will be ably led by an AGC guide and several local guides. Your AGC guide will be there to make sure you are getting your needs met physically and emotionally, and above all having a wonderful vacation! The locals guides provided by our Baja partner were top-notch. This trip is a little different than most of our international trips as you will have 2-3 dedicated local guides, who are all residents of Baja with a deep knowledge and love for the area. They are all certified Wilderness First Responders, certified naturalist guides, certified in Leave No Trace, and highly trained in open water kayak rescue and aquatic safety. The guides on my trip were kind, conscientious, fun, and dedicated to helping us have the best possible experience.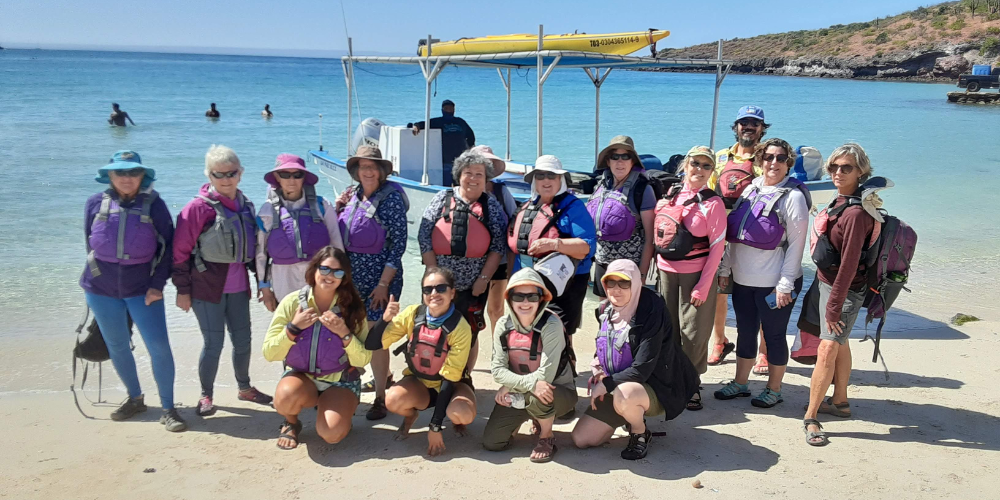 2. The Food
We worked up a healthy appetite adventuring each day, and the quality of food provided would have satisfied me in a restaurant at home, let alone at a backcountry beach campsite. Fresh veggies were a part of every meal, and the food was hearty, healthy, delicious, and locally inspired with fresh tortillas, beans and rice, and a variety of well prepared steak, shrimp and fish, and/or vegetarian options. Every morning includes both hot and cold breakfast options and plenty of coffee. While international travel can occasionally come with tummy troubles (which our AGC guides come prepared for), and while we can't discount that as a possibility, I can say that my family ate and drank everything put in front of us with gusto, and we had no issues on our trip.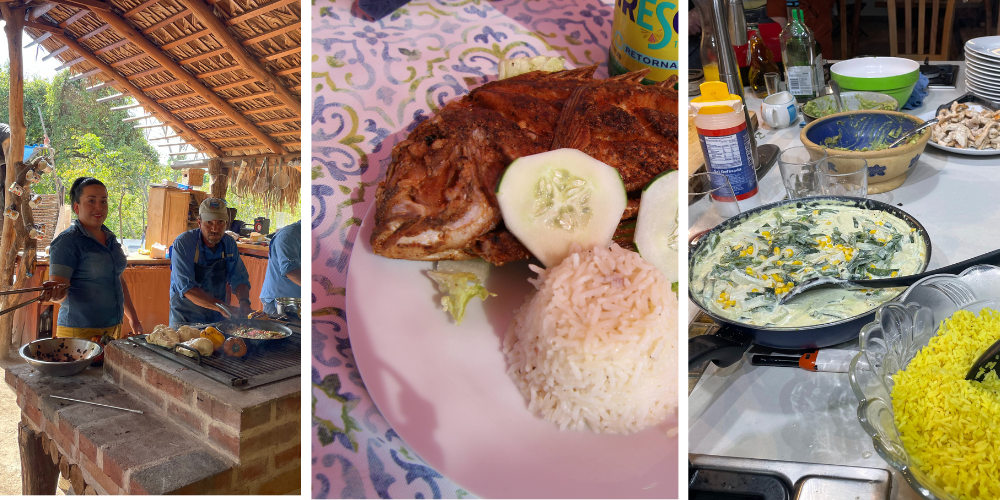 1. The Glamping (glamorous camping)
This trip is called Camping on the Sea of Cortez, but really, it's so much more than your standard camping adventure. You are spending most of the trip in classic camping tents, but if you are a frequent camper or someone who participates in our backpacking trips, there is much about this trip that will feel decidedly like glamping to you. While you are in a tent, it's a tent with a mattress, clean and comfortable bedding, a pillow, a mat out front with chairs and bucket to wash the sand off your feet, and most importantly, the most beautiful beachfront location imaginable. The camp itself is a smoothly operating machine, and before your feet hit the sand there will already be a kitchen and dining tent set up and remarkably clean and pleasant backcountry bathrooms. There's also an extensive staff dedicated to set up, clean up, and cooking. Not to mention a daily happy hour with delicious snacks and beverages, ready each day when you return from your excursions.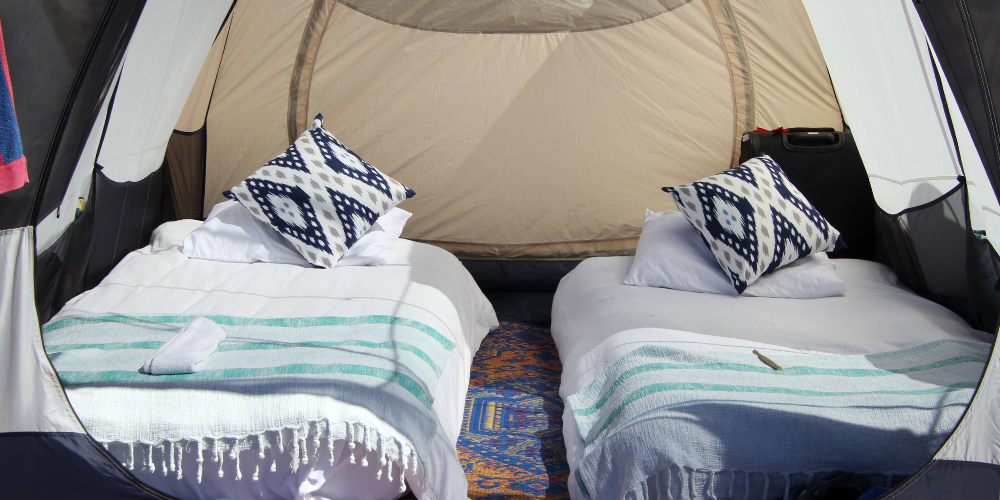 Camping on the Sea of Cortez was a trip I'll remember for a lifetime. It felt a little like a dream and a little like an escape. My family found the adventure and wildlife opportunities combined with the lack of cell service and emails to be exactly what we needed and were looking for. If you are in search of a true adventure, and you love the idea of camping on the beach for a week, give this trip a look, and feel free to reach out to me with any specific questions! If you are less of a beach person, but more interested in a trip that highlights Baja culture, traditions, cooking, hiking, and arts in a more mountainous setting, you can also explore our Baja Mountain Bliss trip.