With over 100 nominations, over 3,000 votes and over 22,000 viewers, our Adventuress of the Year Contest is inspiring women all over the globe! Congratulations to all of the incredible women who were nominated- you continue to wow us with your adventures!
We're excited to announce our 15 finalists for the 2018 Adventuress of the Year Contest.
---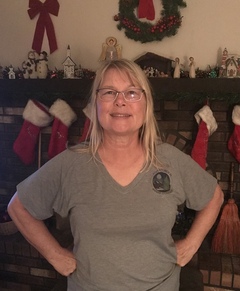 10 years ago I discovered that I could do much more than I thought through hiking with some women friends. The encouragement of the women I hiked with and the achievement of accomplishing 10 days of challenging hiking where I thought I would be buzzard meat many times. As I reflected I realize that hiking restored my soul after the deaths of my mother, sister and then my Father. There is not a day that goes by that I don't remember that trip, its challenges, and the wonderful women who encouraged me to take that first step. I retired 18 months ago and I soon fell into taking a vacation every month. I took 3 international trips this year. I did London by myself, Portugal with a friend through AGC and then Cuba with a new friend who I introduced to AGC. That makes a total of three new friends I have encouraged to hike with me and AGC. Last December I met up at an airport and met two friends I met while doing the Camino. It is amazing how you can connect with others on AGC trips. Later I explored DC, Annapolis, and Baltimore by myself. I had a delightful time right before Christmas. People see my vacation posts and want to know how I do it so I recently had a luncheon of four friends who have lost their husbands and are interested in hiking. We are already planning our next luncheon and looking at a weekend in a state park. The most important step is the first one. I look forward to sharing what I have.
---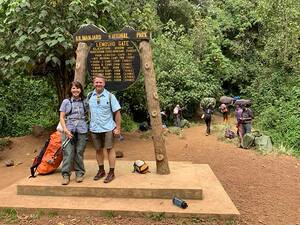 Recently I summited Kilimanjaro, a goal I've had for over 5 years. Amazingly I accomplished this with my mom, Cathy Bevis. At the age of 66 she endured 6 days of hiking over 58 miles, battled sleep deprivation, altitude sickness, and fatigue to reach an elevation higher than she had ever achieved. She truly is an inspiration and is the reason I am all that I am today. I am grateful to have her in my life and so very proud to call her my mother. In short she is the most amazing person I know and I know a lot of great people.
---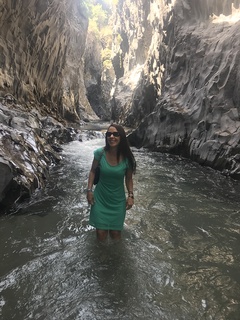 As an only child raised by a single parent who convinced me she was allergic to the sun I was never an outdoorsy type. Add to that no built in playmates and the personality of a bookworm, the only adventures I took were in my imagination. After raising 4 children I decided I wanted to travel and see the world. I was nervous when I booked my first trip and my oldest son told me there was no way I could go 'alone' because I wouldn't know what to do and people might not like me! That made me think, 'What have I modeled to my children about who I am?' I took my first solo trip in 2010 and fell in love with the outdoors and the freedom and adventure that discovering new places and experiences bring. I'm turning 50 this year and I'm determined that the only 'hill' I'm going over is the one under my feet of a trail of my choosing.
---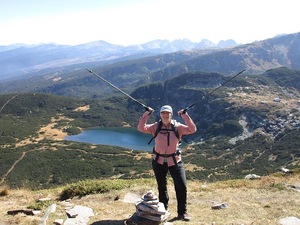 After raising three kids and putting herself through nursing school at the age of 45, Annmarie decided it was time to see the world. Through traveling, especially with a women's group, she has not only fueled her sense of adventure, but it has encouraged her to stay healthy and active. She has made friends from her trips throughout the US and wherever she travels. She is fearless, always up for a challenge, and determined to succeed at anything she puts her mind to. Although she loves to visit tourist attractions, what she loves even more is to challenge herself both physically and mentally. She loves hiking through the foothills and would prefer kayaking island to island over using motor transportation. Being a nurse and caring for others on a daily basis, she deserves something for herself. I would love nothing more for my mom to receive the awesome title of Adventuress of the Year! She is the most adventurous person I know and I am blessed to call her my mom.
---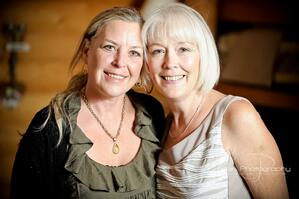 I think with the belly dancing, swimming, skiing,kayaking, hiking , and my aunt who is pushing me always to be outdoors and fit makes me feel that I can celebrate her achievements and enjoy her push to succeed I feel that we could both enjoy a win.
---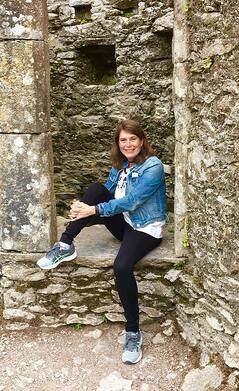 My story is similar to other moms. My two kids departed for college and I pondered, "What now?" Gone were the busy days of balancing career with the duties of active kids – and I now had empty hours on a calendar that was once overbooked. My 'adventure journey' started with a local women's hiking group - Sole Sisters. I was so nervous for the first seven-mile hike in 90-degree Georgia temperature that I practiced 'hiking' in my neighborhood with my boots, day pack and mandatory water supply. From there, I ventured to the Appalachian Mountains and an overnight at Len Foote Hike Inn where an interesting woman shared stories about hiking adventures she had led outside of the US for over 20 years. Within hours of meeting her, I was planning my trip with her group to the coastal path of Wales and later on another trek to the Dingle Peninsula of Ireland. Between these adventures, I discovered the Atlanta Outdoor Club and a myriad of trails along the Chattahoochee River just a short distance from my home. Most importantly, I found similar souls seeking meaningful friendships, exercise and adventure. This year, I eagerly boarded a flight to Split, Croatia (a city till recently I had not heard of) and my first AGC experience – and definitely not my last with a deposit on the El Camino de Santiago trip in 2019! So, the question "What now?" has been confidently (and happily) replaced with "What's next?"
---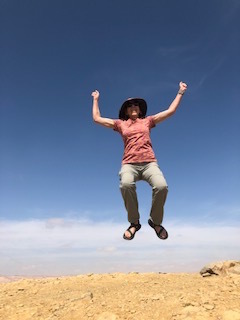 In 2001, during a major life transition, I took my first AGC trip as a newly single woman. Then, I followed new paths in life and on the trail. Truly, AGC instilled confidence, enhanced independence and inspired me to follow an adventurous itinerary of new experiences to independence and happiness. Today, in addition to completing several AVG trips over the past 17 years, I regularly hike, bike, kayak, cross country ski, and snow shoe in the US and have expanded my adventures globally. Recently, I hiked in Israel's Makhtesh Ramon, the world's largest "erosion cirque" crater and explored ancient ruins in Petra, Jordan. Other adventures of note include hiking in Alaska, New Mexico, the Lake District in England, Ireland, Georgia and many places in the Northeast US. I recently completed trips with AVC to Death Valley, the Grand Canyon, and Sedona with many like-minded women I now call friends. Active and often outside what was once my comfort zone, I see life from atop mountains, through forest trails, and I regularly dip my toes in creeks, lakes, seas, and oceans. Sharing adventures with others, experiencing new places, challenging myself, and cherishing good company energizes and grounds me. Recently retired from a long and fulfilling career in healthcare I'm entering another major life transition; I enthusiastically look forward to journeys of camaraderie to explore new places with many "new friends I have yet to meet."
---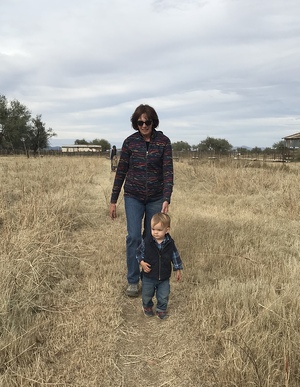 Katherine is a top notch outdoor adventuress - not on the Mount Everest climbing scale, but on the scale of pushing herself to be outdoors and encouraging others to do the same. Since retiring and moving to Tucson, she's become a docent at the Arizona-Sonoran Desert Museum and shares her excitement about the natural world with countless visitors every week. In her spare time, she hikes various trails around Tucson. She encourages her grandchildren to do the same. Her spirit of adventure is serving her well, and has led her to take several trips with her sister to see more places, and experience more of nature and the outdoors! She's an excellent adventuress and her spirit is infectious!
---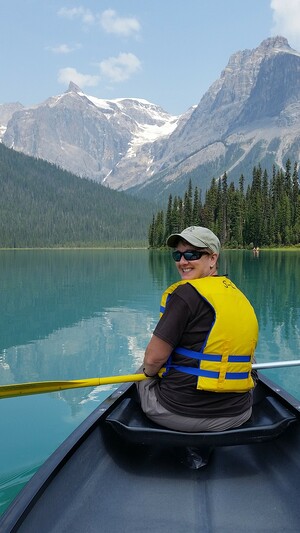 After a year of living through breaking her back, a blood clot, and a copperhead snake bite, Ronda decided it was time to start living! Ronda started riding her bike and has completed RAGBRAI (bike ride across Iowa) 13 times. After suffering further back injury and drop foot, Ronda learned to ride a recumbent bike and kept on riding! Ronda planned adventurous vacations with her husband, Rick - Windjammer cruises, Australia, to the bottom of the Grand Canyon, and even overcoming her severe motion sickness and traveling over the roughest seas on earth to visit Antarctica, but she still wanted more. In 2007, Ronda found AGC and her adventures really began! She has hiked the White Mountains, Kilimanjaro, Mt. Everest Base Camp, Switzerland, Northern Cascades, Georgia Section of the Appalachian Trail, and the Canadian Rockies. On the St. John's trip, she hiked, snorkeled, paddleboarded, and kayaked. The last 3 years, she found a love of backpacking and hasn't missed an AGC AT Section hike. She has also gone parachuting and hang gliding (to her husband's horror). Every day Ronda walks her dogs down the dirt road to the creek, watching for wildlife and taking pictures along the way - doesn't matter the weather! If Iowa gets snow, she straps on her snowshoes and takes off anyway. Every day is an outdoor adventure for Ronda and she is always looking for the next one…I hear it may be repelling.
---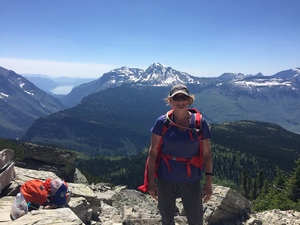 "I believe a life of adventure is there for the taking. My family has always loved outdoor adventure, but I put off traveling by myself because I wasn't "comfortable." I found myself nearing retirement, wondering if it was too late. I made a decision to sign up for two AGC trips, thinking I might be in over my head. Those trips made me realize that I still had an adventurous spirit, and they allowed me to gain some self-confidence. In 2018, I met a new friend in Glacier National Park for a week of hiking. I pushed myself mentally and physically beyond what I ever thought possible. After that trip, I went solo backpacking on the AT for a week in the fall. I have seen breathtakingly beautiful sights that simply can't be captured by camera nor seen from a car. I have met new people I now consider friends. I have a hiking trip planned to Utah in the spring with a friend I met through AGC, and we have signed up for another AGC adventure next fall. I have learned I am not too old and that it is okay to be afraid; do it anyway. It is okay to go alone; meeting new friends is part of the adventure. It is okay to make mistakes; just be able to laugh about it. There is a beautiful world to see; I need to keep moving down the path, live outside my box, and take a few risks.
---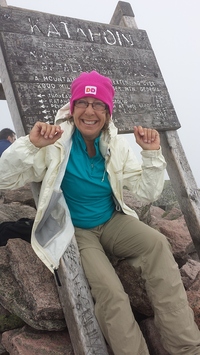 I've always been an Adventuress, however AGC gave me something I always thought was missing-the peace and tranquility I feel when in nature or the thrill when meeting a challenge. Now I don't have to jump on a plane or run a marathon to find that feeling. I can capture it by re-living the AGC trips I've already enjoyed, bringing that calm and mindfulness with me, even if it's only to my backyard. One fabulous example is that I had to conquer my fear of horses in order to reconnect with the amazing ladies I've met joining them at a ranch in Wyoming. And because of that experience, I now lease a horse named Ethel and perform on a mounted drill team! However, what brought me the most joy, was sharing my love of adventure with my daughter Sarah. While kayaking in Georgia, she turned to me and said "Now I understand why you love these trips so much"My mother, Susan Killeen Ramsay, isn't just an adventuress, she's so much more on these trips than someone that follows the pack, she looks out for everyone else, she takes every challenge on even if she's afraid, and she is the glue that brings the group together. She's not just there for the hikes, she's there to make life long friends and a whole new family within AGC. She's probably taken the most friends on a trip and from a trip home into her heart and friend group. She's an immovable force even when faced with fear, she was once afraid of horses and went on a trip with AGC to ride on a ranch. Now it's her passion and she rents out a horse, Ethel. My mother finds such joy and fun in these experiences because it gives her a place to learn, explore and just have fun. She comes home every time with a new friend and a new story to tell about the wonders she's seen and how she faced a fear. My mother is an Adventuress, going anywhere with her is a journey in itself.
---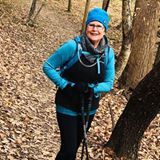 "Zen Lynn". Adventuress of the highest order, gram weenie, and total gear geek. Lynn has found a way to balance career and passions that I truly admire. She very deliberately makes travel and adventure a priority in her life. Add to that a wicked sense of humor and she is a fascinating trail companion. Maybe I am not the Adventuress of 2018, but I surely have hit the trails and campgrounds! My year included wonderful hiking and backpacking and camping in many places, including the following. Hiked in Eno SP and Umstead SP monthly till now. Total miles till 12/9/18=over 610 miles so far this year! Guatamala: Tikal, Antigua, Lake Atitlan Eno River SP, NC Umstead SP, NC Hanging Rock SP, NC Mountains-to-Sea trail, NC Raven Rock SP, NC Morrow Mountain SP, NC Uwharrie National Forest Occoneechee Mtn. Natural Area, NC Jordan Lake SP, NC Croatan National Forest Theodore Roosevelt Natural Area, NC Cliffs of the Neuse SP, NC Carver Creek SP, NC Falls Lake SP, NC, backpacking Nantahala National Forest, backpacking Merchant Millpond SP, NC Dismal Swamp SP, NC Rogue River Trail, OR Redwoods SP & NP, CA Crater Lake NP, OR Appalachian Trail, GA, backpacking Goose Creek SP, NC Pilot Mountain SP, NC Occoneechee SP, VA Staunton River Battlefield SP, VA Kerr Lake SP, NC Animas River trail, CO Mesa Verde NP, CO Black Canyon NP, CO Curecanti Natural Area, CO Great Sand Dunes NP, CO Continental Divide Trail, CO Stone Mountain SP, NC Mt. Jefferson Natural Area, NC Sandlakes Quiet area trail, MI VASA trail, MI Manistee River trail, MI Jordan River trails, MI Haw River SP, NC I love the outdoors and finding the deep and gorgeous in nature!
---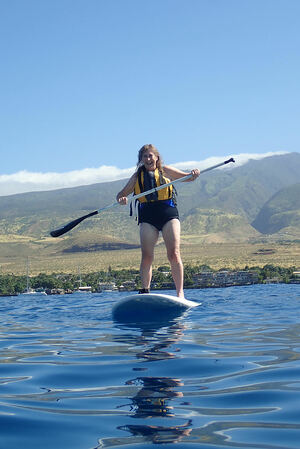 In 2004 Bonnie's husband died. He had always planned their vacations. She had no idea how she was going to plan and enjoy her vacation. She didn't want to go someplace and just return home because she didn't know what to do without him. She needed a "do something" vacation. She was also afraid of tours that could be all couples and her. She typed "women travel" into google. At the top of the list was Adventures In Good Company. She looked at it and said, "that's what I need – good company." Her first AGV trip was a long weekend hiking in Shenandoah. She had a blast. Since then she has canoed in the Boundary Waters in Minnesota and in the Okefenokee Swamp, kayaked Baja and the Adirondacks, backpacked for a week on the AT, and many other adventures. In 2018 she spent another week canoeing and primitive camping in the Boundary Waters, a weekend of multi sport in Georgia with AGC, and took a cruise in Hawaii on a small ship. Her cruise highlights were snorkeling to watch wrasse fish clean parasites off sea turtles and trying to use a paddle-board. Since retirement, she volunteers weekly at Walden's Puddle – a wildlife rehab center. It's dirty stinky work, but she loves wildlife and loves helping the staff give sick, injured and orphaned animals a second chance and to return to their wild homes. She has also taken the TN naturalist class to make her a more informed volunteer.
---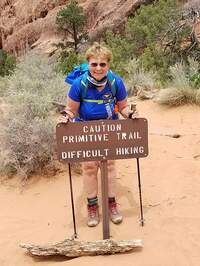 There is an adventure awaiting all of us every day and I have found as I have gotten older I seek that out more and more. After the adventure of raising my 4 boys, at the age of 57 seems to be when it all began for me. I became much more active, stepping out of my comfort zone and trying new things. First walking more, then running and next half marathons. Then the challenge of Spartan obstacle races with my oldest son where I accomplished more than I ever thought I could. I went on my first solo women's fitness/adventure week in Florida and realized I could do this. I also discovered how much I enjoyed hiking. I am so grateful for my health and the ability to be active daily. It was dream come true to hike on the Appalachian Trail, Utah National Parks, Colorado and Wyoming with AGC. I have a fear of heights but with the help of two wonderful, understanding AGC guides, it didnt stop me from completing and enjoying more challenging hikes. Most every day is a training day whether for a race or hiking trip and that brings personal joy. I try to push myself as much as I can, but for me it is not all about the destination but about the adventure and excitement of the journey. May we all embrace life to the fullest and continue "living the dream".
---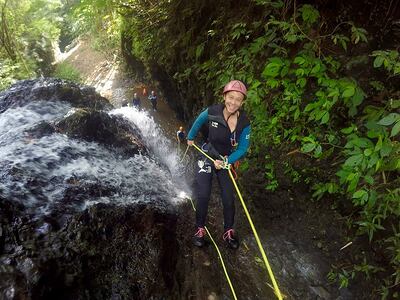 At 49 I began my one-year solo adventure around the world. A single lesbian in search of myself. I retired, sold all my possessions and bought a one-way ticket. Planning everything for one year I traveled to 17 countries on a 2-3 star budget. Spending a month in most places enjoying the locals, traditions and street food. Beginning in Hawaii, a night boat trip to the active volcano and night snorkeling with manta rays. Learned to surf, amazing canyoning adventure (see pic), ziplining and sunrise mountain hiking in Indonesia. Snorkeling the Great Barrier Reef, a spiritual visit to Uluru and kayaking with whales and dolphins in Australia. Hiked to glaciers, hitchhiked and picked up a hitchhiker, 7-hour Tongariro crossing in New Zealand. Explored India like a local, rode a camel and experienced a spiritual transformation. Traveled Asia on a moped. Washed, fed and walked elephants in Thailand. Local train to Sapa for trekking, Ha Long Bay, and ate crickets in Vietnam. Mekong River cruise in Laos. Visited Angkor Wat and the Killing Fields in Cambodia. Philippines on a remote island. Trekked to see Gorillas in Uganda. Visited a coffee house in Amsterdam. Drove the Kotor serpentine to Durmitor, Montenegro into Bosnia, Slovenia then Croatia. I thrive on the outdoors and authentic experiences. In 2018, a self driving tour of Africa, costal hiking and safari horseback riding. Island hopping by catamaran in Greece and in 2019 hiking, kayaking and snorkeling in Galapagos.