We all need a little refreshment and restoration, especially now
Growing up in the Piedmont (middle) part of North Carolina, our 'go to' for vacations was either the beach or the mountains. Although I loved the shores of North Carolina, the first time we went to the mountains I knew that's where I had to be. We went to the Asheville area, to the Blue Ridge Mountains.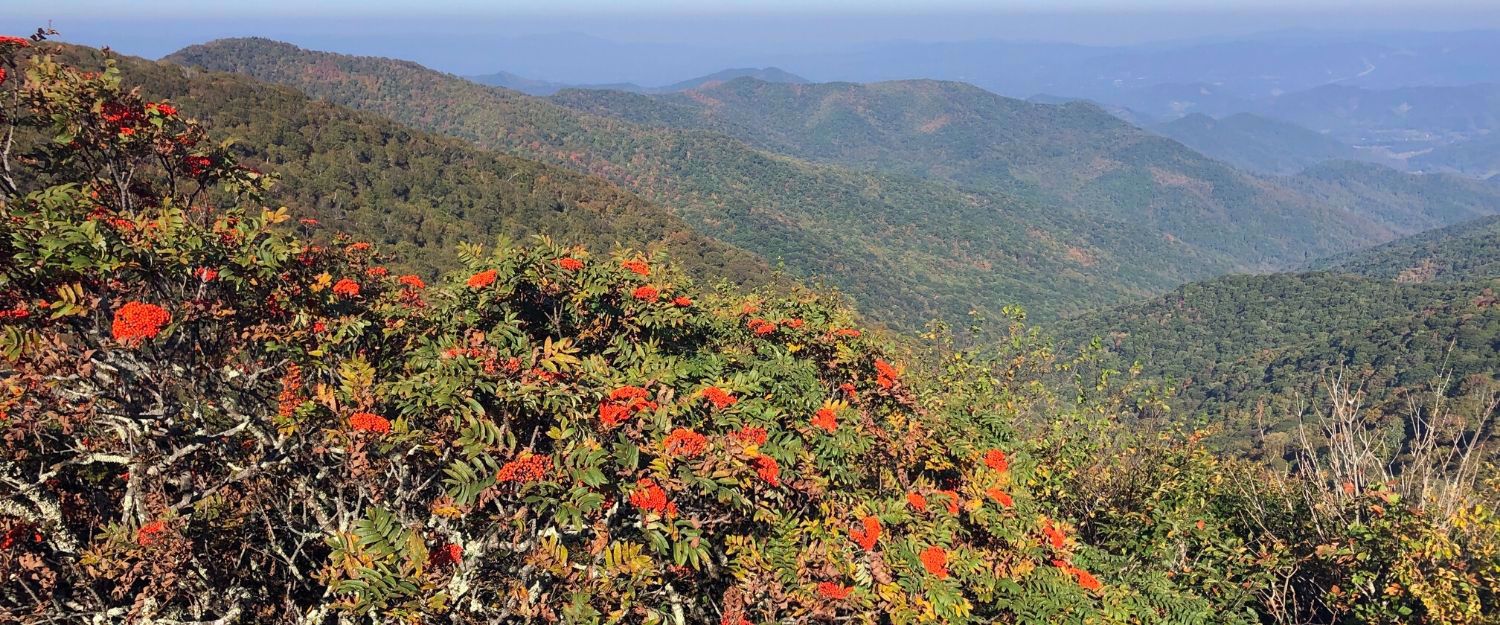 Leaving the heat of the Piedmont and into the cool elevations of those beautiful Blue Ridge Mountains was my first introduction to 'real' mountains, trails, streams and elevation! The very first view from the top of Lookout Mountain seized my imagination and all other outdoor dreams faded away. Imagine, mile after mile of amazing mountain top views walking through the oldest mountains on the continent - huge dreams for a 7-year-old!
Enjoy Scenic Beauty, Outdoor Adventure & Blue Ridge Culture: Your Own Room Included!
Blue Ridge Rambling offers this same feeling plus more. Staying at the William Black Lodge nestled at the foot of the Blue Ridge is both peaceful and energizing. Sitting in rockers on the huge front porch overlooking trails and trees, one immediately feels the pull of exploring those ridges and being a part of the forest surrounding you.
We are lucky to enjoy the space and seclusion afforded by the Lodge as we will have the entire place just for our group! And, everyone gets her own bedroom and bathroom.
It is hard to put how a place makes you feel into a list. There are five things about the trip that make it so unique:
Five Reasons Jan Loves the Blue Ridge Ramble Trip:
1. You get your own room! 
… and your own bathroom. No additional cost, either. Getting to know your roommate is a wonderful thing, but sometimes you just need a little alone time. This trip provides real refreshment and restoration, and enjoying your own room is a peaceful perk. 
2. Beautiful trails and hiking (especially Lookout Mountain)
The Blue Ridge Mountains are part of the larger Appalachian Mountain range (home to the iconic Appalachian Trail), and are packed with stunning trails apt for hiking. This trip runs in the fall, so we'll have wonderful hiking conditions: crisp, fall air and beautiful fall foliage. 
3. Visiting the historic Biltmore Estate
Who doesn't love a little history? The Biltmore Estate is a Châteauesque-style mansion built for George Washington Vanderbilt II between 1889 and 1895, and is the largest privately-owned house in the United States. It's surrounded by walking and biking trails and manicured gardens, and we have an entire day to explore the estate (winery tour included). 
4. Rafting the French Broad River
Rafting is an excellent addition to this trip because it offers a chance for novice and experienced rafters to enjoy premier whitewater sections of the French Broad River. 
5. A private stay and the front porch at William Black Lodge (the rockers!)
What better way to end a day of adventuring than relaxing on a porch in a rocking chair?
Writing a list doesn't do this place justice. The best reason to join us on Blue Ridge Rambling is for the experience of refreshment and restoration - something we all need at this moment in history.
September 27 to October 2, 2020 | Trip Level: 2