We've Suspended All International Travel for 2020
---
We are very much looking forward to traveling with you again. After a 5-month suspension, we re-opened mid-August to Backpack in Wyoming's Snowy Range. Like you, we felt the mental and physical constraints of the last many months and some time in nature together is soul refreshing!
What to Expect on Your Next Adventure
---
We understand that deciding when to travel next is a personal decision that comes with both excitement and reluctance, especially now. Our goal is to help you feel comfortable and supported during your adventure. At the same time, there are inherent risks integral to these experiences. We continually assess and manage for risks - as we always do, yet some risks are in our control and others are not. With that in mind, we have been reviewing the Covid-19 guidelines from the CDC, State and local health departments and have created the following policies and procedures. Evaluation of these procedures will be ongoing, updated and adjusted as new information and resources are available, as well as based on our evolving experience. We ask that you register for an upcoming trip only if you are comfortable with our policies and procedures outlined below and agree to our Responsible Together Commitment. 
New Trip Procedures
---
As you read through these policies, please keep the following in mind:
The precautionary measures described in this document may identify people who display symptoms of Covid-19, but do not capture the possibility of asymptomatic yet potentially contagious people present on a trip. Until more testing is available, this is an outstanding risk of social contact that we must acknowledge. When testing is more widely available, we will consider how to integrate this into our protocols.
AGC continues to navigate policies and procedures of many different federal, state and local entities that will impact our trips. We will be in touch with travelers as early as possible before a trip's departure if decisions are made outside of our control that prohibit us from running a trip.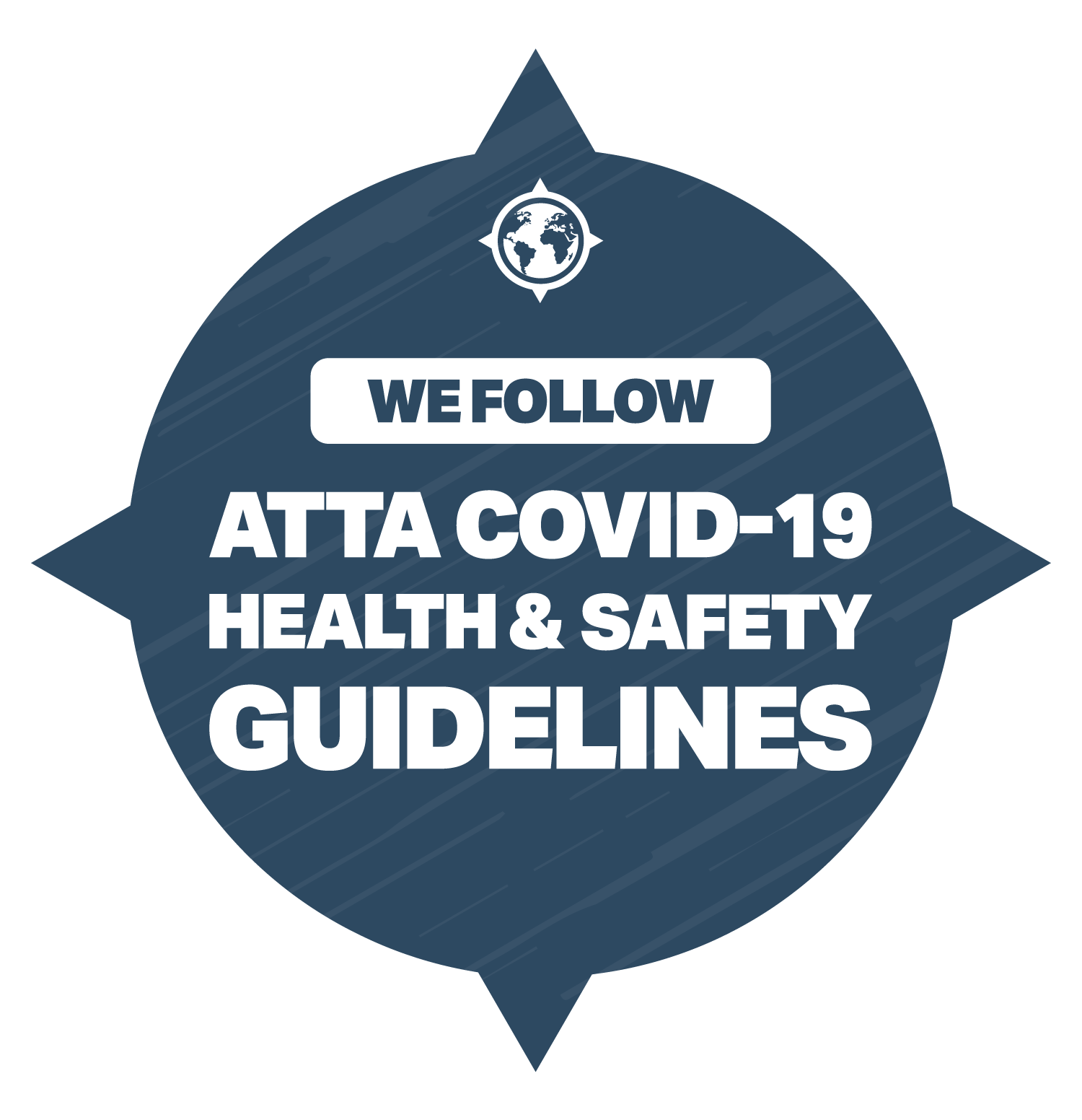 PRE-TRIP PROCEDURES
---
If you are at higher risk for complications related to COVID-19, we strongly recommend that you consult with your medical provider to assess your risk and determine whether AGC trips are appropriate for you at this time. Please review the  CDC resources regarding those at higher risk.
---
Packing lists are effective immediately to include face coverings (one for every day of the trip recommended), hand sanitizer (70% alcohol-based), thermometer, and biodegradable travel sized soap. 
---
Travelers share in the responsibility for their own and others' well-being. As such, we ask travelers to practice social distancing for 14 days prior to the trip by avoiding large crowds and events, wearing masks in public, and limiting exposure as much as possible.
---
As per the CDC recommendation, get a flu shot before you go.
---
Any staff or participant who has been in close contact with someone known to have COVID-19, or who has experienced any flu-like symptoms within 14 days of the scheduled trip departure, will be removed or rescheduled from the trip.
ON TRIP PROCEDURES
---
On the first day of the trip, AGC guides will take each participant's temperature. A reading of greater than 100.4 degrees will mean you would need to leave the trip. We ask participants to then take their temperatures each morning and guides will take temperatures again if a participant displays symptoms.
---
All staff and participants will be required to wear face masks in AGC vehicles. Coverings must be worn prior to entering vehicles, during transport and upon exiting. AGC guides will also provide backup disposable face masks, as needed.
---
Guides will keep participants socially distanced as much as possible in times of shared transportation. This exact vehicle configuration will vary by trip, but will follow these general guidelines:
Load participants back to front of vehicle
Clean hard surfaces in the vehicle between use
Participants dispose of waste in their own waste container within vehicles
---
Participants will have face coverings at-the-ready to use when passing others on the trail, etc. - a buff or bandana work great. 
---
All participants and staff encouraged to wash hands as directed by the CDC. Due to the nature of our trips, there may be times when it makes more sense to use hand sanitizer rather than soap and water. Each participant and guide will be required to carry her own hand sanitizer and soap throughout the trip. Guides will also carry backup hand sanitizer and soap.
---
Participants are requested NOT to share food or snacks with each other. Sorry, no passing desserts around to try a bite - we're sad about it too!
---
Guides will wear face coverings and gloves during food prep, cooking and cleanup.
---
For meals provided by AGC where you serve yourself, participants will wear masks and sanitize hands prior to serving themselves.
---
When possible, dining will be al fresco, and at lodges and restaurants, we will request small tables that are socially distanced. Congregating in the kitchen where meals are served will also be avoided.
---
We will temporarily suspend our roommate rotation policy, so that if you selected to be matched with a roommate you will have that same roommate throughout the trip and not rotate roommates when we change lodging.
---
If guides or participants experience any flu-like symptoms during a trip they will be physically distanced from the rest of the group and a determination will be made to seek definitive care. Symptomatic individuals will be required to wear a face mask at all times until reaching definitive care.
POST-TRIP PROCEDURES
---
We will request that any guide or participant who develops flu-like symptoms within 14 days post-trip contact us and inform us of their symptoms. If informed that anyone associated with a trip has experienced any flu-like symptoms, we will contact the guides and participants from that trip to inform them. Any affected guides will be required to self-quarantine for 14 days prior to guiding another AGC trip.
Additionally, our offices are staffed for emergencies, and we'll be there to provide support for you and your guides as needed. Your guides are already trained in Wilderness First Aid and CPR and will have a protocol to follow in case of any health issues. They'll be proactive communicators and prepared to manage logistics around any adjustments needed during your trip.
We understand that trying to make a decision about travel right now can be difficult and we want to make it easier.
We have cancelled all trips trips through mid-August and all international trips in 2020.
---
We have reached out to all of our travelers through mid-August. If you missed an email or call from us, please contact: info@goodadventure.com or 877-439-4042 ext. 0.
We have extended the final payment deadline for all 2020 trips.
---
Final payment for all 2020 trips is due 45 days prior to departure for domestic trips and 60 days prior to departure for international trips (extended from 90 days for domestic & 120 days international trips).
What if I cancel my trip?
---
If you cancel prior to the final payment deadline, you can do so for a $50 cancellation fee OR choose to leave the full deposit as a credit on file for 3 years. If you cancel after the final payment deadline, payments are non-refundable.
Do you recommend travel insurance?
---
Yes, in today's changing travel environment, it's important to protect your investment so you can relax and enjoy your vacation. Unforeseen events such as flight delays, baggage loss or even an unexpected sickness or injury could impact your travel plans. For your convenience, we offer travel protection through Travelex Insurance Services. For more information on the available plans or to enroll, click here. 
It is important to note that fear of travel, travel advisories and destinations being inaccessible due to this illness are not covered risks under the Travelex Insurance protection plans. However, insureds are still eligible for Trip Cancellation/Interruption coverage in the event they are prevented from taking their trip due to one of the other reasons listed in their Travelex plan. To help you understand what Travelex protection plans will cover, please refer to these Frequently Asked Questions.
The full coverage terms and details, including limitations and exclusions, are contained in the insurance policy. Travelex Insurance Services, Inc CA Agency License #0D10209. All products listed are underwritten by, Berkshire Hathaway Specialty Insurance Company, NAIC #22276.
What if AGC cancels my trip?
---
We will confirm if a trip will be able to run or not prior to the final payment deadline. If AGC needs to cancel a trip after the final payment deadline, we will offer priority booking for the rescheduled trip, issue a travel credit equal to the amount paid towards the cancelled trip, plus an additional $150 to be used for future travel with us.
Travel credits will be available for any new booking through the end of 2022, including towards a trip in 2023.
---
There is no rush to rebook, so take your time to find the trip and the date that's right for you! Travel credits can be transferred to multiple re-bookings but are not refundable at any time. If the rebooked trip is priced higher than the original trip, the traveler will be responsible for the difference. If the rebooked trip is lower than the original trip, the traveler will receive a travel credit for the difference with the same travel credit terms. Travelers may apply whatever discounts or promotions are available at the time of rebooking.
You can also transfer travel credits to another woman for her to use on any new booking.
---
Please call us if you would like to transfer part or all of a travel credit to someone else - and thank you in advance for spreading the love of adventure!
What about 2021? At this time, our normal cancellation policy is in place for 2021 trips.
---
However, we understand that travel planning has become a bit more complicated these days! We want to make it as risk-free and easy as possible for you to plan your next adventure, so we will continue to evaluate the situation and consider extending these revised terms into 2021. We will notify our 2021 travelers, if we extend these revised terms and please continue to check back for updates.
Please Note: All standard booking terms and conditions not explicitly addressed here remain in effect.
---
---
If you are looking for an adventure closer to home this year, we still have some spots left on our domestic destinations. And if you're not ready to travel quite yet but are thinking about next year, check our calendar for many amazing options in 2021. And keep checking back as we're adding more every week! With all the upheaval of 2020, we've rescheduled some trips to next year that we weren't planning to offer and we're getting some big, bold adventures on the schedule sooner for 2022. Guyana anyone?